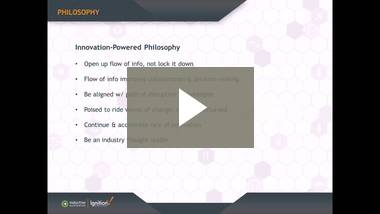 Disruptive technologies such as Big Data, The Cloud, The Internet of Things, mobile devices and social technologies are bringing about revolutionary changes in manufacturing, business and society. As the vision of Manufacturing 4.0 gets closer to reality, innovation becomes essential to business survival.



To achieve long-term success, manufacturers must change their philosophy and become innovation-powered. This will require leaving fixed ideas about technology behind and embracing innovation throughout every aspect of their business. Only by opening up a free flow of data and ideas, and lowering the barriers to innovation, can they achieve long-term success in a world that is changing more rapidly than ever.



At this powerful webinar, learn how disruptive technology is shaping the company of the future, how to discover game-changing ideas through cross-pollination, and how to open the flow of data throughout your enterprise with Ignition.
published: 03/27/14