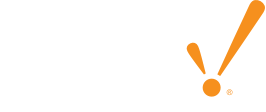 Software Modules
Fully Integrated Modules for SCADA, IIoT, MES, and More
Fully Integrated Software Modules
Ignition is a universal industrial application platform capable of unlimited extensibility through the addition of fully integrated software modules. All modules are hot-pluggable so they can be installed, removed, and upgraded without impacting your operations in any way, and they all work together seamlessly.
Build the Exact System You Need
With a full suite of powerful Ignition Core and third-party modules available for the Ignition platform, you can easily develop industrial applications perfectly customized to your unique processes.
View the full module stack

Ignition Core Modules
Ignition Core modules can be used to create virtually any kind of industrial automation solution, including SCADA, IIoT, MES and beyond. With the Ignition Core modules, users can add features such as charts and tables, mobile access, voice notifications for alarms, transaction management, sophisticated logic systems, enterprise administration, and much more.
Vision Module
Use this module to launch an unlimited number of powerful Ignition Vision clients anywhere on the network. Display charts, graphs, trends, HMI screens, and more.
Full product details

SQL Bridge Module
Easily bridge the gap between OPC data and SQL databases with the industry's most flexible and powerful transaction manager. Easily log data, call stored procedures, and synchronize data bi-directionally.
Full product details

Tag Historian Module
Turn a SQL database into a high-performance time-series tag historian.
Full product details

Reporting Module
Create dynamic, database-driven PDF reports with pixel-perfect layout — with ease.
Full product details
Alarm Notification Module
Configure the logic for how, why, and when alarm notifications are delivered, manage alarm notification for groups of users, and send notifications via email.
Full product details
Mobile Module
Get mobile access to your control system via smartphones and tablets.
Full product details

Enterprise Administration Module (EAM)
The EAM provides a secure and intuitive way to manage many Ignition installations from one location.
Full product details

OPC UA Module
Connect to most major programmable logic controllers (PLCs) with the Ignition OPC UA Module. This module serves as a totally cross-platform OPC UA server with an open, pluggable driver system.
Full product details

Drivers for OPC UA Module
Modbus Driver
UDP and TCP Drivers Module
Allen-Bradley Driver Suite
Siemens Driver
DNP3 Realtime Driver
Omron Driver
Full product details
More Inductive Automation Modules
Beyond the core Ignition modules, Inductive Automation has made several other modules to help you add even more specialized features and functions to your Ignition system.

Sequential Function Charts (SFC) Module
Streamline the creation, organization, and visualization of robust logic systems.
Full product details

Web Browser Module
Easily embed a web browser component into your Ignition Vision project.

Voice Notification Module
Enable both alarm notification and acknowledgment via a phone call.
Full product details

SMS Notification Module
Add text alerts with the SMS Notification Module for even more options.
Full product details

Twilio Notification Module
Adds integration with Twilio via an SMS Alarm Notification Profile and scripting functions to send SMS.

Web Development Module
Allows users to directly program against the web server inside the Ignition Gateway.

Serial Module
Adds the ability to send and receive information over a serial port to Ignition.

SECS/GEM Module
Enables Ignition projects and third-party applications to communicate with semiconductor fab equipment.
Strategic Partner Modules
Our Strategic Third-Party Module Partner Program enables third-party software providers to create modules for the Ignition platform in their area of specialized expertise. Inductive Automation has chosen to include these providers in the program because of their strategic alignment with the Ignition platform product. Products developed by these Strategic Partners are backed with a commitment to the long-term success for our customers. You may purchase these modules directly from Inductive Automation.

Use the Sepasoft manufacturing execution system (MES) modules to bridge the gap between the plant floor and the executive level.

OEE Downtime Module for Ignition
Combines both OEE calculations and downtime tracking to give operations managers a robust software package that measures efficiency and insight into how to boost OEE.
Full Product Details

Track & Trace Module for Ignition
This paperless, fully integrated solution can provide production control and track product from the raw materials to the finished state, access genealogy data, and set up a centralized operator interface for all MES information.
Full Product Details

SPC Module for Ignition
Reduce or eliminate late or missing sample collection, inaccurate sample data and other issues leading to quality problems and deliver and analyze your SPC data in real-time.
Full Product Details

Recipe/Changeover Module for Ignition
Expertly build, manage and monitor recipes and quickly and accurately changing machine, process or system recipes.
Full Product Details

Instrument Interface Module for Ignition
Capture raw textual data from instrument type devices via serial, text files, OPC devices and more, and parse out that data to Ignition, databases or other systems.
Full Product Details
Web Services Module for Ignition
Visually configure web service operations and data types, invoke web service operations from the HMI, SCADA or MES system to read or write data to web-services-supported systems, such as ERP.
Full Product Details

Barcode Scanner Module for Ignition
Extends Ignition client to detect and decode 1D and 2D barcode inputs using the built-in GS1 International Standard or custom defined barcode formats.
Full Product Details

MES Enterprise Module for Ignition
Connect multiple MES Ignition Gateways across your entire enterprise to form a large, centrally managed MES solution. Analyze MES data from multiple production facilities at the enterprise server.
Full Product Details

With the Cirrus Link IIoT Modules, you can set up a secure MQTT message-oriented middleware infrastructure that increases data availability.

MQTT Engine Module for Ignition
Bidirectionally communicate with edge-of-network devices securely via an MQTT Server. Create one pipeline for all your IIoT data that increases data throughput and efficiencies.
Full Product Details

MQTT Distributor Module for Ignition
Adds an MQTT server to the Ignition platform that enables MQTT clients to securely connect, publish, and subscribe to data.
Full Product Details

MQTT Transmission Module for Ignition
Use Ignition to publish data from the edge of the network by taking Ignition Tag change events and publishes them as MQTT messages to an MQTT server.
Full Product Details

AWS Injector Module for Ignition
The AWS Injector module enables end users of Ignition to select tag data from the Ignition platform to be sent into the Amazon Web Services (AWS) cloud infrastructure for analytics.
Full Product Details

Azure Injector Module for Ignition
The Azure Injector module enables end users of Ignition to select tag data from the Ignition platform to be sent into the Microsoft Azure cloud infrastructure through the Azure IoT Hub.
Full Product Details

MQTT Remote Manager Module
Enable the central management of the version control and updates to Ignition Edge MQTT and the MQTT Transmission Modules over an MQTT network when combined with the MQTT Remote Agent Module.
Full Product Details

MQTT Remote Agent Module
Together with the MQTT Remote Manager Module, the MQTT Remote Agent Module provides the agent services of version control and updates at the remote device or server level over and MQTT network.
Full Product Details

EFM Emerson ROC Module
Connect to the following device families: Emerson ROC 107 & 800 Series flow computers. EFM supports real-time, alarm, historical, and event data.
Full Product Details

MQTT Recorder Module
The MQTT Recorder Module receives record objects via MQTT/Sparkplug and automatically generates and populates database tables with records as they are received.
Full Product Details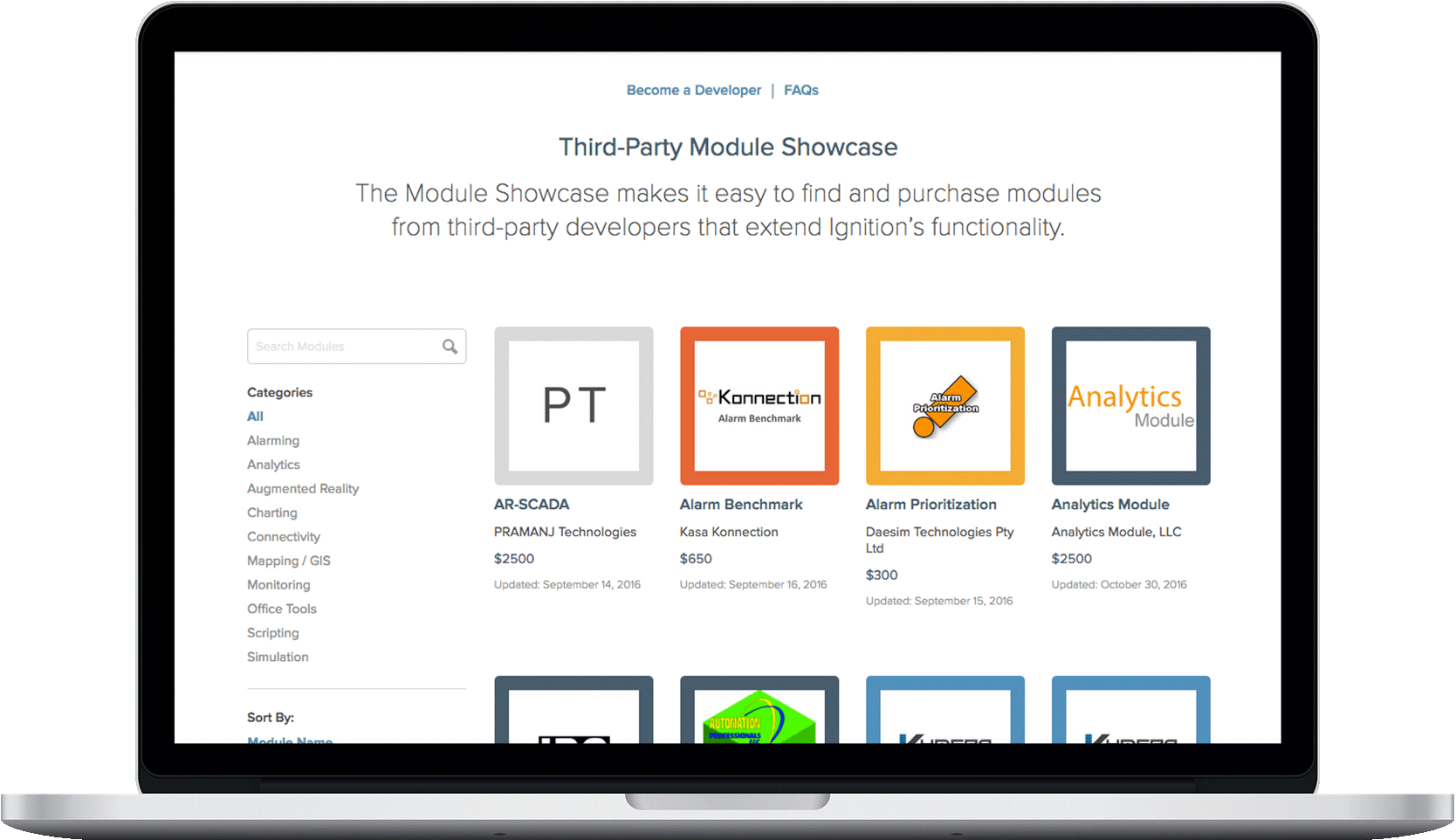 Third-Party Module Showcase
Ignition's open application programming interface (API) and software development kit (SDK) make it possible for third-party companies to develop modules for the Ignition platform. The Module Showcase makes it easy to find and purchase modules from third-party developers that extend Ignition's functionality.
Visit the Module Showcase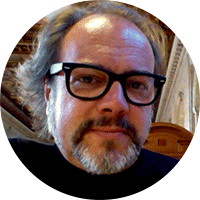 "The modules integration and flexibility of the Ignition platform let us build an application that's easily adopted in production."
– Enrico Aramini
HTC High Tech Consultant SRL
---
Greater mobility, more data, and less paper for a leather tannery in Italy.
Watch the case study

Start Building Your First Ignition Application!
Download the free trial
Some of the companies that depend on Ignition: