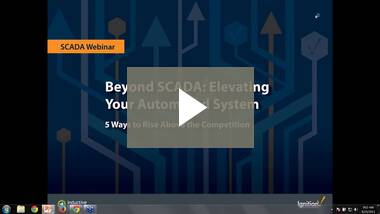 In a competitive global economy, it's crucial to make the most of every asset your company has, including your software. Although supervisory control and data acquisition (SCADA) software is widely used for monitoring, gathering and processing data, and controlling automated processes, it has many drawbacks and limitations. To name a few: SCADA software is hard to customize, it doesn't "play well" with other software and systems, it is very expensive to implement and expand, and it doesn't let you easily access real-time data.



What if you could rise above these frustrations and get your ideas implemented? We'll show you how in this webinar.



Charlie Hendrixson, director of automation services for Miller-Eads Automation, joins us to discuss how companies are building systems that go beyond what normal SCADA systems can do – and the results that accompany an agile, flexible automated system.



In this webinar, you'll learn:




• How to build your SCADA software around your processes.


• How to get MES and ERP to work, all in one place.


• How to avoid getting hung up on licensing costs.


• How to get EVERYTHING to work together!


• How to understand your data – and your operations – like never before.
published: 03/25/14