Ignition 8.1.17: Important Security Update, Tag Editor UX/UI Improvements, and So Much More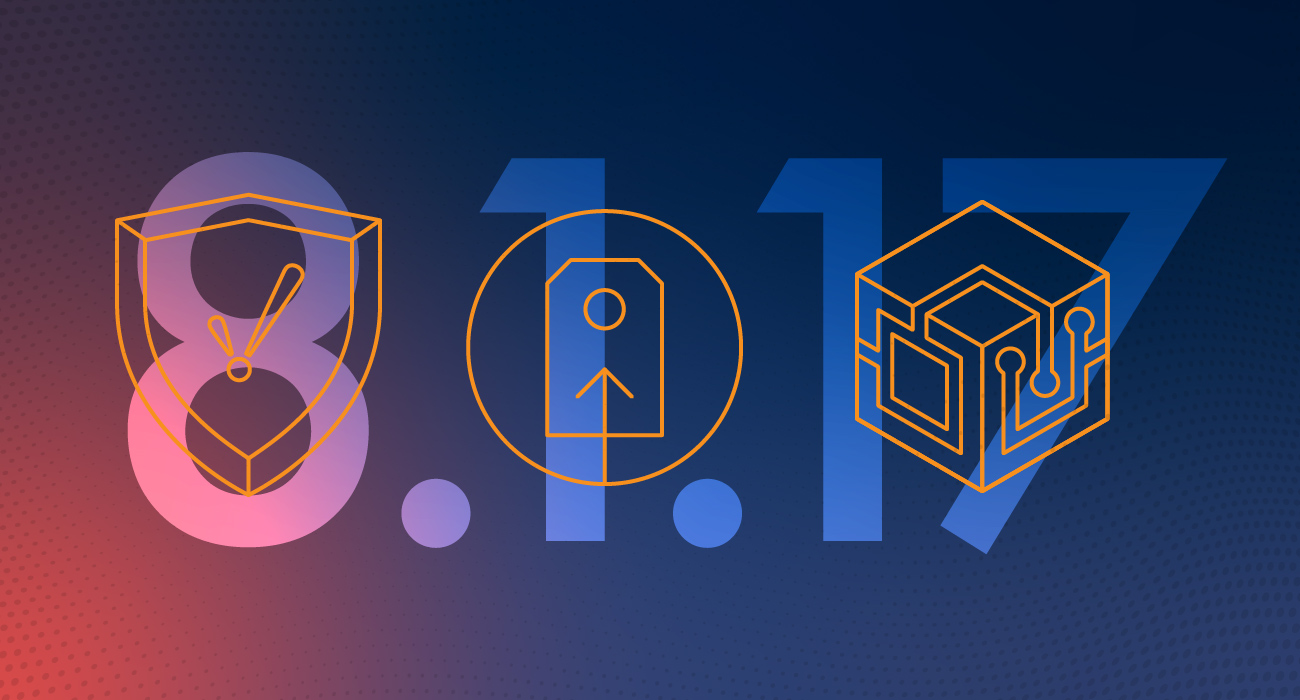 As promised, Ignition 8.1.17 is now arriving at the station, bringing with it several major updates and improvements that you surely do not want to miss. In the blog post for our last release, 8.1.16, we dropped hints regarding several major improvements to the Tag Editor in the Ignition designer. Ignition 8.1.17 delivers the goods, but before we get into those and other sweet updates, let's talk about how the release train made a quick stop at the S4x22 event in Miami.
White Hat Hackers Help Strengthen Security
This year at the S4x22 conference, Trend Micro's Zero Day Initiative hosted the second Pwn2Own competition, which focuses on testing popular industrial control systems (ICS) and putting them through their paces to reveal any vulnerabilities. Ten ICS products from different vendors were selected as targets and, once again, Inductive Automation's Ignition was part of the mix.
Our last showdown at the Pwn2Own event was in 2020. We definitely grew a lot from that experience and it helped us further solidify our approach to security. To better understand what we learned and how we approached the vulnerabilities in 2020, how our company handles security threats, and thoughts about the importance of competitions like Pwn2Own, read the blog post we published at the time.
At this year's Pwn2Own competition, several vulnerabilities were identified and that information was shared with us. Our software development team quickly reviewed the findings and pushed out high-priority fixes in a short amount of time.
Many products at the Pwn2Own competition were successfully hacked, with the goal of using this information to make improvements and ensure customers are well taken care of. Security awareness is a must, especially in today's interconnected world, and being proactive can help prevent potentially catastrophic results in many critical systems.
Although it's never fun to hear about security vulnerabilities, the reality is that the world is constantly evolving and security threats will always be at our doorstep. The most important thing is how we address these threats and the steps that we take to protect our systems.
Fortunately at Inductive Automation, we have put a process into place to make sure our users get the latest security updates through various means, such as nightlies, critical updates, and the release train.
Critical Security Update
A big part of good security is making sure to continually implement updates and fixes that are pushed out on a regular basis. That is why we recommend that all Ignition users update to the latest version of Ignition, which is currently 8.1.17.
For our 7.9 users, we have back-ported security fixes from 8.1.17 into 7.9.20, which is now available for download. To protect our users, Inductive Automation will publish a technical advisory 60 days after the release of 8.1.17 and 7.9.20 that will disclose details for most of these vulnerabilities.
What Else is in Store
In addition to the important security update, Ignition 8.1.17 brings a major update to the Tag Editor in the Ignition designer, and improvements to Perspective, Vision, Docker, EAM, OPC UA, drivers and the platform. Let's dive in and take a look.
Tags, You're It
Our community made us well aware that the Tag Editor in Ignition 8.0 and 8.1 removed a few useful features from 7.9. Our development team pored over the forums and feedback to determine the major sticking points for our users. As a result, we made some much-welcomed UX/UI updates in Ignition 8.1.17.
Hocus Focus
"Hocus pocus" means deception and trickery. This particular update is quite the opposite because it helps our users to focus on the tag properties. Prior to this update, when you wanted to modify expressions, bindings, alarms, and event scripts, the relevant tag information was moved into a new window, making it unavailable. In 8.1.17, we brought all of that relevant information back into the dialogue window. Now when you make modifications, the tag properties all remain visible and in focus.
Maintaining Context is Very Helpful
The next several improvements to the Tag Editor help to maintain context when modifications are made. In Ignition 8.1.17, updates were made to the Tag Browser Trees, Category Panes, and persistence of categories.
First up, let's take a look at the browse trees in the property editors. Prior to 8.1.17, the browse trees would always collapse, requiring the user to repeatedly expand them, which can be fairly cumbersome. In 8.1.17, the behavior is more in-line with Ignition 7.9 whereupon the initial opening of the browser selects the tag you are currently editing. If you make a change, then the future tag selection windows will maintain the context that you last selected.
We also brought back category panes within the Tag Editor. Prior to the current update, all properties were visible, thus making the view overwhelming and harder to focus on. With Ignition 8.1.17, the category panes group related properties together, making it easier to focus when editing specific items.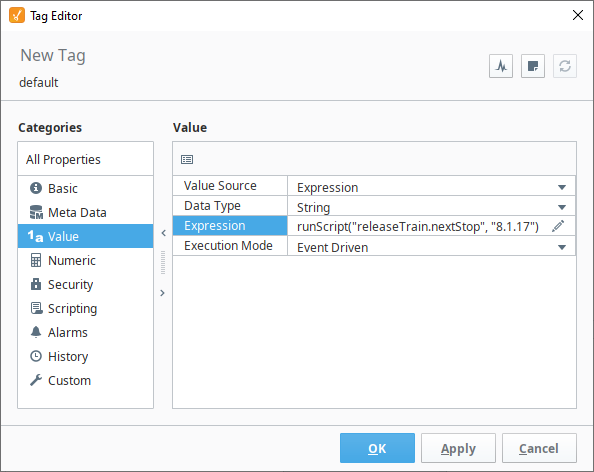 Speaking of focus, prior to this update, when making edits to tag properties, the edit window would animate into place and dominate the entire view in the Tag Editor. While you could focus on the edit you were making, you would lose sight of what was being edited. In Ignition 8.1.17, we removed the animation and the full edit view.
Now when you edit tags, the editable area will open alongside the category columns within the Tag Editor, allowing the user to maintain context while making a property edit. In addition, to help with workflow and focus, when a user edits a certain category, the category selection will persist on the next tag that is opened, as long as a category exists for that tag.
These updates will definitely help our users reduce the amount of clicks required to make modifications and will help improve workflows by keeping relevant contextual information immediately at hand.
Pop Goes the Expression Binding
The Expression Binding receives a specific update that continues the theme of keeping context. As I mentioned before, when an edit is made, the edit window would animate into full view.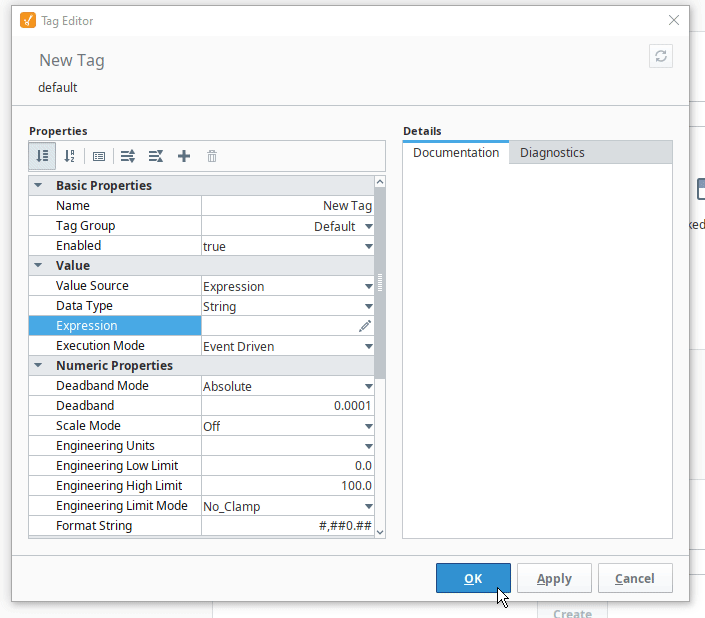 In Ignition 8.1.17, the Expression Binding editor will appear as a pop up. This will afford users a larger editing workspace while keeping the Tag Editor in view, thus maintaining context. In addition, Tag and Parameter bindings can be edited in-line within the Tag Editor and are not shortened.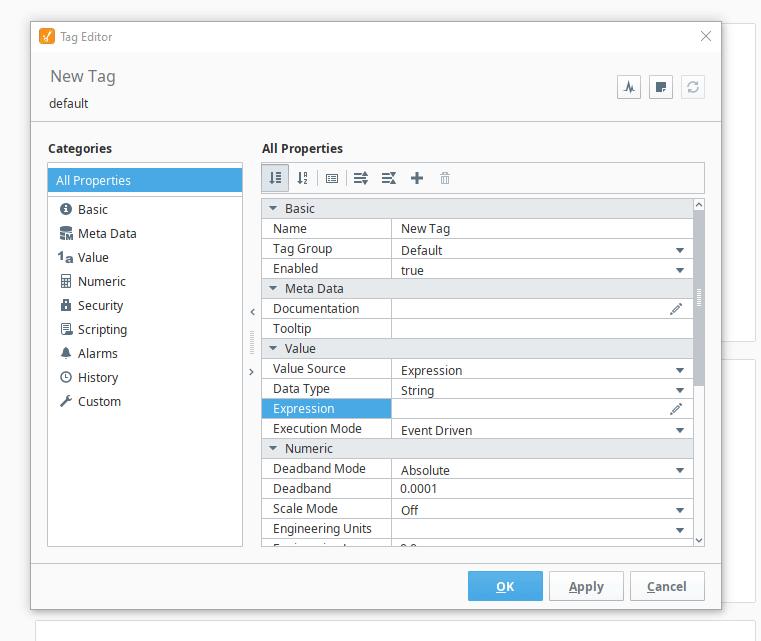 Good Ol' OPC Path
One particular pain point for our users deals with OPC tags. For OPC tags that are driven by PLCs, the OPC Item Path is really important since it defines which device and where. The data in that field can get really long. Users need to view that path to validate that the data is coming from the correct PLC.
Prior to the update, users would be frustrated by having to resize the OPC Item Path field to view the entire path. When you tried to edit it, it did not display the value. In Ignition 8.1.17, the new UX/UI update allows you by default to see more of the item path. You can also readjust the category column size to give you even more room.
Other Usability Improvements to the Tag Editor
In addition to the aforementioned UX/UI improvements, we also threw in some general usability improvements to the Tag Editor in Ignition 8.1.17.
UDT Editor now sorts like the tag browser (folders first, then tags)
You can add tags in the UDT Editor without having to click the root of the UDT/folder
UDT Parameters now show when they are overridden
UDT properties are added in-line to bindings now rather than clearing out the content
Fixed the alignment of property values, which now are all left aligned
When Show/Hide Description Area is enabled, clicking on the properties show descriptions from the manual
Additional Goodies
With a security update and a major facelift to the Tag Editor, what more can software development throw into Ignition 8.1.17? Well, plenty more! Let's check out what additional goodies are found in Ignition 8.1.17.
Perspective
Added expandSubviews and collapseSubviews component methods to the Table component.
Added properties to the Power Chart and Time Series Chart that can change the text color and size of info boxes (Time Series Chart) and annotations (Power Chart).
Added a 15-minute zoom value to the Equipment Schedule component.
Vision
Added "Login Prompt" and "Login Message" to the Vision Login project properties, which change some of the default text when attempting to log into an IdP from a Vision Client.
Docker Image
Added a GATEWAY_MODULES_ENABLED environment variable that can whitelist a set of built-in modules that will remain installed prior to gateway startup, which helps with container re-creation events.
The image now supports running as a non-root user. In addition, the IGNITION_UID and IGNITION_GID environment variables can be used to set UID/GID values for the target user to run Ignition as.
EAM
The Collect Backup task now times out after 60 minutes of waiting for the agent to generate the backup, plus an additional 60 minutes to transfer the backup. In addition, we added a new system property (ignition.eam.task.collectBackup.transferTimeout) that can modify the transfer timeout.
OPC UA
The Ignition OPC UA server's max session count is now configurable via a new Max Session Count property.
Driver Changes
TCP: Added a Connect Timeout setting that determines the timeout period when opening a socket connection to a remote host.
BACnet: The driver now supports Elapsed_Active_Time and Time_Of_Active_Time_Reset properties (represented as tags) on BinaryInputs, BinaryOutputs, and BinaryValue objects.
BACnet: The driver now limits concurrent device initialization. Useful in cases where a single gateway has hundreds of device configurations.
DNP3: Added a Time Synchronization Enabled setting to DNP3 device configurations. When set to False, the device will no longer automatically synchronize the gateway time to the outstation.
Redundancy
Failover to a redundant node is now allowed if the nodes have different platform versions, which allows attached clients to remain connected to at least one node during a redundant pair upgrade.
Platform
The audit log now records when a user logs in or out of the gateway's web interface.
Made some general UI improvements to multi-valued lists on the gateway's Web Server page, as well as the OpenID and SAML settings pages.
Ignition's installers now provide timestamped logs for installations and upgrades in the logs directory, and uninstall logs in the root install directory.
Added a timeout argument to the gwcmd's backup creation to account for cases where creating a backup takes too long.
Updated the bundled JVM version to 11.0.15 from 11.0.14.
Ignition 8.1.17 is jam-packed with new features and updates that will definitely improve your experience with Ignition. Most importantly, by updating to Ignition 8.1.17, or Ignition 7.9.20 for our 7.9 users, you will get the latest and greatest security updates, giving you and your users real peace of mind.
You can learn more about these updates and other improvements in our release notes and user manual.
As always, we invite your feedback about what you'd like to see in upcoming releases. As you can see, your feedback helped provide useful updates in Ignition 8.1.17. The release train shows no sign of slowing down and 8.1.18 is thundering down the valley. Be on the lookout as more improvements arrive at a station near you.
---