The New Integrator Search: Our Biggest Update Yet
The web development team here at Inductive Automation just wrapped up a big update to the Integrator Search page. We want the Integrator Search to be the easiest way to find qualified Ignition integrators in your area, and our latest updates bring us one step closer to that goal.
In this update, we're introducing two marquee additions — maps in the search results, and filtering by industry — along with a host of other improvements.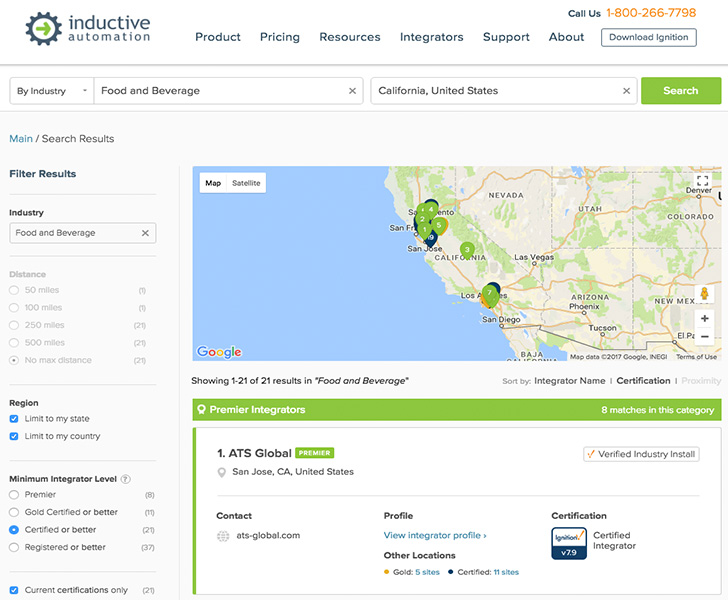 Maps in the Search Results
This is one of our most requested features and I'm glad we were finally able to make it happen. Sometimes, it's just more helpful to see how locations lay out on a map instead of only seeing a list. We've integrated Google Maps into our integrator search results to help you do just that.

Filter by Industry
Searching by proximity is great, but if you're a craft brewery, for example, how do you find integrators near you that actually have experience with your industry? With our new industry filters, it's easier to hone in on that perfect fit.

Other Improvements
While we were at it, we made a bunch of other improvements and bug fixes based on your feedback. Here are some of the highlights:
Optimized querying to make the search experience faster
Added the ability to limit a search to your state
Fixed unexpected default sorting behavior when searching
Added better visual indicators when a search is in progress
Searching by state or country has been made more consistent with city searches
Other improvements that improve the overall user experience
Are there any other features or improvements you would like to see? Let us know by leaving a comment below-we'd love to hear from you.
If you're a part of our Integrator Program, we invite you to visit the Integrator Portal to check out these great new features and to make sure all of your profile information is complete and up to date. If you're an integrator and your account information isn't displaying correctly on the Integrator Search, let us know by contacting us directly.
---