Speakers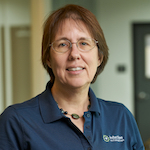 Kathy Applebaum
Senior Software Engineer
Inductive Automation
Company growth is great, but it can be difficult to keep up with. Learn how to leverage Ignition's server-centric architecture and distributed tags to gracefully scale from a smaller centralized system to a larger multi-server one, without sacrificing system stability.
Posted on October 1, 2016
Want to stay up-to-date with us?
Sign up for our weekly News Feed.
By clicking "Sign me up," you agree to the
Terms of Use
, and the submission and processing of your data. Your privacy is very important to us.
Privacy Policy