5 Reasons Why Ignition is the Future of the Food & Beverage Industry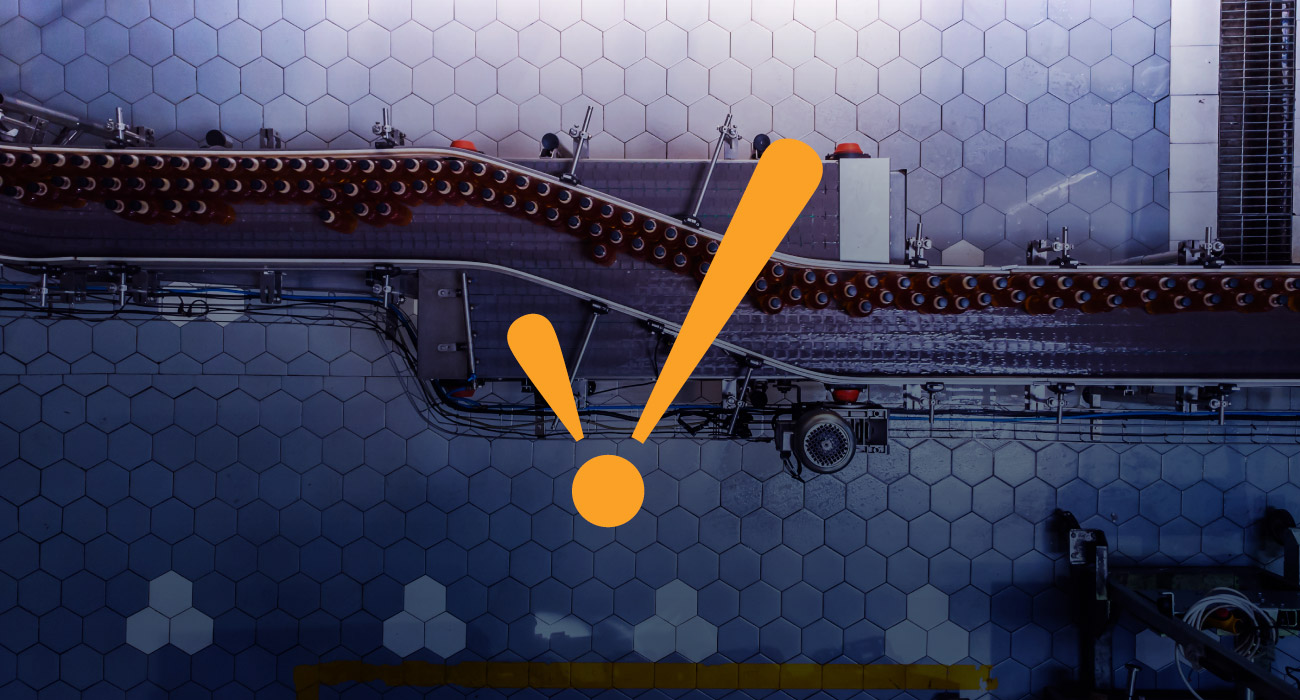 In today's world, automation is a necessity for all manufacturers. Food and beverage manufacturers in particular face many challenges that make an investment in automation and supervisory control essential to remaining competitive. The market changes abruptly and often: recipes need to be reformulated to accommodate diet trends, the constant demand for innovative packaging to attract new customers, and seasonal variance of production requirements are all factors that must be considered.
Beyond FDA and FSMA regulations, manufacturers must also take into account classification and segregation of allergens during formulation and equipment cleaning, a process that mirrors requirements in the pharmaceutical industry. "The way we've been doing things for a long time is based on our pharmaceutical experience and seeing how food and pharmaceutical are kind of like coming closer and closer. In terms of the automation solution, it will look the same to us. It doesn't matter if it's food or if it's medicine," said John Parraga of ECS Solutions. Simply put, insufficient interoperability can endanger both public health and an organization's bottom line.
With the increase in safety restrictions and the need for social distancing due to COVID-19, automation has become essential to maintaining production levels while keeping employees safe. But even without the pandemic, automation is clearly the future of the food and beverage industry. As one manager for a meat processing plant told ProFood World, "In 20 years, our plant will be 100% automated and IIoT deployed and active." With the right software, it could be much faster than that.
Many of the most successful food and beverage manufacturers are utilizing Ignition by Inductive Automation to assist with their digital transformation and implementation of Industry 4.0 technology. With Ignition's modular design and myriad applications — SCADA, HMI, IIoT, MQTT, historian, MES — it's easy to, in Parraga's words, "Identify the problems, come up with a solution, justify it, and deliver it."

Reason #1: Data and Visibility
Data acquisition and plant-floor visibility are invaluable to manufacturers. Humans armed with whiteboards and Excel spreadsheets will never match a computer at data collection, much less for processes that require thousands of tags. Ignition accumulates unprecedented amounts of data, which can be stored and easily shared. "We have the means to capture the information, we have the means to display it, we have the means to analyze it. And Ignition allows us to do that easier than other platforms," said Parraga.
Ignition has provided Chobani, owner of the largest yogurt production plant in the world, with access to more data than ever before for executives and technicians alike. With an up-to-the-minute view of real-time production numbers, Chobani now has a full visualization of the plant floor that is instantly accessible from any part of the network.
It's a benefit the craft brewers at MadTree Brewing Company appreciate as well. Using Ignition, MadTree can monitor all operations from any location through a single unified interface. Trent Leslie, quality manager at MadTree, said, "Being able to combine the relational database back-end with Python scripting, and having the interface for other people to actually view that information — not just me — was pretty awesome."
For some companies, real-time analytics had long been a pipe dream. SugarCreek, which runs the largest sous vide cooking operation in the U.S., previously struggled with data acquisition, often making decisions based on day-old information. "Now with Ignition, the data is immediately available and highly actionable. It's a world of difference," said Ed Rodden, chief information officer for SugarCreek.

Reason #2: Efficiency
It's not the quantity of data that matters, it's what can be done with it. By leveraging Ignition, companies can better analyze their processes, increasing efficiency and streamlining operations. "Look at your entire process, your ecosystem, see how information goes from your ERP enterprise system, your orders, seeing how you store materials, see how far upstream we could track activities and control things from the moment the truck enters your gate until the product leaves the plant," said Parraga. "Instead of overall equipment efficiency, it's more overall process efficiency."
With Ignition, manufacturers can fine-tune operations, discover high payout processes and improve them. "If you could do this one expensive thing better, you could save a lot of money," said Tim Matheny of ECS Solutions. SugarCreek, for example, used Ignition to calculate optimal weights for its products, thereby increasing profit while decreasing waste.
AriZona Beverages — which opened its new plant in November 2019, boasting the capacity to produce approximately 60 million cases of drinks per year — used Ignition to implement a custom batch solution as part of its SCADA system instead of running the two in parallel. This synthesis gave AriZona the ability to employ just-in-time batching, thereby smoothing out processes and helping to maintain the famous 99-cent price point for its 23-ounce cans.
Ignition's database integration eliminates manual information distribution, saving time and improving communication plant-wide. Often, companies waste huge amounts of time getting data to the right people through written documentation, emails, or phone calls. By centralizing data storage, no one has to wait their turn, they simply have the information they need at their fingertips.
Speaking of which, the Ignition Perspective Module is the first truly mobile-first SCADA solution that can connect with MES and ERP, natively running Ignition from tablets and mobile phones. Both AriZona and Chobani have praised Perspective as a way to track all OEE, downtime, and KPI data. This mobile functionality creates a dynamic environment where managers and technicians can utilize more effective workflows.

Reason #3: Flexibility, Unlimited Licensing, and Customization
Food and beverage manufacturers need to be flexible to meet (and get ahead of) fluctuating demand, which means the ability to adjust recipes and processes at a moment's notice. Making modifications in Ignition is fast and easy. Craig Langhals, SugarCreek's continuous improvement manager, said, "Generally, it takes Dan [Stauft, SugarCreek's OT director] about 10 seconds to make the changes I request. Usually it's right on the spot, in front of us."
Ignition's flexibility also extends to HMI customization. Beyond simply choosing data types and graphics, Ignition allows for the creation of unique HMI interfaces, even for specialized areas of a facility that require nonstandard views. "Ignition makes it really cost-effective to do a one-off scenario like that," said Trevor Bell, automation engineer with Chobani.
One of Ignition's defining features is its unlimited licensing model. The concept is as simple as it sounds: one license allows for unlimited clients, devices, screens, tags, and more. MadTree, for instance, leveraged this licensing model to continually expand, which has been vital to the company's rapid growth. Additionally, Chobani has used Ignition's unlimited licensing to stay ahead of rising demand, giving the freedom to add as many clients in as many locations as needed.
Part of what makes Ignition flexible is that it runs on open-source programming languages and operates in conjunction with proprietary software. "Open-source protocols are the only type available that are feasible in 99% of applications," said Allen Tubbs, product manager for Bosch Rexroth in this Food Processing article.
In essence, Ignition can act as a bridge between a variety of databases and machines. Orva, an Italian producer of bread and other baked goods, has built and acquired a diverse fleet of specialized hardware over the years, each with its own specifications. Ignition allowed Orva to run its entire heterogeneous network system on a single platform, including eight production lines across two separate facilities.

Reason #4: Ease of Use and Training
According to recent surveys of food and beverage manufacturers, the number one reason for not automating has been a perceived lack of well-trained labor. Ignition overcomes this issue by not only being easy to learn, but also including free trials, training, and tools to help users start building and operating in minutes. "With Ignition, go online, download all the training you want, free. Download the product, install it free, run it if you want, free. That makes a big difference in terms of people's ability to learn a system," said Parraga.
SugarCreek was originally introduced to Ignition when their director of operations technology, Dan Stauft, became curious about the platform and downloaded a free trial version. Stauft was able to build a model and present the system's capabilities to the management team before making any purchase (all "without reading the manual" by his own admission). Since then, SugarCreek as a whole has found Ignition intuitive and easy to use.
In fact, there are several ways to get acquainted with Ignition. Beyond the trial version, there is also Inductive University, a digital learning platform featuring hundreds of free training videos. "Ignition is very easy to implement, it's easy to program for, and it's intuitive," said Kyle Lehman, controls engineer at ThermalTech Engineering. "And Inductive Automation provides great, free, online training for anybody who wants to learn how to use it."
Additionally, with the release of Ignition 8.1, the new Quick Start function comes built in, providing simple tutorials and automatic configurations to help new users better understand and visualize the possibilities of the platform. "With Ignition, it's so easy just to say, 'Give me a day and I'll show you,'" said Matheny.
Once users are comfortable with Ignition, there are still plenty of tools to make project creation easier. Features like the robust template management system save time on development and implementation, eliminating the tedious process of rebuilding assets. "The fact that I can use a template, and apply it to many different projects, saves a lot of time for me, for my clients, and for MadTree," said Lehman. "The template-management capabilities in Ignition allow us to apply templates between jobs, between projects, and even between different areas of a facility. They allow us to be repeatable and predictable."

Reason #5: The Enterprise
Broadening the scope from the plant floor, Ignition offers potential benefits to an entire organization. Chobani implemented Ignition in all three of its facilities, connecting the entire company from the production floor up to the executive level, which has been invaluable during the pandemic. "When I log into our Ignition system I can see New York, Twin Falls [Idaho], and Australia at any given moment in time," Hugh Roddy, the vice president of global engineering and project management at Chobani, told ProFood World. "Once we took Ignition onboard as one of our enterprise platforms, everything has improved exponentially across the board from an operational standpoint."
Ignition does not require a complete overhaul of the production floor either. Owing to its adaptable design, Ignition can run an entire plant or just a single process. SugarCreek began using Ignition half a decade ago and has continually expanded the platform's role in the operations of its six food manufacturing facilities. Ignition has also allowed SugarCreek to share comprehensive operations data with customers, something that no one else in the meat industry is able to do.
One of the big pushes in manufacturing and data acquisition is the convergence of operational and information technologies. Ignition not only connects OT to IT, it integrates business and production, unifying the company at large. "It's not so much about digitization or IIoT devices," Roddy said. "The transformational component is an organizational design that empowers the technology user. Connecting factories is about allowing people to see what is going on."

Get Started With Ignition
It bears repeating: automation is the future of the food and beverage industry, and there is no platform that can match Ignition's ability to digitally transform an organization. Todd Pugh, SugarCreek's IT director, put it simply, "We haven't found anything that Ignition can't handle on the plant floor."
Want to learn how Ignition can benefit your company? Explore Inductive Automation's Find an Integrator feature or our Ignition product page to start transforming your manufacturing facility with cutting-edge automation technology.
---