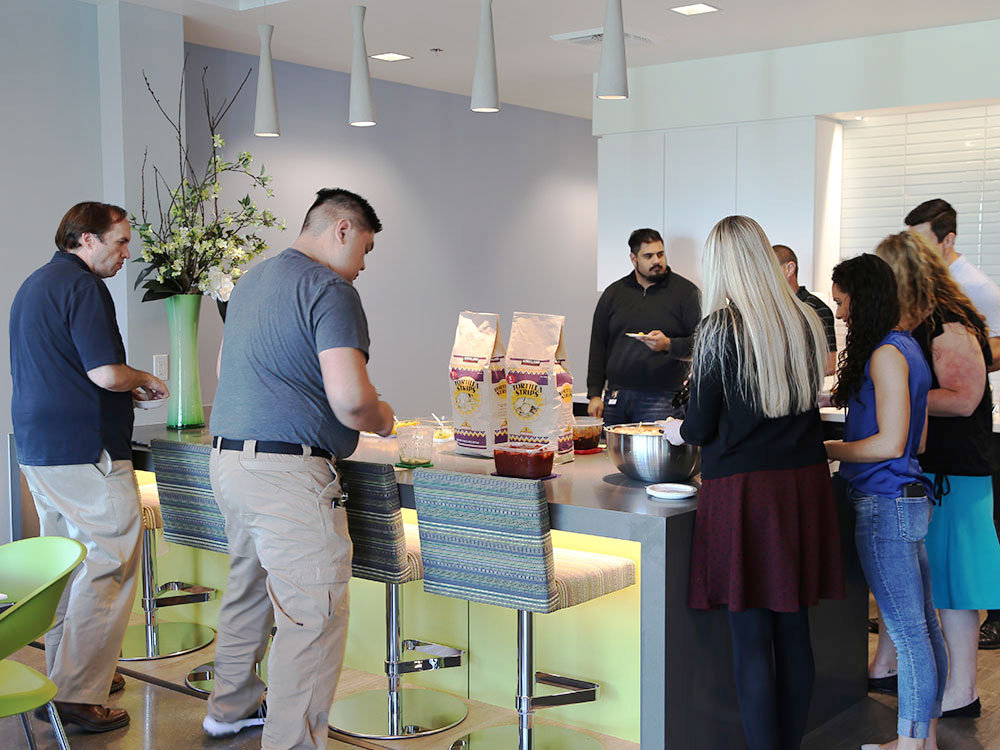 There was a lot to "taco 'bout" at Inductive Automation last Friday. We held our annual salsa competition in the new Cafe at 90 Blue Ravine, and it's fair to say things got heated. From a reigning champion relinquishing his crown, to a second-place curse, this competition spiced up the day for IA's dip-loving team. Eight amateur cooks competed with their homemade toppings for the ultimate prize: The Golden Sombrero. Heralded around the office as the ultimate desk accessory, this trophy signifies true salsa mastery, and a commitment to excellence in sauce creation. Many had a guess about who would win, but all were surprised when an underdog came out victorious and was named the new salsa master.
The rules were fairly simple: each contestant had to make their entry from scratch, without help from any outside supporters, family, or Michelin-rated chefs. The salsas were tested blind by all interested staffers before being put to the final trial: a vote in the kitchen. Armed with tortilla chips and a deep appreciation for spice, our discerning team members put these recipes to the test.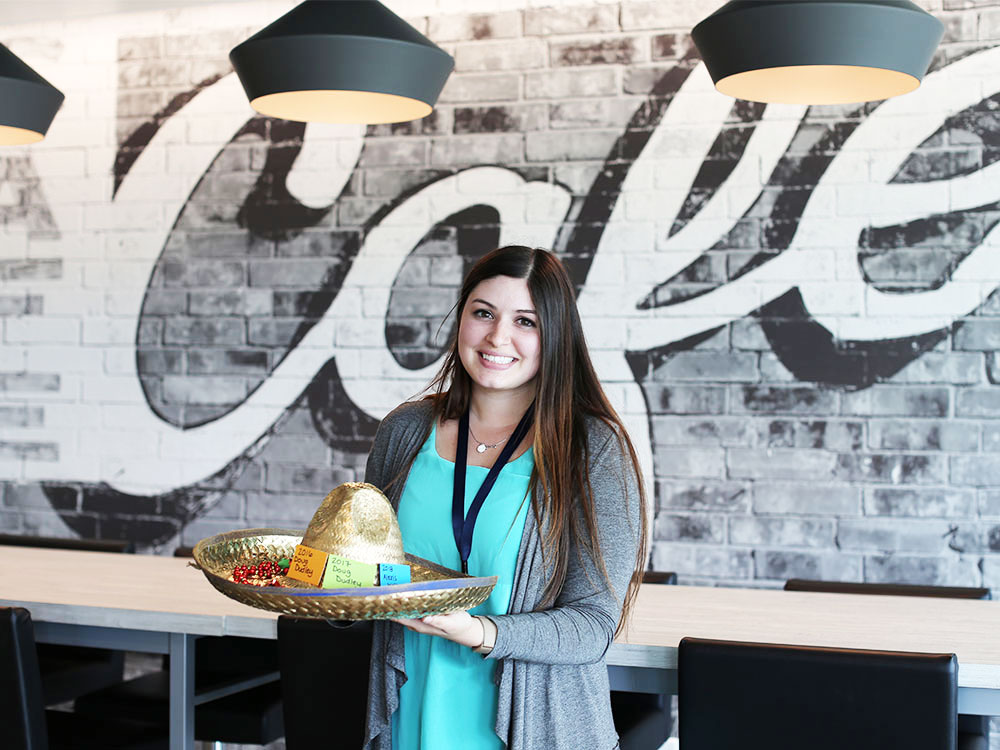 The Toppings Trophy-Winner
While many chefs brought the heat, it was Design Service's Alexis whose fiery recipe was voted best-of-show. Says Alexis of her victory: "I've never made salsa before, so it was kind of a surprise!" Opting for a sweeter recipe may have been the ultimate cause of her victory; she chose to forgo the traditional tomato or chili base for pineapples and mangos. Her winning recipe was a play on one she found online, which was blended instead of chopped to give it a saucier consistency. Her winning ingredient list? Pineapples, mangoes, jalapeno, cilantro, and salt.
The Runners-Up
The win came as a surprise to many familiar with the salsa competition: veterans of this contest are well aware that Co-Director of Marketing Doug has held the title two years running. This year, however, he was awarded third place for his culinary efforts. Doug reflected post-contest on his downfall: this year he switched recipes. "I should've gone with my tried-and-true recipe." The experiment might have cost him his bragging rights, but Doug is still confident his salsa was up to snuff. Only time will tell if this confidence will hold through the salsa competition of 2019.
HR Director Kristi won second place in the battle for salsa supremacy. While still an admirable position, second place holds a bit of a curse for Kristi, who frequently ranks second, most notoriously in the annual cookie bake-off. She was pleasantly surprised by her recipe's placement in the top three; her recipe was a recreation of her favorite salsa from Nugget Markets, a regional supermarket chain. Kristi's technique was to "throw everything in the blender," and initially she was less than pleased with the results; she thought her version would be far too spicy for the staff. Nevertheless, IA team members responded well to the spice, as reflected in her final score.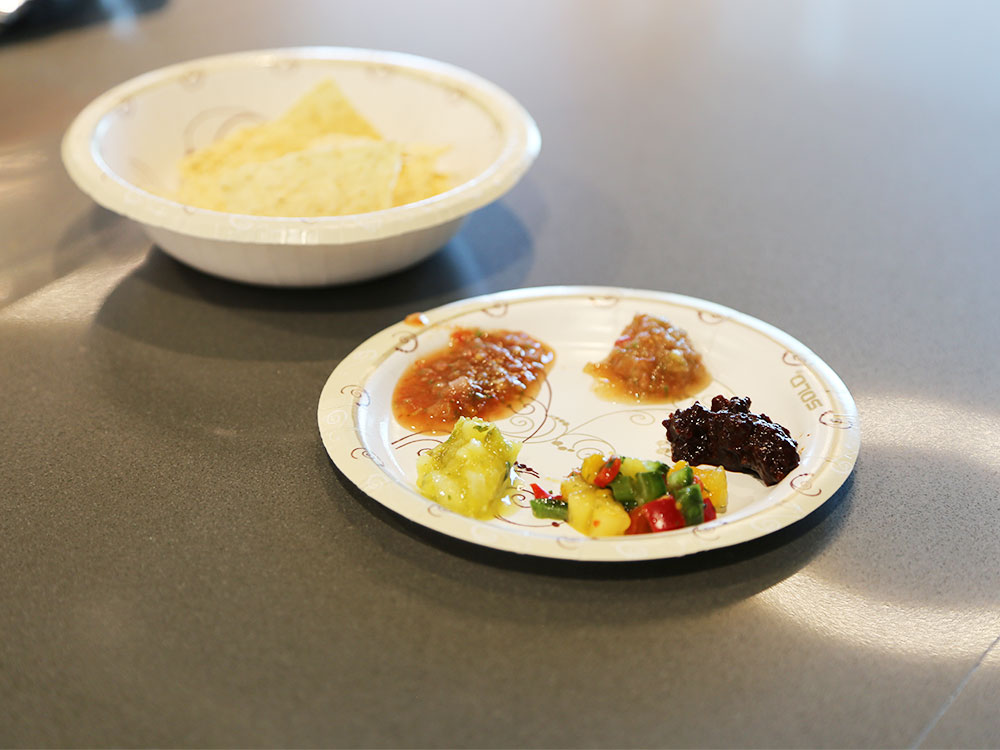 Honorable Mentions
Other competitors' salsas were also favorites among the staff, and all deserve recognition for their spicy submissions. Shout-outs to everyone who participated, ensuring there were plenty of samples to enjoy for the whole afternoon.
Salsa puns aside, the competition is a fun occasion for the staff to come together and highlight the wide range of skills that they bring to the (kitchen) table. The contest has been held three years running now, with great success. Kristi notes, "I'm always pleasantly surprised by how many people submit a recipe. Every year, the competition increases and the salsas get more delicious."
While many company events are competition-based, like the winter cookie bake-off, others are simply opportunities for IA's growing team to mix and mingle. From the summer company picnic to December's holiday party, staff events provide space to collaborate outside of work-based projects. Says Kristi, "I love these events because they create connections that are fun and meaningful, so when it's time to put our heads together and work hard, we're ready to do it."
One thing everyone can say about the employees here: they can take some heat!
Keep up with all the action- follow us on Instagram to see what Inductive Automation's team is up to next!
---