Unified Ignition Dashboard Makes History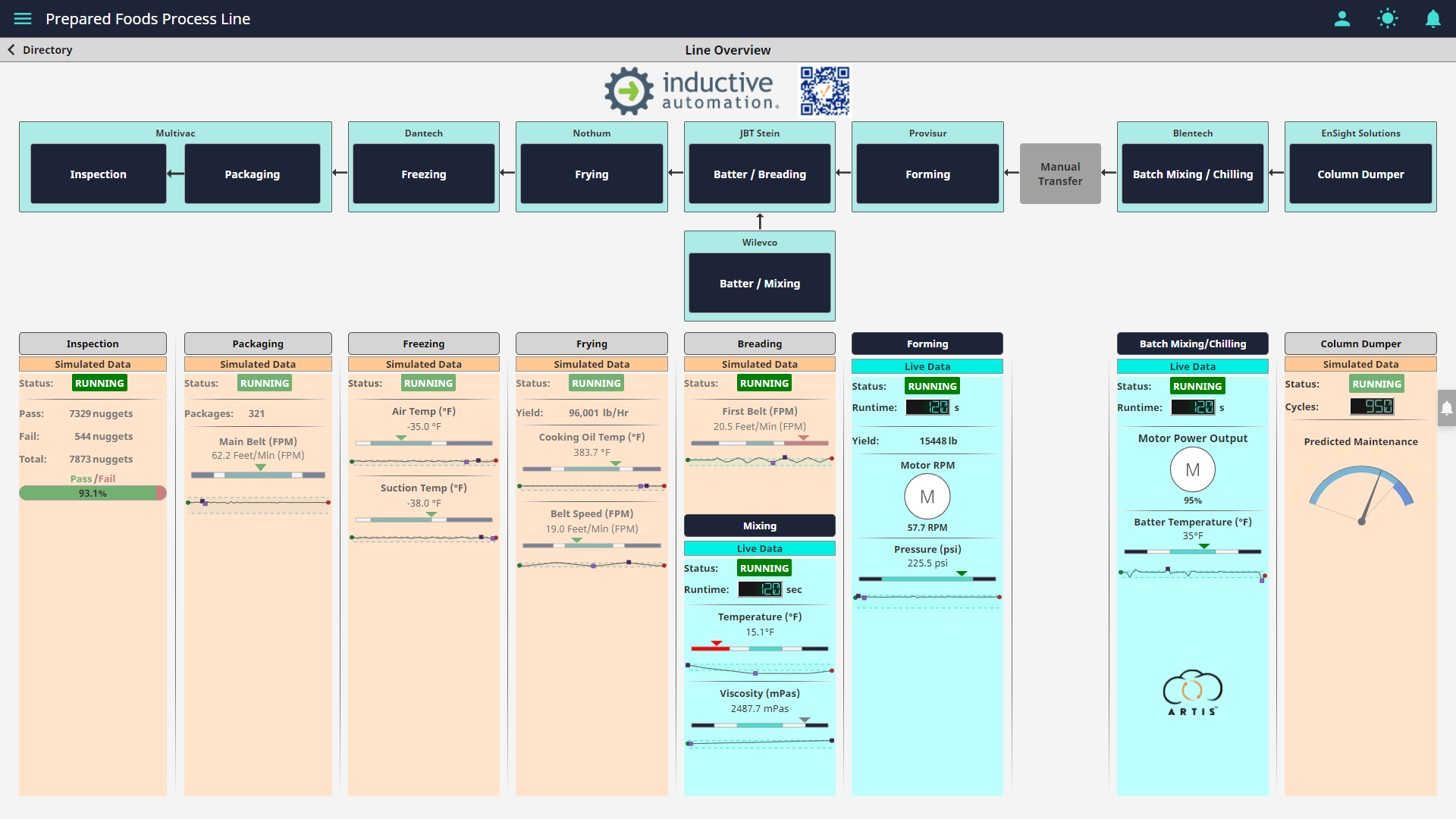 Great SCADA dashboards provide clear visualization and control. To create one that's truly effective, the software also needs to have compatibility with all the key devices on the plant floor. Recently, Inductive Automation was honored to be asked to develop Process Expo's first-ever unified dashboard for a process line as a means to display information from equipment supplied by a variety of vendors. I was involved in this exciting project and wanted to share some of the details here.
More Than Reading a Recipe
Process Expo takes a practical approach to the trade show format by including a simulated plant floor next to the usual cluster of booths, including three lines that are complete with state-of-the-art equipment connected together to accomplish a common production goal. At the 2021 Process Expo, the prepared-foods line was cooking and packaging a relatively modern product: vegan chicken nuggets. But plant-based protein wasn't the only innovation present in the line: Ignition was the first-ever overarching control system to be included on a production line at Process Expo.
The Ignition dashboard was set up along the production line on a TPC-324W touch-panel computer — courtesy of Advantech — and gathered real-time data, displaying it live as attendees were guided through the entire process. In fact, the part of the production line run by Blentech, an innovative cooking-equipment manufacturer, was also Ignition-powered. Running both locally over wi-fi and with data sent via MQTT to AWS on the cloud, the Ignition system wasn't confined to the touch-panel PC. It was also mobile-responsive, allowing attendees to scan a QR code and take the dashboard with them as they continued the tour.
"I wanted to make sure that this project was as intuitive as can be, knowing that people from different professional backgrounds and experience levels could be at this expo," said Ryan Zakskorn, an Application Engineer at IA and the main developer of the dashboard.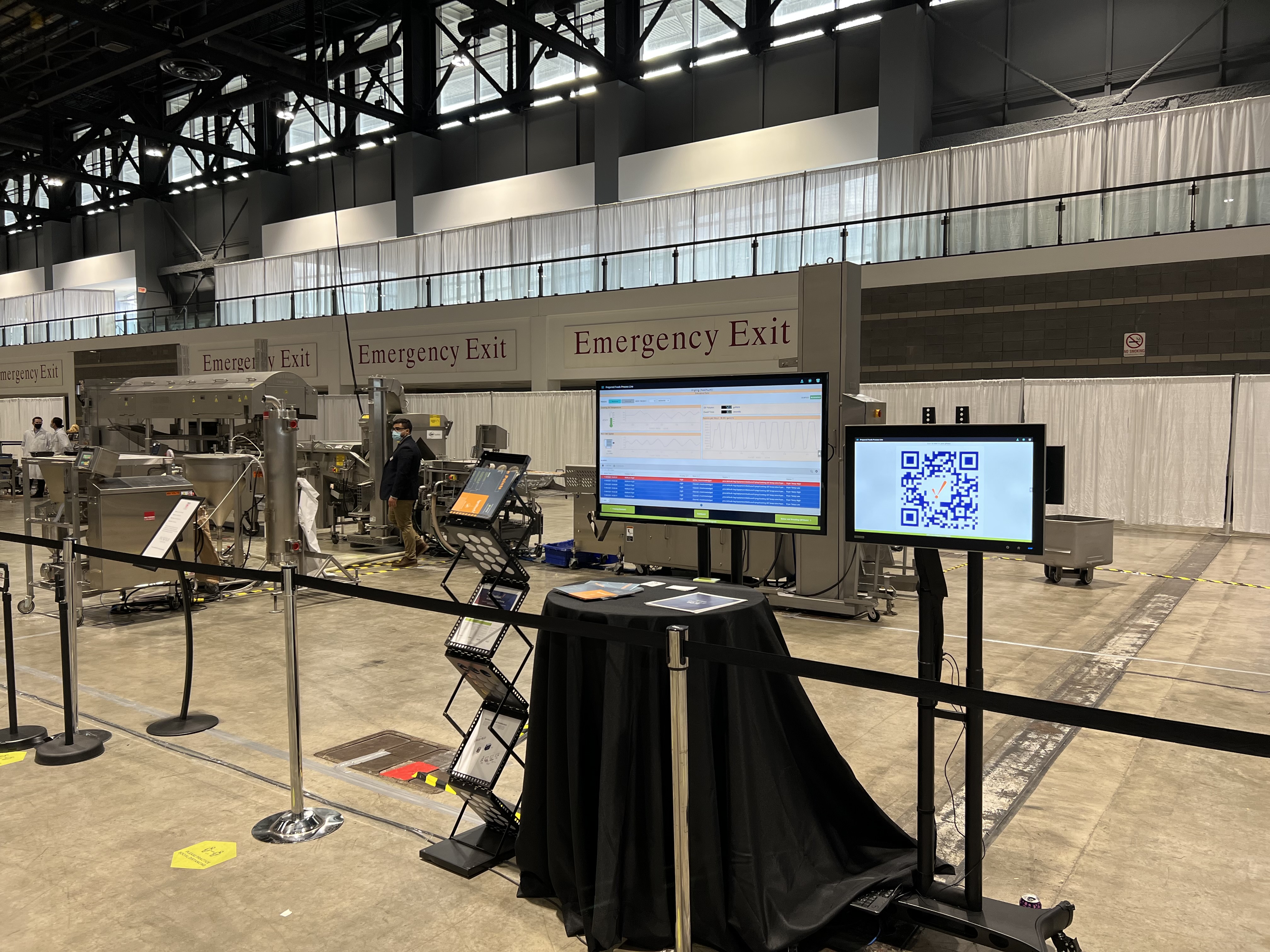 Inside the Dashboard
While the dashboard was developed for the expo, its applications directly translate to a real production floor, which is why it is now part of the Ignition demo project.
From the overview screen, an operator can see key information including equipment status, important data points, and alarms. Navigating to the individual equipment screens, users can view more details on the status of each process, including history and trending data. Ryan said that the goal was "making it easy for an operator to understand the status of their equipment and process from a quick glance but also providing more in-depth data when they need it."
When properly configured, this data can be used to optimize operations, refining parameters while maintaining quality. Additionally, there are screens containing accessory information such as past alarms and system diagnostics to offer further insight. And, as with all things Ignition, the dashboard is customizable, offering a variety of pre-made themes, plus the option to create your own. For example, at Process Expo, information cycled through specific vendor screens during in-expo presentations, giving attendees a deeper look at each piece of equipment.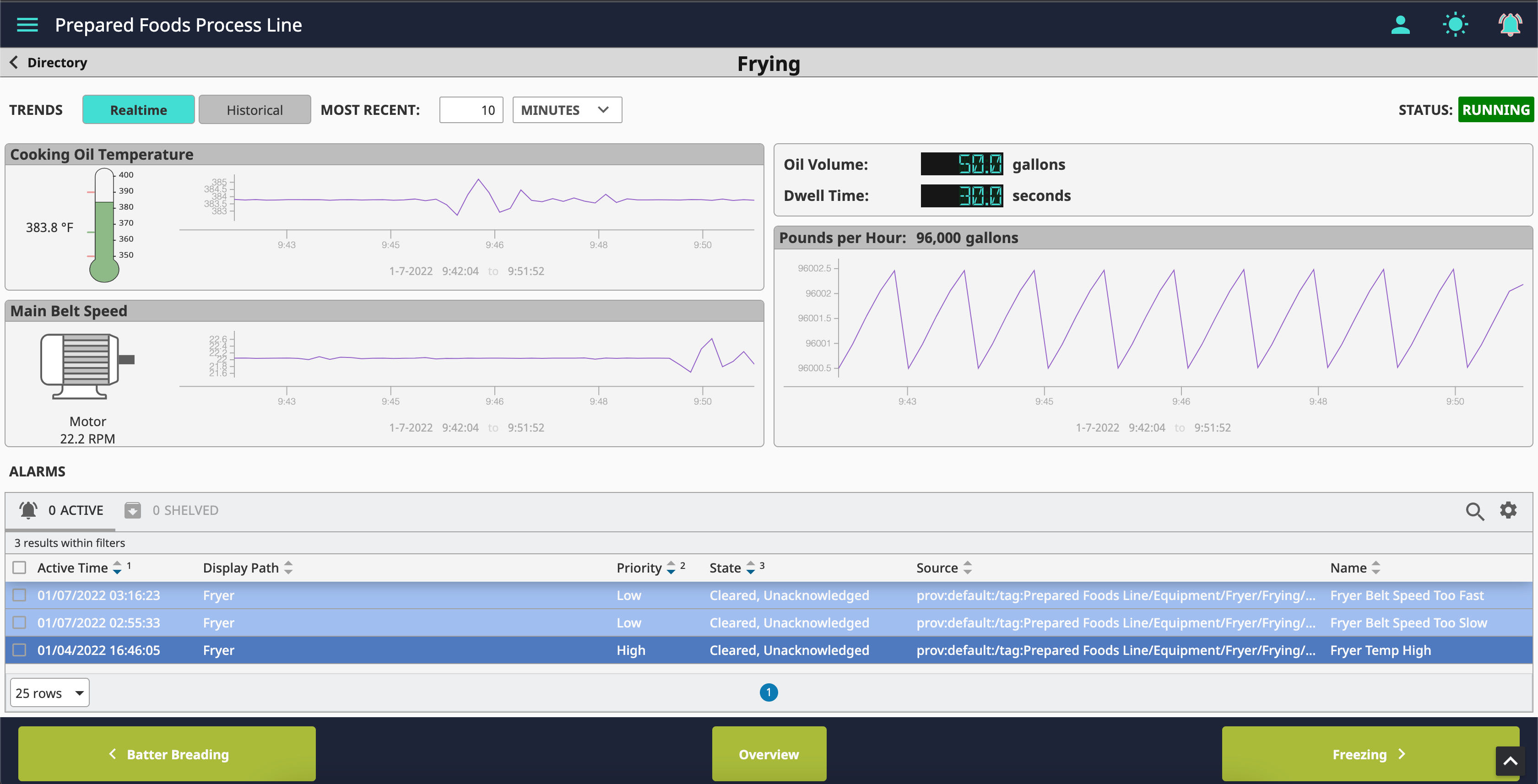 An Application with More Applications
While its debut at Process Expo demonstrated the Ignition dashboard in a food-production context, its capabilities are far more diverse, providing comprehensive monitoring in any production space. Even in a situation with vendors that had never previously worked with Inductive Automation, the dashboard exemplified how easily Ignition can be implemented into an existing system and immediately begin collecting data to offer insights and improve efficiency.
Put Your Plant Floor Into Focus
To learn more about how Ignition can start benefiting your plant floor, click here.
---