Ignition® SCADA Software
Innovative SCADA Software for Process Control and Data Management
Ignition: The New SCADA
Ignition SCADA by Inductive Automation® combines an unlimited licensing model, with instant web-based deployment, and the industry-leading toolset for supervisory control and data acquisition (SCADA) — all on one open and scalable universal platform. Ignition is The New SCADA because it solves all the major pain points of old SCADA . Ignition empowers your business to easily control your processes, and track, display, and analyze all your data, without limits.
Benefits of Using Ignition:

Unlimited Licensing:
Unlimited tags, clients, screens, and connections

Web-Based Deployment:
Web-launch clients to any device with a web-browser

Universal Platform:
SCADA, alarming, reporting, and more — on one platform

Rapid Development:
Comes with a powerful, unlimited, zero-install IDE — for free

Built on Trusted IT standards:
SQL, Python, MQTT and OPC UA

Industry-Leading Support:
The industry's best tech support and training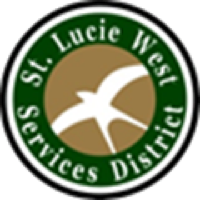 "Ignition has been a very flawless SCADA system for us … it's been very reliable and it supports all our needs now and in the future."
– Dennis Pickle
St. Lucie West Services District
---
Water districts all over the country trust Ignition with their mission-critical SCADA systems.
Major Features
Take Data Acquisition to the Next Level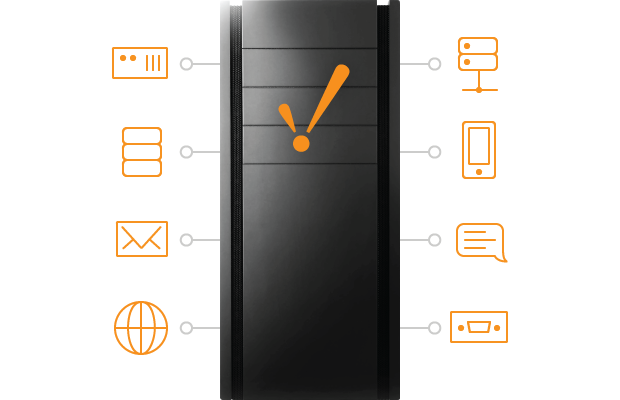 Ignition SCADA software comes standard with a comprehensive set of data acquisition tools which includes built-in OPC UA to connect to practically any PLC, and the ability to seamlessly connect to any SQL database. Ignition can also turn any SQL database into a high-performance industrial historian and connects to IIoT devices through MQTT.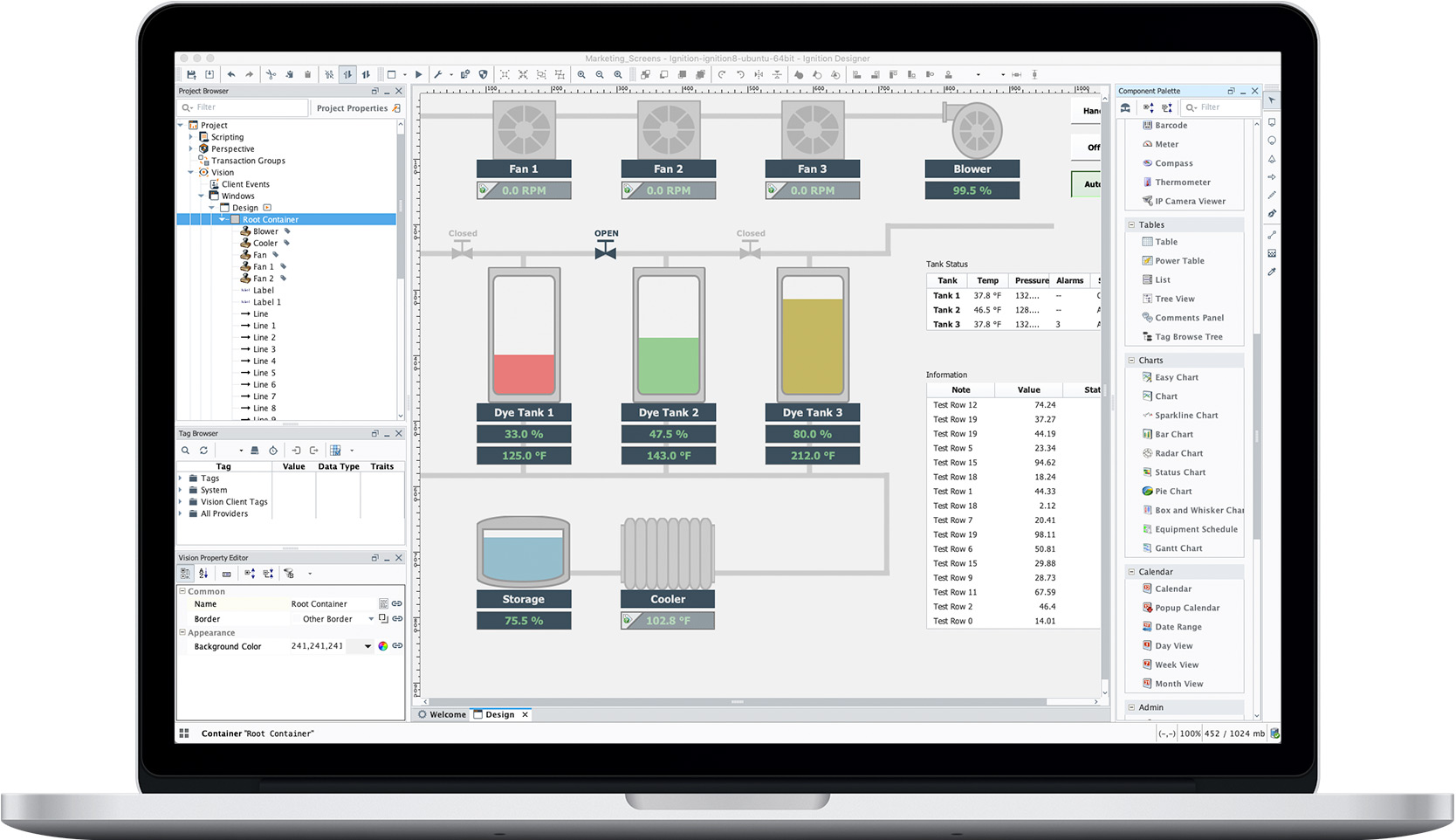 Rapidly Develop Any Kind of SCADA Project
Develop at lightning speed with the Ignition Designer, the industry's most powerful integrated development environment (IDE), which gives you all the tools you need, all in one place. The Ignition Designer is built into the platform, so it's instantly available, it's always the right version, it works on any major OS, and it comes with an unlimited number of concurrent design clients. Now your whole team can work on your project at the same time, from anywhere, at no extra cost!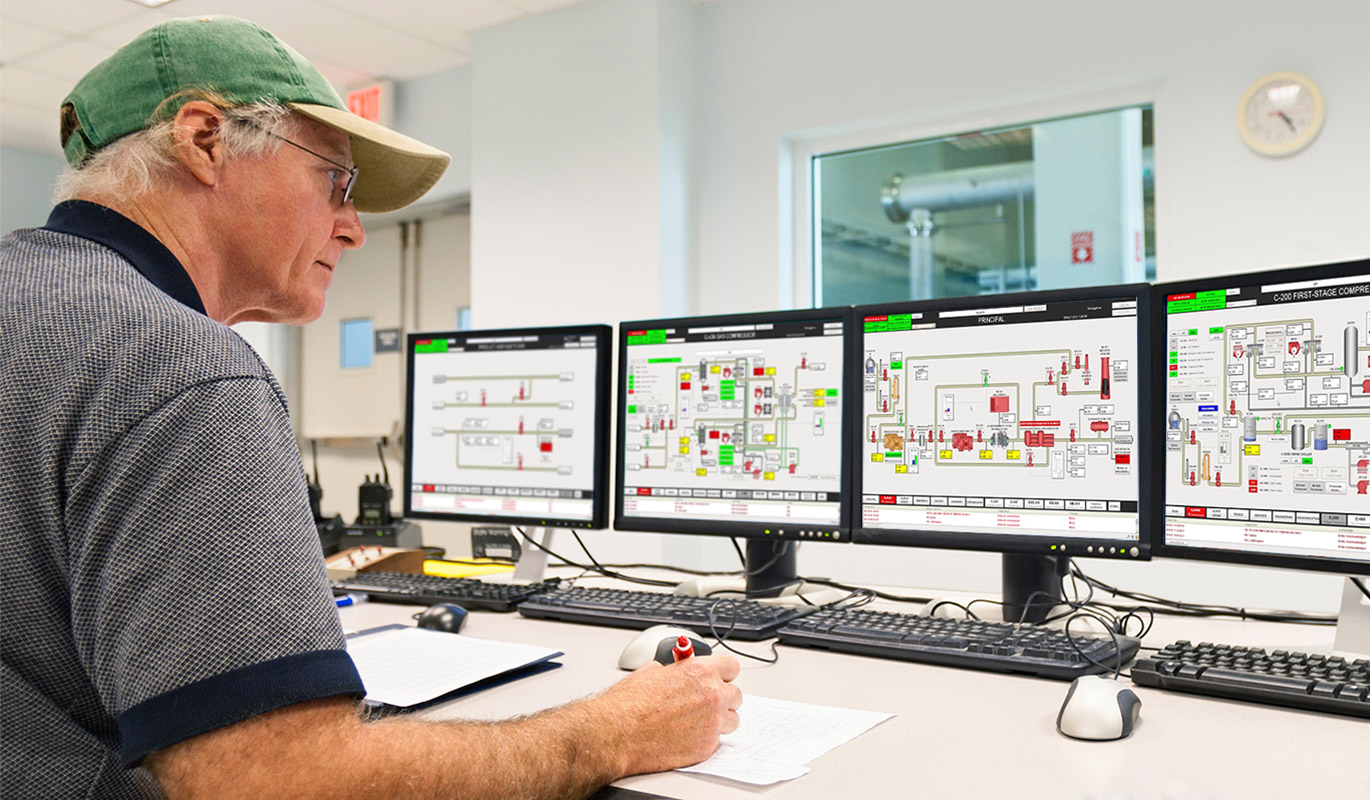 True Real-Time Monitoring
Ignition is engineered to streamline data-throughput so you see true real-time tag values. Ignition's real-time monitoring gives you the power to quickly see the status of your facility, on any device.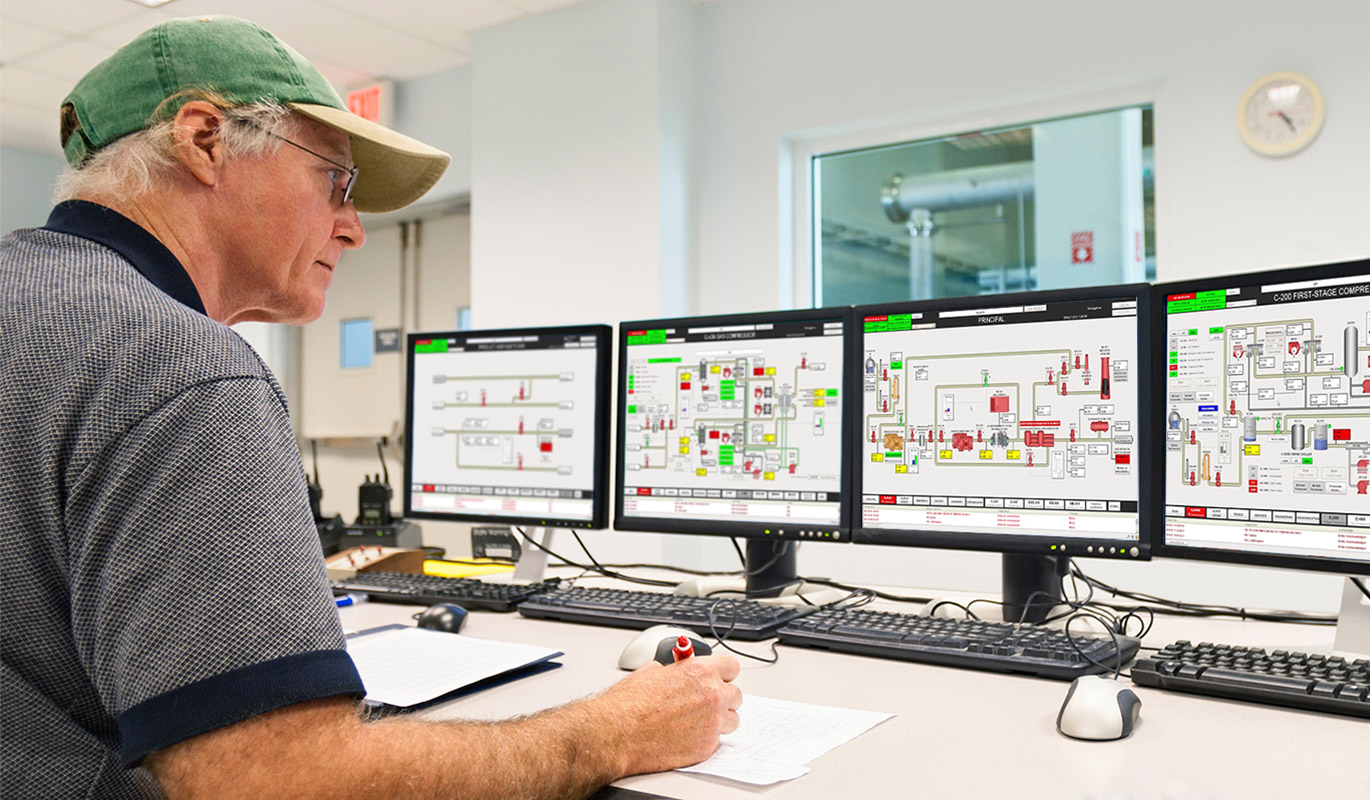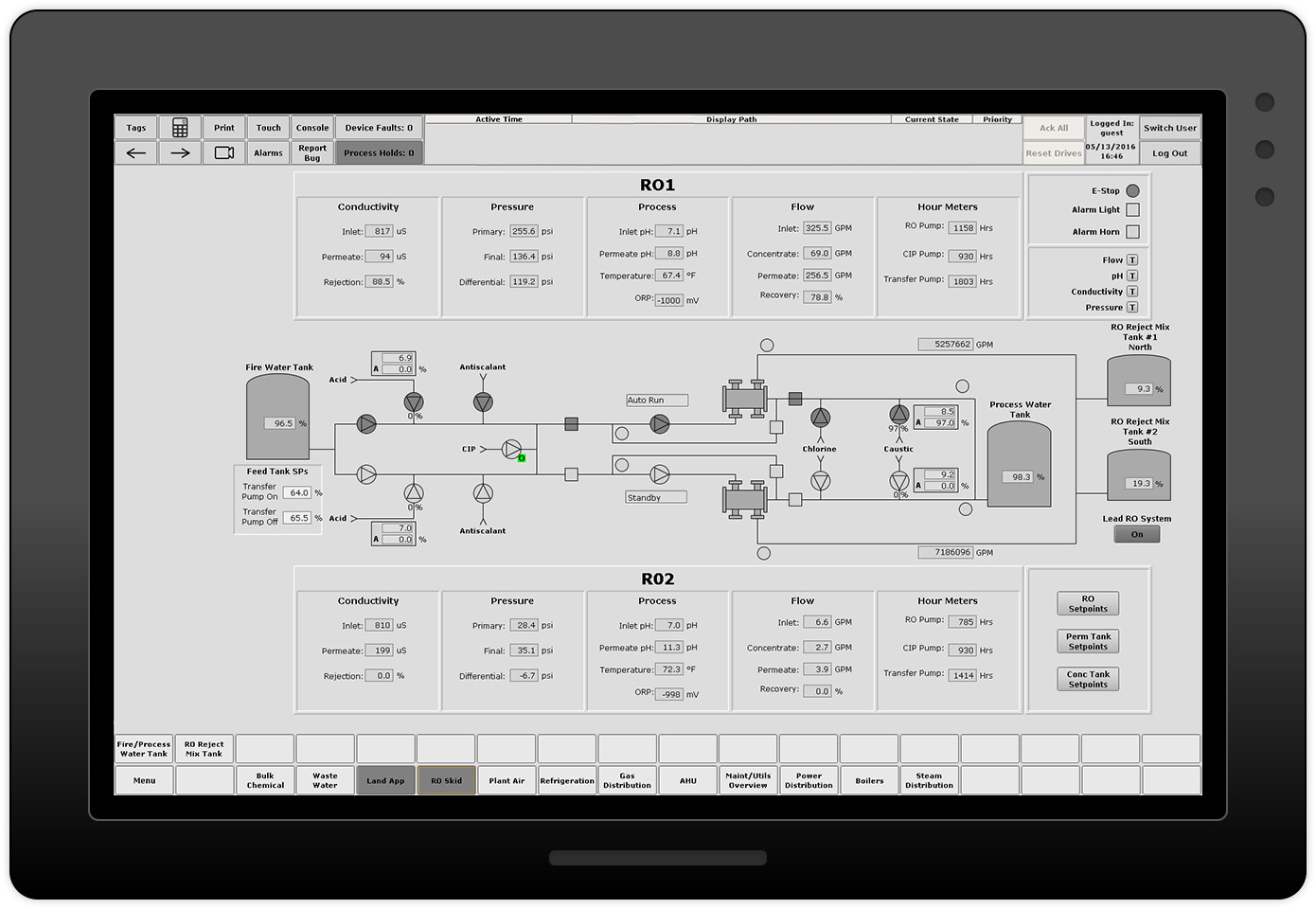 Control Your Process with Powerful HMIs
With Ignition, you can easily start and stop processes, monitor multiple data points at multiple locations, and check the status of the entire plant floor at any given moment. Ignition comes standard with the Ignition Designer, the industry's most powerful IDE, so you can effortlessly create optimized HMI screens to do whatever you need.

Powerful Visualization Tools
Easily create dynamic SCADA dashboards with powerful tools for data analysis. Stay on top of your business objectives with a full library of customizable charts and tables, to monitor key performance indicators, see at-a-glance trending, and more.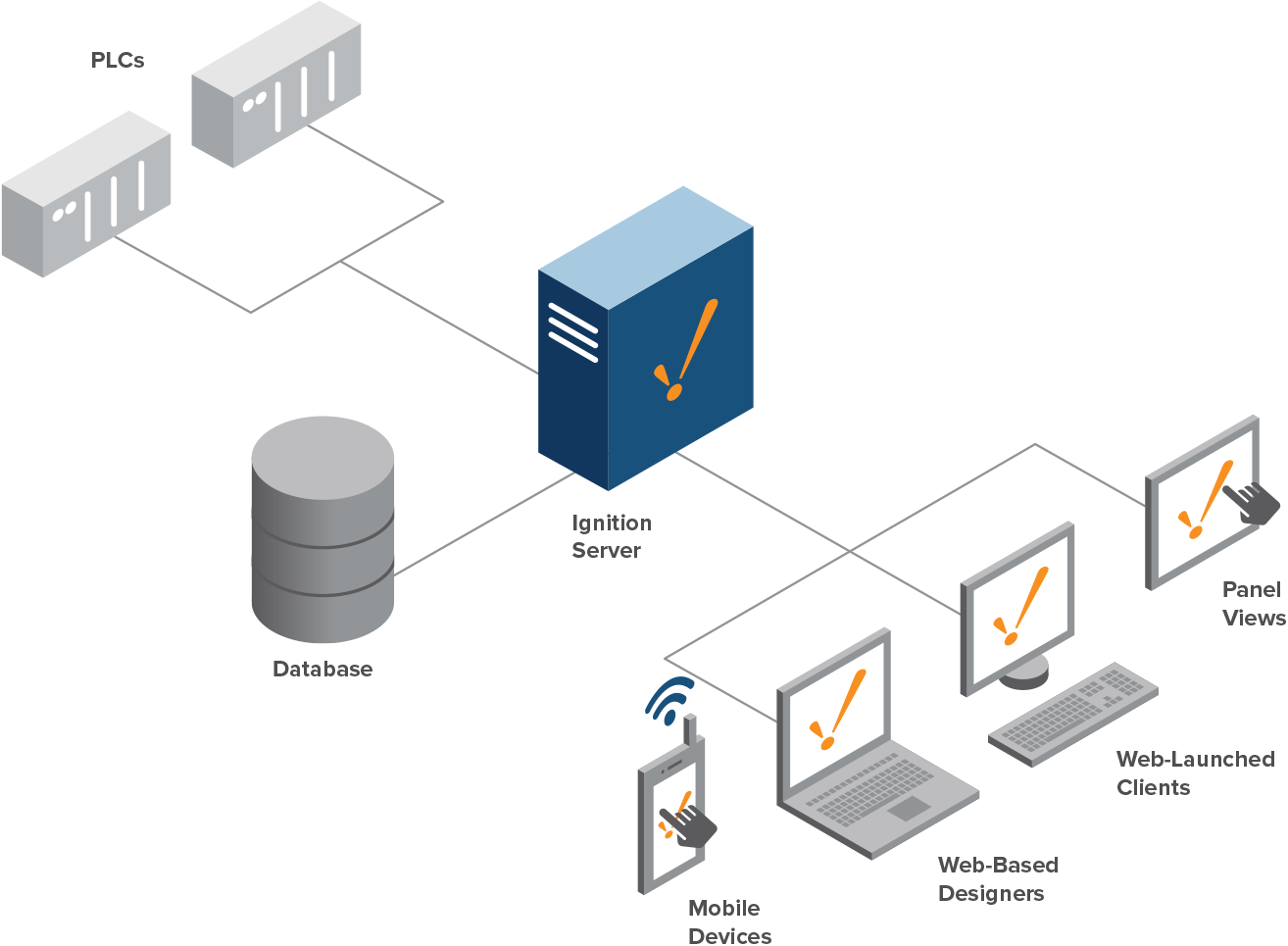 Easy Web-Based Deployment, Infinite Scalability
With Ignition, you can instantly web-launch an unlimited number of zero-install, full runtime clients on virtually any device from a central server. With architectures for virtually every type of system and an unlimited licensing model, Ignition can fit any size of implementation and can easily grow with your company's needs.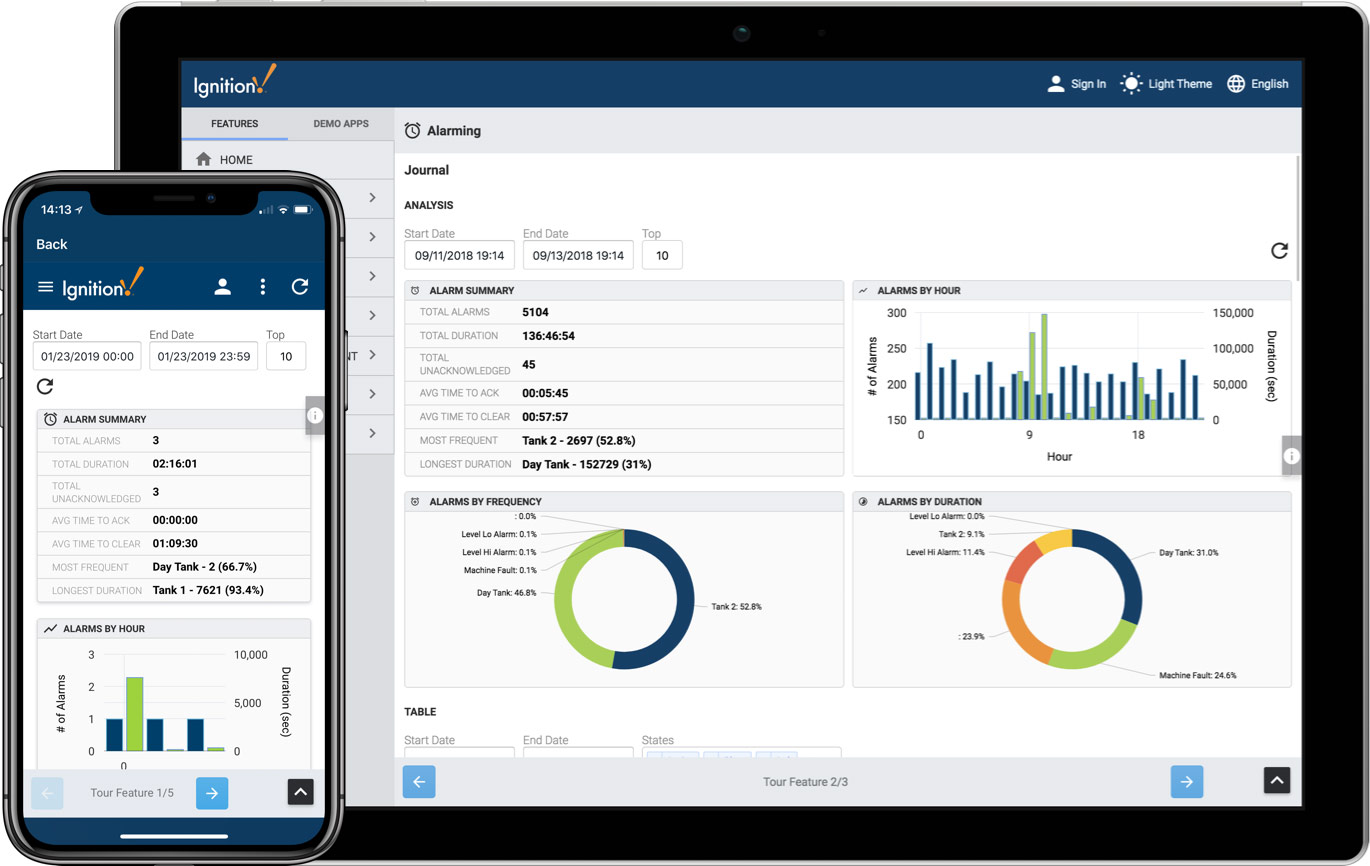 Build Fully Mobile-Responsive SCADA Applications
Get all the tools you need to build full-fledged, totally mobile-responsive SCADA applications that put the full overview and control of your plant floor right on your phone, tablet, and desktop – all with one application.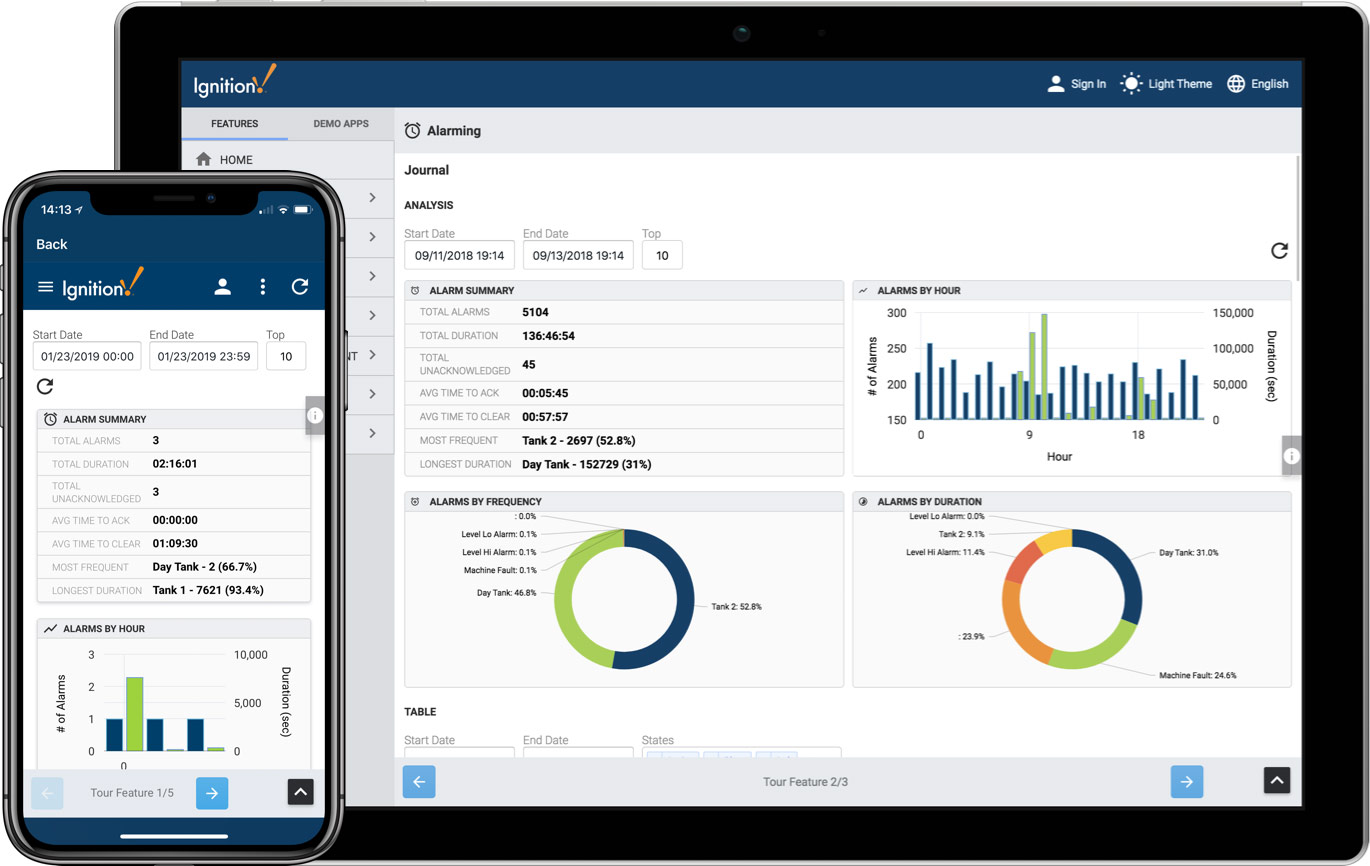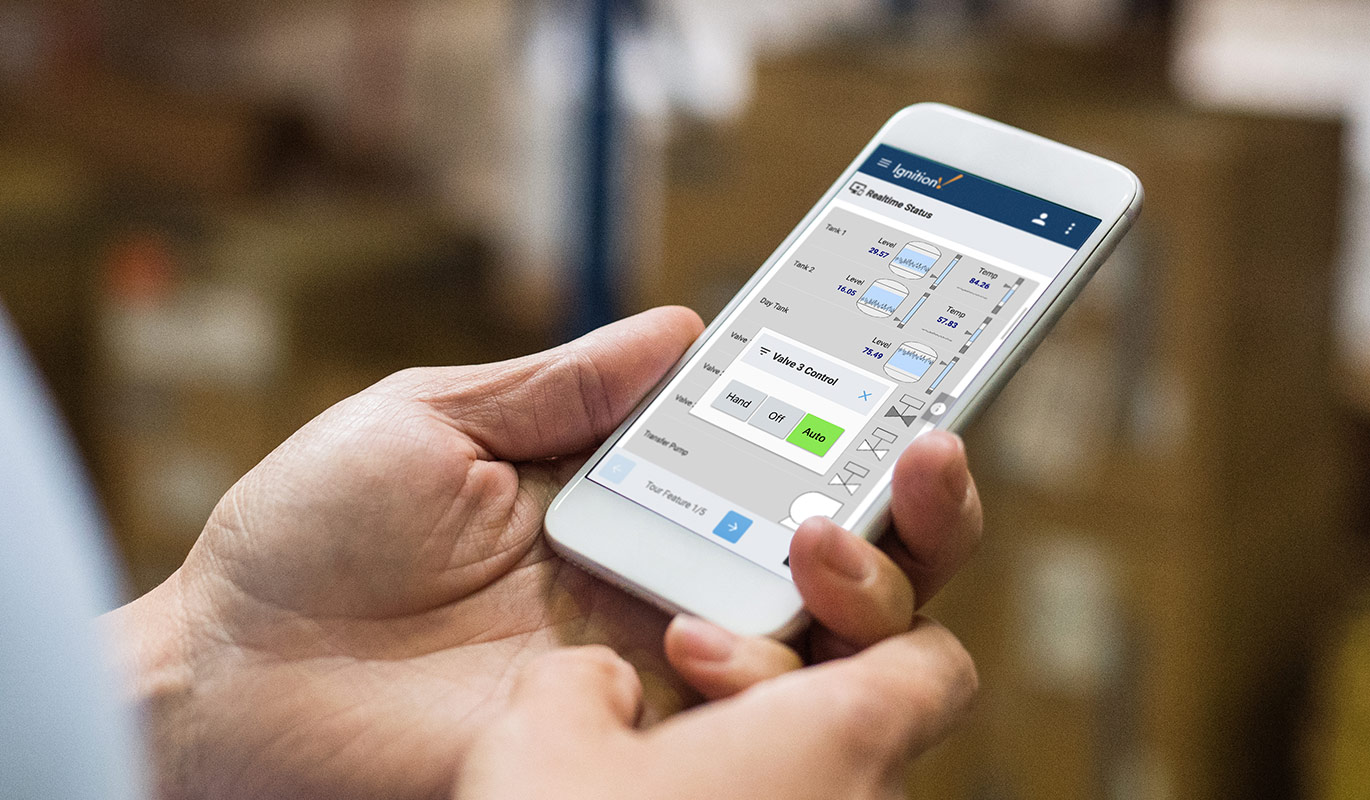 Build Next-Generation Smart SCADA Applications
Ignition lets you leverage the power of your mobile device's intuitive touch inputs, sensors, cameras, and GPS to create the next generation of SCADA applications. With Ignition, you can create pure-web SCADA applications that use HTML5 and CSS3 to run natively on any screen of any size and inside any major web browser.
More Features
Do Even More with Ignition SCADA

Transaction Management
Easily log data, call stored procedures, and synchronize data bi-directionally.

Industrial Historian
Turn a SQL database into a high-performance time-series tag historian.

Store-and-Forward
Store-and-forward historical data so you never lose it.

Get Mobile Access
Get mobile access to your control system via smartphones and tablets.

Sequential Function Charts
Streamline the creation, organization, and visualization of robust logic systems.

Perspective Symbols
Simply drag-and-drop these symbols to bind them to a process. Using a data-driven model, these symbols have built-in animations that will automatically change based on your data.

Symbol Factory
Choose from thousands of customizable graphics for your project.

Totally Cross-Platform
Works on Windows, Linux, macOS, and more.

Strong Security for Today's World
Ignition features ultra-secure SSL technology and supports modern cyber security protocols such as federated identity infrastructure, multi-factor authentication (MFA), and single sign-on (SSO).

Concurrent Web-Launched Designers
Comes out of the box with unlimited, concurrent design clients - for free.

Unlimited Clients
Deliver data to anyone without additional costs.

Easily Scalable
Scale from a single client installation to an enterprise-wide system with ease.

Mission-Critical
Easily add fault tolerance for mission-critical systems by adding redundant servers.

Instant Installs and Updates
Install on a server in just 3 minutes, push updates to clients everywhere, instantly.

Quick Start
Quickly configure the Ignition gateway and work with the sample project to get a head start in Ignition development.