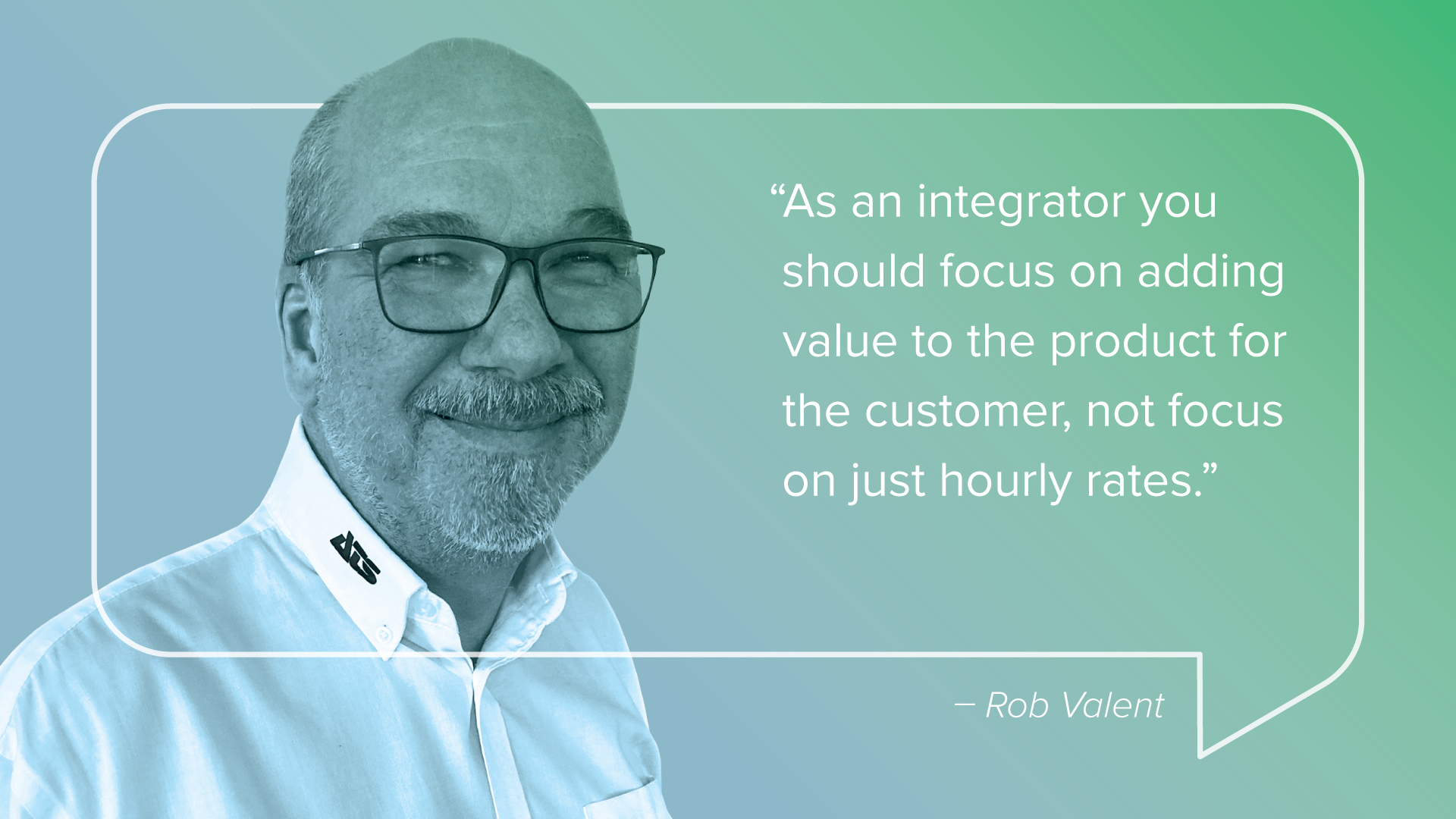 We are excited to welcome Rob Valent from ATS Global — one of our top-performing integrators. We discuss the reach ATS has providing automation products and services to a variety of industries and being an independent solution provider for accounts worldwide. Rob shares the success of their global Ignition rollout, having the most Ignition certified engineers worldwide, and a unique pharma project in Denmark that ties into the pandemic. We also discuss having a dialogue with the customer to truly understand their needs and deliver the best value possible.
"We love to do projects where a customer says, 'This is probably not something you can do.'" – Rob
Bio:
Rob Valent is Managing Director at ATS Global, The Independent Solution Provider for Smart Digital Transformation globally in the area of technical automation for the manufacturing industry. He is responsible for the partnership between ATS and Inductive Automation worldwide and involved in midsize and large multisite, multi-country rollout projects. Rob started as an electrical engineer at the companies AEG and Cegelec in Amsterdam, the Netherlands, and specialized in drive systems and technical automation for manufacturing. From the beginning, computers and programmable logic controllers fascinated him and that has never changed. He's travelled the globe providing technical automation solutions for all challenges that customers faced.
Specific areas of interest: Controls & Robotics, IT/OT Convergence, MES/MOM, PLM, Data Centers, Smart Supply Chain, Cybersecurity, Virtualization and Cloud, Low Code, Quality, Continues improvement, MES benefit realization and Industry 4.0 & Smart manufacturing.

Episode Transcript:
00:00
Joanna: How is one of Inductive Automation's top-performing integrators providing unique solutions to a variety of industries worldwide, including a unique pharmaceutical project in Denmark? On today's episode, we discuss the integrator's global Ignition rollout in 28 countries, getting engineers certified, and delivering the best value possible for the customer. Welcome everyone to Inductive Conversations. My name is Joana Cortez, I'm the Video Content Producer here at Inductive Automation. I'm excited to host this episode and excited to have Rob Valent from ATS Global with us today. Rob, thank you so much for being here.

00:38
Rob: Thank you for having me, it's an honor.

00:40
Joanna: And then go ahead and give us a little introduction to ATS Global.

00:44
Rob: Yeah, thank you. So ATS Global is an independent solution provider for smart digital transformation. We provide services in consulting projects, fixed-price projects, for instance, support services like 24/7 support. We provide products, we do software development and training and specifically focused on manufacturing, so the customers are in the manufacturing space and then in sectors like aerospace, automotive, pharmaceutical, very hot at the moment, obviously, in COVID times, and food and beverage.

01:18
Rob: An important part is that we are independent of a brand, so we basically get asked by our customers to provide services or deliver products based on their needs or what it helps solving them. Normally, it's a problem where they approach us for, for instance, data collection and they want to know our experience on that, how to get the data into their ERP systems, for instance. And as we can select from solutions and not really based on the brand, we are free to choose, obviously the customer chooses. The independence means also that you get a lot of requests for the market leaders, their products and solutions. And obviously, we have our favorites like Ignition, but we don't have to offer that, but normally we get asked to go for it.

02:02
Rob: And as we are a global company, we're Dutch by origin, we are in 28 countries at the moment. We just added France and Europe to the countries that we can deliver services for. And for a lot of global customers of ours, it's very easy for them to take and work with ATS in all the countries where they have their subsidiaries or the manufacturing plants, which is getting increasingly more important for customers because they want to work with the same company, but need local support, for instance, in all the countries that they are based in.

02:35
Joanna: And what is your role at ATS, Rob?

0:02:37
Rob: I'm the Managing Director for the Benelux area for Southern Netherlands, Belgium, and Luxembourg. And I'm the partner manager between ATS and Inductive Automation, so if there is a global project in place or if there are any new developments or problems that could be arising within projects, I help my global colleagues out from, let's say, a central position.

03:01
Joanna: For the listeners, I just wanted to mention real quick that ATS Global was rated one of our top three top performing integrators in 2019 and then again in 2020. So I just wanted to take a second and say congratulations on providing customers with the amazing solutions that you guys do.

03:16
Rob: Thank you, thank you. Yeah, it's an honor. We strive to be number one obviously, but yeah, it has been challenging times, especially in COVID times. It was very difficult to do local business in the sense that you could not visit the customer anymore and you were not allowed, it wasn't wise. And it was me basically all around the world, but different in different countries, so we had to shift from physical presence at customers' sides to really do this as much as possible online, also on demand of the customers, but it wasn't easy.

03:48
Joanna: Oh, I believe it. So now we're going to be discussing a major project of yours for a pharma customer in Denmark that not only had a really tight deadline, but does tie into the pandemic as well. But before we get into that, I'd like to ask a much larger question about this huge reach that ATS Global has. ATS is providing automation products and services to users worldwide in a variety of industries. Can you tell the audience a little more about what it's like to be an independent solution provider for these global accounts?

04:18
Rob: Yeah, yeah, it's a good question. It's challenging because as you are independent, they ask you everything, every possible problem you can imagine occurs at manufacturing sites all around the globe. For instance, as an example, a normal production plant has all kinds of branded solution software networks in place that are doing the actual manufacturing. And one of the basic questions could be, okay, we have this system and it is very old dated, this system is very new. We need the data from both, can you find the solution in doing so? And SBR specialists all around the world, and also in expert teams, we can utilize that knowledge to find the best solution for their problems. So ATS worldwide is about 1,200 people working for the customer, so there's always somebody that has experience with product XYZ and so on, but it's challenging. But you have countries, you have cultures, you have languages. We have so many languages, as you can imagine with 28 countries. And bringing that all together is very exciting, but also a nice challenge to do. In my previous life, I travelled a lot for companies and doing commissioning jobs, for instance, in all kinds of countries, and don't do that anymore obviously, but I'm still involved with all these international projects, which is great.

05:40
Joanna: Speaking of challenges, we are relatively early into the year. At the time of this recording, it's late in March. But what are some of the biggest challenges ATS is seeing and tackling in 2021, or what are things that you predict are going to be big challenges in 2021?

05:57
Rob: Yeah, so the challenges that we faced in 2020, switching over to completely doing things online will continue in 2021. I think that the market is great, so if you look at it from an automation perspective, there is a lot to do, a lot of companies are investing. You see that the food and beverage companies, the pharmaceutical companies said they have Christmas like sales 'cause of the COVID. So, for them, it's very difficult to keep track and also to keep the production at the very extreme high level, which they normally only have in bursts like around Christmas time, for instance. Where on the other hand there are, for instance, food and beverage companies that deliver specifically only for bars and restaurants and things like that, and they are facing very, very hard times in doing the business they do, so they have to switch over to different markets.

06:48
Rob: Aerospace is a different matter. Aerospace is very difficult. We are heavily involved with the quality management for the production of turbine engines for planes. Yeah, why would you buy a new plane at the moment, because all these planes are parked at the airport, they're not doing anything, so you don't need engines for those planes. But when they have to be used again, they have been parked for a long time, so that will give them challenges to make them operational again. I think for aerospace, for the long term, we won't be seeing the numbers, let's say, in flights in 2021 that we had, let's say before COVID time. I believe that it will take several years to recover from that.

07:32
Rob: In the other spaces, with the vaccination programs in place, we expect that around the summer holidays, that's in July, we will be back to a more or less a new normal again, where we enjoy more freedom, we can visit the actual places again, the customers again, go on holiday, hopefully. And by the end of the year, so let's say from August to September, a peak in the economy when everything returns to normal and we can do everything that we're used to, but that will put a high demand on manufacturers again, but at a different level. A lot of manufacturers are investing heavily in smart automation, doing things smarter in data collection, making visible reporting, but you see there are companies that have a lot of time in doing things but have no budget because of Corona times. And you see a lot of companies that are overly busy, have the funds to invest in digital automation, but do not have the time to do it because it will influence their current production. So for 2021, it's a mixed model, I would say, between a... Let's say a half year, which is pretty normal, if you can still speak about normal, but normal compared to before COVID times and in COVID times. But sales-wise, we expect a good year.

08:53
Rob: Creating templates, so a start template to copy over and over again is getting more common, especially for the global companies. That means that you do not develop an application or a solution just for one plant, but you do this, let's say, for 10 or 20 plants, that means that you have to put a lot more effort into the first... In a generation of the first template. But that means that the template can be used over and over again. So the time you spent in developing is recurred in the next project, so you don't need a lot more time to make local deductions, you don't need to re-develop everything, and that really helps the companies to setting standards. So we have a number of what our customers call One SCADA projects, that means that they have production manufacturing machines with all kinds of HMIs and the SCADA systems on it. And they want to replace them with just one brand, and that's where Ignition is frequently... I would say for the One SCADA project that we get asked for, they only ask for Ignition, as they see it is a very multiple flexible platform that can communicate with everything that's on the manufacturing floor and take out all these other systems and go for one brand.

10:08
Rob: And the main reason for that is the licensing model, reducing the complexity, because all these brands have different licensing models, which is overly complicated for most of our customers. And they want to basically get rid of it to make it simpler, reduce complexity. Their manufacturing is complex enough, they don't need more complexity, but that's when these templates come in place. So that's, for instance, if you are in one plant, or the other plant, or the other plant, it always looks the same. The PLC, the controls layer can be completely different, and so we see a dramatic increase in those requests from a local, but also a very, very large global companies, which I cannot use the name of.

10:51
Joanna: No, I completely understand. That is a very normal thing in this industry, no one is going to be listening to this podcast like, "Why won't he say the name of the company?" It's ridiculous.

11:01
Rob: Yeah, I would like to but I can't. It is difficult because we are very proud to work for those companies and these are names that everybody would recognize, but we can't mention them. But we are very proud to work for them because we work on the core of their system, so secrecy is key, so we have NDAs in place. And marketing doesn't like it, but we like it because these are very good, challenging customers.

11:24
Joanna: I am in marketing and the struggle is real.

11:27
Rob: Yeah, they want to put it on the website and you can't do it.

11:31
Joanna: You've mentioned these projects with Ignition, and ATS has been a really big advocate for Ignition, one of the reasons why you're one of our top integrators. So ATS has the step-by-step global rollout of Ignition in, I think, you said 28 countries now. Is that correct?

11:46
Rob: Yes.

11:46
Joanna: It's amazing. Can you tell the listeners more about this Ignition roll-out initiative?

11:51
Rob: Yeah, so when we started with Ignition, that was I think eight, nine, maybe 10 years ago. We started in the Netherlands using it. We got very enthusiastic about it. First, because of the product, the quality, the licensing, and also the support. So we were, we have to say, flabbergasted in the support we got on the different projects that we were working on. Obviously, in the beginning, you need a lot more support from the technical teams, and they are so willing to work with us, although the time differences between California and the Netherlands is not that convenient. But it helped a lot because when we had an issue, Inductive Automation started working on it. We saw that when we were leaving the office. And when we came in the office in the morning again, it was fixed, so that really helped. And step-by-step through talking to the division managers all over the world, they got enthusiastic about it. And step-by-step, all these countries are starting to use it.

12:47
Rob: Most of these countries where we are based are using Ignition as a solution, and we are striving to have about 50% of our engineers, at least, to be certified as Ignition Core Certified. We do that because you basically have the quality standard of Inductive Automation that our engineers I know do know what they are talking about and we can put them very easily into our projects. And with the use of the Inductive University, it's very easy to train our international people on Ignition. And we are also an Inductive Certified training center, so we can also provide those trainings physically to our customers. And that really helped increase the knowledge within the company, because normally, the resources are in their own country, for instance, if you work on a project. So now, it's so easy to use those resources because they already have the knowledge by internet that can do a lot of work for us. Local implementation, obviously, but you can offshore this to other countries where they have the resource to do it, and it depends on the countries. And it really helped us during COVID times because we had teams without work that could work on projects in other countries. So, and that increased the enthusiasm for Ignition and it amplified because of that.

14:05
Joanna: Well, hey, thanks for the shoutout on the University.

14:08
Rob: Yeah, it's great and it's provided for free, so a lot of manufacturers and a lot of software providers can learn from that. It's huge. It was a great impact when it was introduced, quality is high. The examinations are tough to do, which is good. It shouldn't be easy. So the quality level is high. That's really helpful. And we are, as I said, a training provider as well, but our engineers are predominantly trying it on the University because the quality is so high.

14:42
Joanna: Rob, you beat me to my next question because I was going to ask about the fact that you do have, I believe, the most certified engineers worldwide. You spoke about the benefits, but I was wondering if you wanted to share what the process looks like for getting all of these engineers trained and certified in Ignition?

15:00
Rob: Yeah, so the process is, normally the engineers we have worldwide have some kind of SCADA background, SCADA PLC background, and obviously, they need visible talent because we have to build this pretty... An informative screen for our customers. One of our customers called this 21st century screens, of course, they were used from other manufacturers, so they're pretty dull and overly crowded and lots of colors. So our engineers need a graphical sense and a graphical ability to develop these very nice screens and with Perspective. So also in HTML5, it gives a lot more possibilities in doing so. And normally, they have these experiences when they joined the company and then we almost immediately exposed them to the Inductive Automation University, and step-by-step, they go through it. And they don't have to finish this immediately, they can do this in between projects. And that is really helpful for us because when engineers are in between projects, for instance for a week because the other project is not starting yet, they can call back to the University and do a number of training courses, they look at videos, they answer the questions and then the next one. So over a year in between projects, you can get re-engineer certified, and that is really, really helpful.

16:15
Joanna: It is helpful, and it's really great that they can learn at their own pace. So now let's get into the Denmark project I mentioned at the beginning of this podcast. We can't say that by name, but please tell us what you can about the company and what problems they came to you guys with.

16:29
Rob: So we got approached, I think it was this summer, so July, June/July last year in 2020 by this Danish pharmaceutical company, more or less in a, well, a very difficult state of a project, and they asked us to, "Help us out." So they physically called us. They said, "Well, you are one of the premier integrators in the world, we need expert help in doing so. Can you please, please, please, please help us because we promise to the senior management that we would have a pilot project in place to prove that the One SCADA," this is also a One SCADA project, "is feasible, is possible, and also cost-effective. We need to finish this by the end of July, August." Well, if you ask us in the middle of the summer holiday, it's difficult, but Corona already had an effect, so it was a lot more difficult to go on holiday. So we had resources available and we quickly set up online meetings with the technical team, so sales team, the procurement department. And we did everything online because we were not allowed to travel. We couldn't enter Denmark. Normally with the pharmaceutical companies, well, you need at least three visits to get anything going because it's so highly regulated. In this case, there wasn't another way in doing so. So we did this online, and it was our first complete online Corona time order.

17:53
Rob: So without any visits. Later we have visited because in between, well, the waves of the Coronavirus it was possible to visit them to work locally, so what they wanted to do, their challenge was they wanted to develop that One SCADA themselves with our help. So they needed to have the architecture in place, they didn't want to make the wrong decisions in the beginning because when you are also developing those templates that we talked about, if you make a decision, a wrong decision in your template, it has an effect later on your other projects, so you want to do this very, very thoroughly. And we normally use Inductive Automation as a second quality check. So if we decide together with our customer on a specific template and a specific architecture, we ask Inductive Automation with these challenging projects to have a look if we took the right decisions or the right assumptions, and so that worked fine. So from a very small project, it grew into a larger project. So we met the deadline together with the customer for presenting to their management, so that went great. And then subsequently from that it became a bigger project.

19:05
Rob: I think it's important to say that the pilot project was not actually used in a manufacturing plant, it was just a pilot project, so it did not have to follow these very strict pharmaceutical rules. Like again, good automation manufacturing practice for instance. So we could do this very relatively quickly. Now the project is fully according to the pharmaceutical regulations and audited and so on, so it's basically increased on that. It proved that it could do what it should do, so replaced the other SCADA systems, and that's now an ongoing project, so it's step-by-step. And we just received the order, or are going to receive the order, to work with them 'til the end of the year, helping their teams out to develop this further. We're pretty proud of it. Again, we cannot name the customer. We're very honored that the customer process and asked us to help to help them out, it was an honor to doing so. Challenging, but these other projects we love to do. We love to do projects where a customer says, this is probably not something you can do, right? And then that's our secret button, if they push this button then, yeah, this is what we want to do. Again, with Ignition, normally you can.

20:24
Rob: Maybe also interesting to say, we also extended it now also with the MQTT, so they have some MQTT hardware and software, which is now also included into the project, which opens up a wealth of different data points that they can use that were normally out of reach. So normally only within the initial automation project or from a PLC or with MQTT it's so easy to integrate all kinds of centers that you need the data from, collect information from it. That's also added to the project.

20:58
Joanna: It's really great that you were able to get the pilot project together so fast and that it was enough to get them excited. I love those wild moment stories where customers, like you said, say, "Oh, I don't think that's possible," and then you show them your solution and they go, "Oh my gosh!"

21:13
Rob: Yeah, and that's also with Smart Manufacturing and Industry 4.0 discussion is what used to be very complicated, very expensive, is now readily available. There are systems, software, sensors in place that can do this for you, which let's say five, 10 years ago were pretty expensive to do. You had to invest into it with an uncertain outcome. It's now available. So the only thing which is difficult is to make the correct choices, to find the right solutions, but also partners in doing the work, which is not easy for the customers. So who do you go to for these kinds of projects? And these are locally and globally, and we work for very small companies and also for the multinationals. So they all have their challenges, obviously. Yeah, we love to do what we love to do. We love to do our work.

22:09
Joanna: So since this is an ongoing project, is there anything you're allowed to tell us as far as what the future plans are for this customer?

22:17
Rob: Yeah, on this customer, this is still a local project, the next spin off would be that we globalize this. It's that we are going to other locations where they manufacture. For now, it's still in Denmark, but the whole meaning is that it is going to grow to all their locations. I don't know by the back of my mind how many locations they have, but they're pretty substantial. So they also put effort into developing the template to do this also internationally, which is good for us because we can support them now locally again. And we had some difficulty in the beginning of the project where the senior management were not that convinced yet that Ignition from Inductive Automation would be the right solution because it was unfamiliar to them, the brand name. Where they can easily name, heard the bigger German companies like that. They didn't know the name, so they were a bit reluctant if this would be the right solution into the future, and then my problem continued because they ask for references, which you can give, but you can't contact them, you can't visit them. They are competitors, they are maybe not competitors, but brands where you have NDAs in place. And they wanted to contact those companies, so we couldn't. It was simply not possible.

23:37
Rob: But we also said, "But turn your conversation the other way around, suppose that I have a pharmaceutical company in the Netherlands that wants to call you and they manufacture more or less the same product. You're not going to talk to them." Yeah, that's true. It makes it difficult, but still, they found the confidence in doing so. We gave them some examples on how the local and larger projects would work with central project management from a global perspective, local implementation, local support. 24/7 support and so on. Because you need that locally, you need to go to the plant if there's really something going wrong. And from that, they distilled, okay, these guys, apparently they know what I'm talking about, they're heavily backed up by Inductive. Don Pearson had, your strategy officer, Senior (Chief) Strategy Officer, also had a say in it, so from that they built the confidence. "Okay, this is the way forward, and there's no harm or no risk in choosing this solution and this integrator." But it was challenging, but also because you can't visit. And normally you can build a lot of trust when you locally visit a customer and have an in-person conversation, which we couldn't do.

24:49
Rob: When I joined the company 23 years ago, I told one of the owners, who's still one of the owners, I said, "Well, I bore easily." He said, "Well, no chance of that at ATS," and it wasn't lying. I haven't been bored for just one day, no way. It's always changing; the sectors, the technology, the partners. There's always something to learn from. We just added a company, we acquired a company which specialized in data centers, so using the data from which is available in data centers and based on the power consumption of the servers, enforcing the customers. That software is used in a lot of data centers in EMEA, but also growing globally, and these data centers are also where Ignition plays a very big role. We can't name obviously the data center names we do this for, but these data centers are also starting to become somewhat standardized on Ignition, which is an interesting fact. But also based on our own experience, flexibility, non-complex, easy to do, enormous amount of data where other SCADA systems still struggle and have very expensive licensing models. And it's very popular with insurances also. Insurance, you know, wants to do everything themselves. You can take Ignition, and if you download the... What is it?

26:11
Rob: The Maker Edition? Which you can use at home for non-commercial development, and that did a lot also for our engineers. So there are engineers that run their mobile trains, their small model trains with it. Also one that has his home automation system controlled with it, and it really helps. And that's also something that the competitors are not doing, again. Interesting.

26:35
Joanna: You know, it's interesting that you bring up Maker, because for anyone listening who's interested, we are going to be having an Ignition Community Live episode in May, where we're going to have guests come on and they're gonna talk about and share all of these really cool projects that they've been doing for home automation, for school projects and so on. It's really neat. It's getting a lot of attention and people are having fun with it.

26:57
Rob: Yeah, I'm talking to a large training facility in the Netherlands where they train people for, specifically for maintenance, building automation systems, hydraulics, pneumatics and automation with PLCs, but that's really focused on the now, how the situation is now. And they want to build a room where they can show the future, so we're talking about putting Ignition in there to show... Well, let's say mobile screens, so the engineers could log in on our mobile phones. They have smartphones, so they can log into the system and just see what the machine status is, for instance. That is also where now, it's not really... It is modern but it's not the future in 10 years because you can't show that, but yeah, we get those requests as well. And Inductive Automation has very nice licensing models or for training purposes and also within the schools. And that's really helpful also for the future because they're trying to help people that have to do the work in the foreseeable future.

27:53
Joanna: Indeed. So as we get close to wrapping up here, I wanted to ask what are some of the biggest lessons or takeaways that you've learned from these experiences that we've been discussing? From the pandemic and working remotely to this pharma Denmark project, the tight deadlines, getting the higher ups on board with Ignition. Anything like that, that integrators and engineers listening today can gain from your experience?

28:18
Rob: Yeah, we've all learned I think that... We as a company, had our engineers working from home locations, office locations, customer locations anyway before the COVID crisis. So for us, the COVID itself, technically switching over was not an issue, everybody had laptops and things like that, so it was easy enough to do. The biggest change was on the customer side, where the customer's pretty traditional, specifically in manufacturing, if the engineer is not here, there's not any work done. They found out very quickly that you have to do the work. If you can do this online, it can be very efficient and very effective if you have the communication in place. So if you have an engineer working on our project, also internally, which you already learned earlier, and there is no handover to colleagues and quality-wise and things like that.

29:07
Rob: It could be that engineer takes decisions into the development, which he regrets later because there was no communication. So you need to set up your project management differently and you need to have more frequent contact. You also need to have... Invest into the health of your employees because we have a lot of young people without a relationship yet, that live by themselves, without any contact to anybody else. So you get pretty lonely when you're alone, you can do a lot of work, but you need something outside of your work. So we're helping out with virtual coffee, coffee meetings and things like that. But the customers make the biggest change, they learnt that this online thing can be very effective for them. You can have meetings back-to-back, which has become very normal, you don't have to reserve a meeting room, coffee is not needed.

30:00
Rob: So it can be very effective and very quickly. Obviously, a signature on the purchase order is easier to get when you are in a one-on-one situation at the customer side, but I think we proved, and also without the customers, you can do this online. It's getting more and more common to have your cameras switched on anyway. Yeah, so that you can see each other. And it also helped on the customer side because, well, if you are... One example was, there was a maintenance manager that had to work from home. He was in quarantine, he had to work from home, so he needed to fix all kinds of things on doing maintenance on his PLCs, HMI units. And he found out that he only had 50% access to his industrial network and the other 50% were closed for him, so we couldn't fix the issues locally, which heavily impacted the reproduction.

30:54
Rob: So he gave us a call and said, "How can we fix this?" So we set up a small project to make the data collection and also a connection to his industrial network possible, obviously with cybersecurity in place and so on. And then the world opened up for him again, so he could do his work from his own location. So his quarantine wasn't the problem anymore. And he also said something very interesting, he said, "Rob, finally I find time to think. I have a little less email, no people at my desk, nobody from production bothering me, I have time to think about the future and how I should set up these systems and how I can take the future into account." And what we learned is that you should not... As an integrator, you should focus on adding value to the product of the customer, not focus on just hourly rates.

31:42
Rob: Focus on adding value, deliver the project, hope for the next project. Don't do the trick some integrators do, going for the changes to earn more money, don't do that. Fix on adding value and then do the next project and the next project and the next project. Then you make the hours, but over all these projects that constantly deliver value to your customer, that's what the customer is doing it for. And also, don't always do what the customer asked for. So if the customer asks for something, ask, "Why, why, why, why?" to help your customer make the right decision. And we had some examples of that, is that the customer wanted to use standard screens that were delivered with a different brand product, and we know that the operators don't like our screens, they don't want to work with it. And your operators are your most critical users, and they have to put the information in, they have to use the data, they have to click the virtual buttons, they don't like it. Then we said, well, yes, this is what you want to use. Yes, this is most cost-effective, but you will have a lot of problems with your operators and people that have to use those systems. We noticed for Customer X, Customer Y, Customer Z, yes, it is to our own benefit that we develop some screens for you, but it will solve a lot of issues within those projects.

33:01
Rob: And most of our customers love it that we don't immediately do what they ask for, but that we ask the questions: Why do you want it cheap? And so we want a One SCADA system. Okay, why? Why do you want this? Well, we have all these different systems, cost of ownership of all the licensing models is very difficult, we want to reduce complexity. Ah, okay, this is something we can work for.

33:23
Joanna: It sounds like really good advice. Asking a million questions and getting to the root of what's really going on for the customer, and like you said, bringing the most valuable solution to them and not just going, "Oh, well, here's what you asked for. I did it."

33:36
Rob: Yeah. And also, you can deliver exactly what he asked for, but then he/she is still not happy because you delivered something and he expected more from you. I want the green car, but you know, what is green? Or I want a shot glass. I want to manufacture a shot glass to drink shots. What's your shot glass? Is it clear glass? Does it have a color? How many centiliters are going in there? All these questions we believe you have to ask for, and you will be a trusted partner for your customers. So being a partner is really helpful for the long term. We have been very stable as a company because we have loyal customers in a challenging world, right?

34:18
Joanna: Absolutely. So Rob, as a final question here, I'm just gonna ask, what are the next steps for ATS Global?

34:25
Rob: Well, continuous development in new technologies, obviously. The certification of our engineers is an ongoing program that's done step-by-step. And investing into relationships with our partners. And in the Netherlands, for instance, we have a couple of different divisions that were now merging together to even give an even better answer to our customers because we have the PLM knowledge, MES/MOM knowledge, PLCs, SCADA, but also virtualization and packaging, for instance, and cybersecurity. So we bring all these together to give even a better answer to our customers, and that's an ongoing program that'll be completed by... Well, let's say, summer holidays, that's the current deadline. And it's all in the benefit for our customers.

35:14
Rob: Well, cybersecurity, yeah, you need everywhere right? And it's in the beginning, I would say. So if you look at systems that are exposed to the internet and some tools that you can search it, which is scary, but you can find an amount of PLCs and SCADA systems connected to the internet is increasing exponentially I would say, with all that cybersecurity issues. I found a customer that had this glue robot exposed to the internet, so they took it off the internet. It was connected to the internet for services purposes and still in its warranty period. So it was for the supplier, very easy to work with it to solve issues. But there was an open port, which you cannot do any more in these times. You are sometimes protected because these industrial systems are very complicated to get into. So an average hacker is not really going to do that, but it will be increasingly a focus point for manufacturers to also look into cybersecurity more and more.

36:16
Joanna: That's excellent. Well, I know everyone here at Inductive is looking forward to what you guys do in the future. And Rob, thank you so much for taking the time today to talk to me, to share some tips and stories with our community. It's been an absolute pleasure. You've been great to talk to.

36:32
Rob: Thank you. Yes, I really like this podcast set up. It's a one-on-one discussion, like we are out drinking a coffee. And I really like listening to podcasts, so thank you very much for inviting me. I like listening to podcasts where I can learn something and normally you do this while traveling. I don't travel a lot anymore because of the COVID situation, obviously, but great to learn stuff from everybody else so you don't have to invent everything yourself. So it's very, very nice. Well, thank you for having me.

37:01
Joanna: Of course. Any time.

37:05
Hey listeners, this is a quick reminder to subscribe to our podcast if you're enjoying the conversations. Also, if you have a topic or a question you'd like us to cover or if you're interested in being a guest on a future episode, then please send your inquiries to podcast@InductiveAutomation.com.
Want to stay up-to-date with us?
Sign up for our weekly News Feed.
By clicking "Sign me up," you agree to the
Terms of Use
, and the submission and processing of your data. Your privacy is very important to us.
Privacy Policy