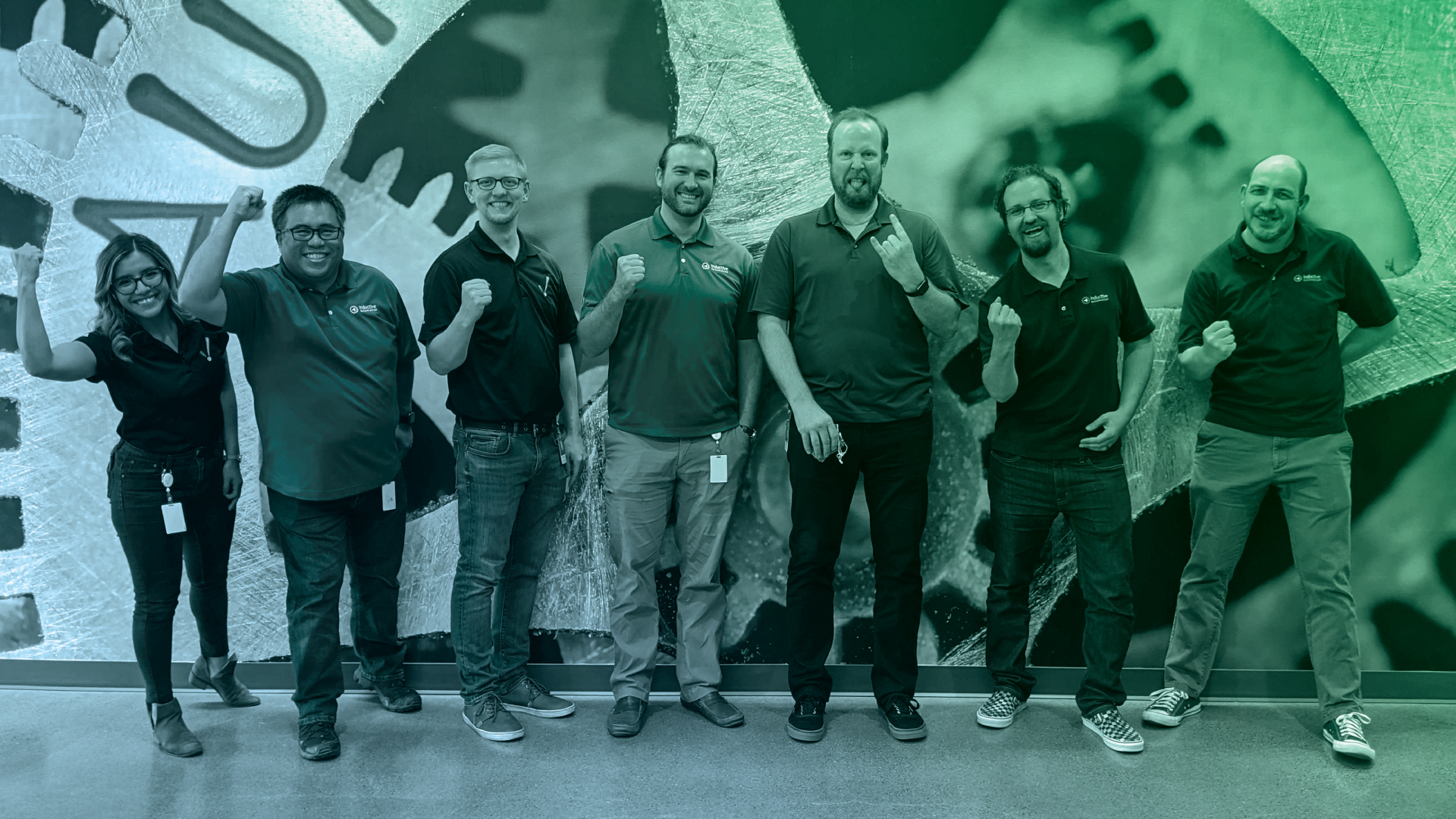 In this episode, members of Inductive Automation's "house band," The IA Department of Funk, share behind-the-scenes stories and shenanigans from the writing, recording, and filming of their original song and music video, "Champion," for the ICC 2021 Build-a-Thon. We also dive into how their music has evolved over the years, why it's important for ICC and Inductive Automation, and where it may head in the future.

Champion is available for download on SoundCloud
"We were in the process of trying to use a song and in the midst of the process, we ran into a few roadblocks. So we were trying to figure out some alternative things that we could do, and so we ended up writing our own song, both the music and the lyrics." – Arnell

"It was pretty incredible that we were able to pull it together after hours, because we all still have day jobs, none of us were hired for our musical talents at Inductive Automation." – Kent
Band Member Bios:
Arnell J. Ignacio
Bass Guitar, Guitar, Audio Engineer
Arnell is a Marketing Technology Specialist for Inductive Automation and plays bass and handles audio for the IA Dept. of Funk. He has over 15 years of experience in digital, content, and strategic marketing. Arnell's experience spans across B2B organizations that specialize in industrial solutions and the nonprofit sector. Arnell loves spending time with his family, and enjoys playing guitar, bass, and drums. He is passionate about live sound amplification and woodworking, and enjoys a wide range of music styles ranging from Metallica to Nickel Creek.

Kevin McClusky
Keyboard, Vocals, Guitar, Chameleon
Kevin serves as Co-Director of Sales Engineering for Inductive Automation and plays keyboard, guitar, and sings for the IA Dept. of Funk. He joined Inductive Automation in 2011, and brought with him years of experience in the field of industrial automation software integration. Kevin's work includes architectural design, consulting, and creation on countless SCADA, IIoT, MES and HMI projects for Ignition installations deployed in a variety of industries around the world. Musically, Kevin has been playing keys since he was 5, and has picked up a number of additional instruments along the way. Contributions to the IA Dept. of Funk mainly include keys, vocals, and guitar, and occasionally something more esoteric like a harmonica or accordion here and there.

Kent Melville
Vocals, Acoustic Guitar, Lyricist
Kent is the Sales Engineering Manager at Inductive Automation and is arguably the inspiration for the formation of the Department of Funk. He joined Inductive Automation 5 years ago and when not singing, spends his time helping customers learn about Ignition and architect their systems. Kent also is a regular speaker at various industry conferences as well as a presenter for our webinars. His musical debut with Inductive Automation took place at ICC 2018 with an a cappella parody to introduce the world to the new Perspective Module during the first ever Build-a-thon. As much as he enjoys rocking out with the band, his favorite musician to collaborate with is his 4-year-old daughter, Ellie.

Michael Stofan
Keys, Vocals
Mike has been with Inductive Automation since 2009 and has held many roles in that time: IT Guy, SCADA Engineer, one of the founding members of the Support Department, Lead Web Developer for Marketing, and currently Senior Software Engineer in the Software Engineering Department. Mike's cross-departmental experience helps to give him a broad view of the company from customer needs to Ignition feature implementation. In his personal time, Mike enjoys spending time with his family, playing and writing music, cycling, running, and working on his Land Cruiser.

Martin Bainbridge
Guitar
The year was 1977. The world had witnessed the release of Fleetwood Mac's Rumours album, the arrival of Star Wars and the launch of Voyager 2, setting out on its journey to the fringes of known space. It truly was a time of greatness, and the world waited to see what might be in store for it next. That fall, Martin was born. From such auspicious beginnings, great things must come. And come they might.
But until then, Martin is the Quality Program Manager, plays some guitar, tries to be a good husband and dad, and helps the people he works with build software that's ever more robust and reliable. In his "free" time he enjoys cooking, competitive Battleships and a good healthy dose of science-fiction. It has been said that, in his quest for greatness, he really should be prevented from writing his own bio.

Chris Fischer
Drums
Chris works within the Sales Department as the Partner Account Representative, working with IA's strategic partners, Onboard partners, international distributors, and other partners who operate within the Ignition ecosystem. Prior to joining Inductive Automation in 2019, he worked in post-production for the film and television industry. His past experience in a technical and creative industry well-prepared him for a career with Inductive Automation. Chris plays drums in the IA Dept. of Funk. He began drumming at the age of 12 and continues recording and performing to this day across a wide variety of genres. When he's not playing drums he enjoys spending time outdoors and camping with family, going to Kings games, attending school, playing pinball, and cooking.

Dara G. Claiborne
Vocals, Acoustic Guitar
Dara is an HR Assistant for Inductive Automation and sings and plays some percussion for the IA Dept. of Funk. Dara helps in different roles as an HR Assistant; connecting with people is her passion. You will see her up at the front desk or assisting in various tasks while multitasking in HR. Dara loves spending time with family, coffee shops, her family dog (Buddy), music/singing, and enjoys exercising with CrossFit and training in her free time. She is passionate about music: Dara started playing guitar when she was 14 and had been singing since a little girl. She continues to perform and do some recordings. Dara grew up in a musical home quartet and Latin background. She enjoys a wide range of music styles ranging from jazz, indie, rock to EDM (such as San Holo).


Episode Transcription:

0:00
Joanna: Welcome to Inductive Conversations. In this very special episode, we take a journey through our band's mission to deliver the greatest song to ever grace the Inductive Automation Build-a-Thon. We talk about the hurdles the band initially faced that inspired them to write an original song for the event. We share the makings of the song "Champion" and the music video we released for ICC 2021, and we get to know the band members who make the music happen. My name is Joanna Cortez, and I am speaking with our guests, Kevin McClusky, Kent Melville, Arnell Ignacio, Mike Stofan, Chris Fischer, Martin Bainbridge, and Dara Claiborne from the IA Department of Funk.
00:43
Joanna: Alright, thank you guys. Thanks everybody for joining me here today. Today's episode is live with the... What are we called, the IA Department of Funk? Is that…?
00:52
Kevin: That's what we're going by right now.
00:53
Joanna: Because I know for a while, it was what? "Kent and the Ignition 8," "Kevin and the Ignition 8"? Mike and the Funky Bunch?
00:58
Kent: Just Kent.
01:00
Joanna: Yeah. Thank you guys all for being here, I think to start this episode off, we will just go around the room and have everyone introduce themselves and what you do in the band. Let's start with Mike.
01:14
Mike: I am Mike Stofan. I play piano in the group and also sing sometimes.
01:21
Kevin: I'm Kevin, I do a lot of things. So I play keys, a little bit of guitar, I play a lot of instruments, but traditionally, I haven't played that many in our group songs, I guess I did the bongos…
01:37
Mike: That counts.
01:38
Kevin: Yeah, that counts right?
01:39
Martin: You played bass through the rehearsals too.
01:41
Kevin: Yeah, okay, yeah, that's right.
01:42
Chris: I'm Chris Fisher, I play the drums and don't sing.
01:48
Joanna: But you can sing.
01:48
Chris: You don't want me to.
01:49
Joanna: Oh
01:55
Kent: I'm Kent and I sing and don't play the drums. I sometimes throw in a little guitar as well.
02:01
Martin: I'm Martin and I play guitar.
02:04
Dara: And I'm Dara Claiborne and I sing and do vocals. I play a little guitar, but I'm not with the band yet.
02:11
Arnell: My name is Arnell J. Ignacio. I play bass guitar, and I work with the audio.
02:16
Joanna: Alrighty, so one of the things that we wanted to talk about in this episode was you guys had a song that you wanted to license, right? And then you wrote lyrics to go with the music, and then the licensing fell through, so then you pretty much just had to come up with... You didn't have to come up with new lyrics, you already had the lyrics.
02:39
Arnell: We just needed to come up with a new track that matched the time signature.
02:42
Kevin: We needed to come up with new lyrics for the choruses, but not for the verses.
02:48
Arnell: So we were in the process of trying to use a song and in the midst the process, we ran into a few roadblocks, and so we were trying to figure out some alternative things that we could do, and so we ended up writing our own song, both the music and the lyrics.
03:06
Kevin: And let me just throw this out there, Mike is amazing.
03:11
Arnell: Yeah.
03:12
Kevin: Mike thought it would be awesome to create his own song over the course of some weekend and sent us a recording on a... We have a group Slack channel, and he sent us the recording and we took inspiration from that and plagiarized a good portion of it to turn it into the song that became "Champion" as forever will be known henceforth.
03:35
Kent: Yeah, and it's interesting, as a band, we don't just do ICC, we've done music for other company events and things, and it's been a lot of fun, and so we are looking specifically with the Build-a-Thon coming up as a part of ICC, we wanted to do a song for that, but there are more aspects to just the Build-a-Thon than our one musical interlude during half-time, so to speak, and a big part of ICC has become these training montages that we've had the last two years, and Mike was actually thinking about one of the training montages could have a custom song behind it, and so Mike, I'd be interested to hear from you of your mindset there as you're thinking about a training montage and how you came up with "Champion" 1.0?
04:25
Mike: Yeah, so it was kind of serendipitous. I had a Sunday show up all of a sudden where I had kids out of the house and no other family responsibilities, and so I thought, well, I've been kicking around some like training song lyrics. I've been listening to a lot of "Eye of the Tiger" recently, so I sat down at the piano and I started to play around with some ideas, and I also... During this whole thing, I completely lost track of time, so I thought there was still time to slip in a custom recording for the training montage, but I didn't because I got the email the next day that had the completed video with everything in there, and I was like, "Well, I'll send this recording along anyway and see if you guys like it or whatever," and then it turned out we couldn't get the song licensed in time anyway, so we had something to start from, which was cool.
05:12
Kevin: And Kent had gone through... So for the original song, Kent had written lyrics, and he'd come up with basically the entire... All the lyrics of what we were going to be doing, the lyrics for the rap battle and all of that, and so what we ended up doing is combining the two, so we took Mike's work there for the musicality of everything, and then we took what Kent had already created when it came to the rap battle lyrics and massaged some other things into place, and "Champion" was born.
05:43
Martin: Actually, I think the timeline was interesting because we had the pre-ICC event at the office a few weeks beforehand, so we'd spent all of that time rehearsing a completely different set of songs, and it was... We did that gig, and then we had... Forget how many weeks we had left, but we didn't have a lot of time together before we had to have this recording session, and it was just in that short timeframe when we started learning the original song, realized we were gonna be too late, and then we had to start rallying around and figuring out an alternative, and at the point that we had to do that, we only had a couple of weeks.
06:25
Chris: But we already had the constraints of the recorded verses with Kevin and Travis, so we had to make those work. So yeah, we sort of reverse engineered it from there.
06:35
Kevin: Yeah, I think those constraints actually helped us.
06:38
Martin: Yeah, that definitely did.
06:39
Kevin: It meant that we didn't start from a blank page, we'd had structure, we knew what we needed to do for verse 1 and for verse 2, and then it's figure out the choruses and figure out the other pieces, and then Mike just randomly sends this recording of something that could slot right in there.
06:58
Chris: And that was all something like three weeks before ICC, it was, once the snowball started it moved quickly.
07:07
Kevin: We also had, I don't know how many tracks you had on this Arnell, when I did "Africa" I think it was 14 tracks total.
07:14
Arnell: Yeah, I think I had 25.
07:17
Kevin: Yeah, you definitely beat me.
07:17
Arnell: 'Cause there were there multiple takes, but then I was layering, so just some background with Dara and Kent's vocal, I doubled up their vocals so that it would fill out, and then when Mike added his growly vocal, if you will, it rounded everything out, so it's just... In the amount of time that we had, just adding those little different elements, I was just, again, amazed at the speed at which we put this together 'cause with what's going on, being remote, not able to record on a daily basis, if you will. We were able to pull this together in time for the conference, but it was a great experience, and I'm glad I'm working with a great team of people here. It's just fantastic.
08:01
Joanna: I actually didn't realize that they started from two separate things, I didn't realize that it was supposed to be for the training montage, and then a rap battle was a separate thing. I thought this whole thing was the big plan from the beginning.
08:11
Kent: Yeah, and it's interesting because when you think of a rap song, I think when you think of the choruses, you've got kind of a hip-hop feel you'd expect or like an R&B feel or something that goes more in line with a rap, and if you go back and listen to the track "Champion" and you hear the chorus, you'll be able to tell that it may be originated from a training montage, and we talked as a group and we said, "Does this fit? Does this work as a song of having this awesome rock chorus versus this rap middle part, whatever that was, the rap there?" And eventually we said, "We're not trying to make a mainstream song that everybody could hear on the radio. No, no, this is the IA Department of Funk. And so if it's a little funky, that's right up our alley." And we were really happy with how it turned out.
09:00
Joanna: Yeah. And it certainly did turn out really, really well. I was wildly impressed with everything that you guys were able to put together, especially since you had to re-write the music too, it wasn't just the lyrics, right?
09:09
Arnell: Yeah, we wrote a whole new track and we had to keep in mind that we recorded footage prior according to the tempo of the original song, so this new song that we had to produce had to match that same tempo, and it was great that we were able to pull that all together.
09:24
Kevin: I'll bet Chris remembers what it is.
09:26
Chris: I believe it was 95. I wanna say it was 95 BPM. Yeah, it was cool. When we kind of were building the song together as a band, we knew the BPM of the original song that we were trying to parody, and we knew what the chorus was, 'cause Mike had graciously provided that, so we just... We kind of mashed the two together, we made a scratch track with that BPM, and then we went and sort of jigsawed it all together, knowing what the tempo was, knowing what the chorus was, and it worked out really well. It was a mixture of luck and I would say some innovation.
10:05
Kent: And my favorite part of it is that at the rehearsal where we made this decision to go with plan B and to use Mike's song. Mike wasn't even there.
10:17
Kent: So we had this recording that we were listening to on cell phones and we're like listening to it, and we just... Chris called it jigsaw, so we tear apart his song and we create this amalgamation and just hoping that when Mike gets back, he'll approve of what we've done to his song.
10:34
Joanna: And did you approve, Mike?
10:37
Mike: Yeah. I was pretty floored. I thought that it would just go nowhere basically. "Yes, yes, very good. Mike we'll put that on the fridge right here, now let's get back to business," but... No, I was stoked. Yeah, yeah, I forget what it was. I don't know if I like I had vacation or a family obligation or something, but yeah, I wasn't able to make that rehearsal, so I just sent it off on the Slack channel on the blind and then listened to the session recording a couple of days later, and yeah, I was totally stoked.
11:02
Martin: I think you didn't send the chords along with that, so while we were listening on the cell phones, we had Kevin playing along trying to figure it out with the piano and then calling out the chord, so he was shouting out the chords, I was trying to figure out where best to play it alongside, and we figured out how to play the song like that.
11:18
Mike: I wanted you to get some ear training in. You know, it's good practice.
11:22
Kevin: Thanks Mike, that was for us. I appreciate that.
11:25
Arnell: The whole process was great. We laid down the tracks. Chris recorded it remotely, so did I, and we locked that in. We had to go back and forth on the drums trying to figure out how to get some of the elements to pop out and so we got that figured out, then I lay down the base track for that. Then we proceeded to record Martin's guitar parts, we mic'd up his amp, and we had an environmental microphone that picked up a 360 image, and we were able to use the reverb of the room to get that nice sound. And it was just great to hear Martin play the solos and the rhythm, and we were able to lay those tracks down.
12:03
Arnell: And then we were at Kevin's place and then we recorded a good majority of it, the lyrics, Kevin, Travis, Kent, Dara, laying all that stuff down. It was really great, and we did that in to midnight.
12:15
Chris: Yeah. That was a long day.
12:16
Arnell: That was a long day. It was fantastic. And then I got the recording parts from Mike, and he gave me the organ part and the piano part, and then he gave me this extra part, I think it was like... I don't know, vocal seasonings or I don't know if that's the correct term that... But he gave it to me and as I started mixing the song together and listening to all elements, he had this whisper that he did, and I think he was joking around with it, but it actually worked really well. Like when I laid it into the track and just played it, I was like, "Oh, this is it, this is what like... " 'Cause it comes out of nowhere, but it's really present in the midst of that whole entire mix, but it was great that we got that all recorded in that amount of time.
13:00
Joanna: I was wildly surprised when I got the final track and I heard the "champions."
13:05
Kevin: We also made a last-minute change when we were recording for the very beginning part of everything, so we had the spoken word part there and it was working okay-ish, I was the one who had done it, but we know that Mike makes up some crazy stuff when you put a microphone in front of him, we wanted to see if he'd be willing to do it, and he was game. We had a number of outtakes there. I think it was something like "Two champions, two coaches, one baked bean burrito."
13:42
Mike: I was very hungry. I did get a burrito after that.
13:46
Dara: And you did get a burrito, yeah, I was gonna say.
13:50
Kent: And it's funny 'cause we talked about writing a script for him, but Mike said "No," he's like, "It'll be better if I do it on the fly." And it turned out great. And coming back to, you said the whisper of "champion," I think we haven't talked about the music video yet, but the best part of the music video is there's the axe throws, and right after an erred attempt of sticking the axe, this whisper of "champion" cracks me up every time.
14:16
Joanna: Right as the axe bounces off the target.
14:19
Kent: Exactly.
14:19
Joanna: And Kent pointed this out. I was not trying to make you look bad. I swear I was just a bad videographer, and I missed the times when you definitely hit the target.
14:29
Kevin: You know, it's funny. I later went back and people... Kent, you had asked people, who do you feel like won the rap battle? And it was about 50:50. I think a good portion of the people who thought Travis won was because I lost the axe throwing in the video.
14:48
Chris: It all came down to that. Travis really stepped up his rapping skills for the song as well.
14:55
Chris: Yeah.That was pretty great to see him work through that.
15:00
Joanna: Yeah, I was wildly impressed. Yeah, because Kevin, you had a team of people for your rap battle. You were over there with Flexware Innovation. How did that go? Getting everyone up on the stage and...
15:08
Kevin: That was fun. That was the whole Ignition team who was up on the stage when it was... There were a couple of shots of being on the stage and it's right around the corner from their offices, so we were able to just use it. Later that night, there was a whole concert that they were doing, like a concert-in-the-park type of series that they had going, but we were able to steal the stage and use it for what we needed. Yeah, the Flexware folks just rallied behind it. Kent had already written the lyrics. I was up like the night before trying to get my meter down, get the delivery that I wanted for everything, because I knew that as soon as I record it right here, that locks it in. That's exactly what it is.
15:49
Kevin: So I'm going through... Kent wrote the original lyrics, I changed my lyrics somewhat to make it my own, it's probably 50:50 between what he originally wrote and the pieces that I put in there. Yeah, that was it. That was it. So after going out to Flexware, the lyrics were exactly as they were, it was locked in, and I know everybody thought we were freestyling during the actual song during ICC, but that wasn't the case.
16:11
Joanna: I sure hope people saw the training montage videos before they actually saw the music video, otherwise there was a lot of people asking, "Why is Kevin dressed as Mr. Miyagi for the rap battle?"
16:24
Kent: It's fun. So I've had the opportunity to write some lyrics for a couple ICCs now, the first year I started writing lyrics was on stage in 2018, and for that one, it was very focused on highlighting the new Perspective Module that we were releasing, and so talked about responsive screens and other things, and it was fun to take a song and to make it all about Ignition, and then in 2019, we wrote the lyrics, and once again, it was about how Ignition is the best software and that nothing else compares. You come to 2021 after a year of frustration for the entire world, and suddenly the lyrics had very little to do with the Ignition software, and it was just an attack of Travis and Kevin, just destroying each other, and we'll have to see if in future ICCs, the lyrics come back home and are more focused on the software again.
17:28
Kevin: I like the direction it's gone. I don't know where we're going from here, but this is a lot of fun. As a side note for any Star Trek fans out there, there's a little nod to you in one of my lyrics, I don't know if you caught it the first time, so you might wanna listen back through, if you didn't.
17:46
Joanna: You talked about how there was this progression of singing mostly about Ignition and then writing lyrics a lot, kind of going head-to-head in this competition. Do you have any ideas at all for what you might wanna bring into the future? Are you gonna bring more Ignition into it, or are we just gonna stick with this competition, and if we bring in competitors again next year, are we gonna make them go head-to-head in some kind of a... I know we haven't really talked about it much. I'm just curious to know what people would like to see happen.
18:11
Kent: I'll make a quick comment and I'm excited to hear everybody else's thoughts, because as you said, we haven't talked about it too much, but what's been fun is that the Build-a-Thon has grown each year, and so in 2018, it was just me singing on stage; 2019, we had the whole band. And then this year, it obviously grew as we brought in integrators and things. And so whatever it is next year, we'd love to see it be bigger again, whether that's bringing more people from Inductive Automation involved or more people from the community. Bigger is better. So interested to see how many people we can pull into this.
18:52
Kevin: I don't speak for the whole band, but I would love for whatever we do in 2022 to be live on stage, Harris Center, if it's in person, if we actually have something like that, we can... Yeah, we've got the skills. Everybody in the band is fantastic, when we were first putting the band together, so I'd polled the whole company and had said, "Hey, if you want to be part of this, send a recording of something you've done recently," and so we kind of picked the crème de la crop of folks at Inductive Automation, and we have a fantastic group here. Our company is growing too. And so as our company grows, there's many more people, and to Kent's point, a lot of these people who are coming in have musical experience, and Dara is our most recent addition who's been fantastic with the band as well, and we've really appreciated her being here. We did another event that wasn't about this, that was a company event where we had eight songs set that we put together, and Dara led a number of those songs. Dara, you haven't said much, do you wanna chime in?
20:06
Dara: I'm the new member, and it's been great. At first I was like, "Oh no, I am the newbie." I felt, I have felt welcome so far, and it's been great just to see everyone's skills and talent, and we had a company event not too long ago, and that was just fun in itself, setting it up, working with Arnell and getting the sound and just preparing those songs for the event and just the rehearsals too, they were great and everyone's personality is awesome, it just fits, and it makes you laugh, and you just feel welcome, so it's been great so far.
20:50
Dara: And just jamming with... I remember the first rehearsal. So what do I do? And I just went in it and just... We just sang, I think Kent and I, we just started singing and... So that was fun. And I would say one of the best moments from the recording for "Champion" was when we went to the bat cave that Kevin has. I didn't really think it was a bat cave until... I don't know about you, but once I walked in, I'm like, "Oh, there's actual bats." But they didn't bite or anything, they were great, but it was pretty cool. It would have been awesome to get that shot of the bats, but either way it was awesome, we did record in there... Was there a piano in there? I can't recall.
21:34
Chris: Yeah, there was.
21:36
Joanna: You were straddling the hot tub holding up this giant keyboard.
21:41
Dara: It was great 'cause there was just enough space that we wouldn't fall in there, but that was great, yeah, I really enjoyed that and the little house session we recorded in there, and so, yeah, it's been great and just to help with vocals and be part of the IA Department of Funk.
22:00
Kevin: And a little bit of keys.
22:00
Dara: Yes, and a little bit of keys. Yeah, exactly. And I do play guitar. I was telling Martin, a little rusty, but I just gotta practice a little bit more.
22:10
Joanna: I didn't see the bat myself, but I definitely heard all of you screaming while I was outside setting up the lights. I was like, "What's happening?" I just hear everyone, "Bat, ahh!" And then everyone was asking me who the heck has a spa in their basement? Nobody knew what that was...
22:26
Kevin: It looks like a basement.
22:26
Joanna: It looks like we're underground in a hot spring. That's what it looks like. Yeah.
22:30
Dara: Yeah, that was pretty cool.
22:32
Kent: Yeah, it's fun as a group we were maybe a little too creative at times, we'd come up with all these ridiculous shots and things for music videos, and then we'd drag Joanna around and be like, "Yeah, so we want to film in this dark cave, and then we wanna film in this tiny house," and she's like, "How am I gonna get a good shot of these weird awkward spaces?" But she always does it. She does a great job.
22:54
Joanna: That was pretty fun. I think my favorite part was having Martin and Mike doing the... I don't know what you call it, the music-off?
23:02
Mike: Solo battle.
23:03
Joanna: Yeah, the solo battle in this tiny, tiny doll house that Kevin has, and you guys were just crammed in there with your instruments, and Mike you were a trooper carrying that thing around, and just playing it nonstop, that was pretty fun. I liked that in the moment we decided... I don't know if maybe you guys had discussed this beforehand, that one of you was gonna represent Team Travis, one of you was gonna represent Team Kevin and kinda like wear the headbands and go head-to-head while you were playing, that was fun.
23:27
Martin: Yeah, I think that just happened at the last minute, it just suddenly seemed obvious when it came time to shoot that part of the video.
23:34
Joanna: I'm curious if anyone else has a favorite part, either recording or filming, that stood out to them with this whole thing.
23:40
Mike: Getting in the pool. Because it was really hot that day.
23:46
Dara: That's right.
23:46
Joanna: And you definitely got in the pool.
23:49
Mike: Yeah.
23:50
Joanna: I think that got the biggest laugh at the live event when you were playing, you just fly back. And I was like, well, now the continuity is all off because now you're soaking wet for every other shoot.
24:00
Mike: No regrets.
24:02
Kevin: Joanna, that was your crab, right, that I was on? The lobster?
24:08
Joanna: Oh yeah, it was a lobster.
24:10
Kevin: That was fun.
24:11
Joanna: That was pretty funny leaving the house with that, my kids were like, "Why is mom going to work with a giant inflatable lobster?"
24:19
Chris: You never know what you're gonna need when you work at Inductive Automation.
24:22
Joanna: That's very true, especially around Build-a-Thon or ICC, and we gotta shoot these awesome music videos.
24:26
Chris: Exactly.
24:28
Martin: During the recording of the vocals, that was one of my most impressive sights, 'cause I wasn't recording the vocals, I was just watching you guys do it, but everybody moved outside in the middle of the night, it was like 10:00 at night or something, set up all the gear, then everybody was recording those tracks, on the recording outside in the middle of the night, in the middle of nowhere basically.
24:52
Kevin: Yeah, it was a better spot for recording. Just for context, the big room that we practiced in there is great for reverb, but it's also not great if you don't want reverb. Yeah, it ended up adding a lot of room feel to things. And so for Martin's stuff was all recorded in there and that sounded fantastic, and if you had vocals that were recorded in there, it would have flavored everything, but I don't think I've ever heard of rap battle with reverb before.
25:23
Arnell: To talk about Martin's guitar, I just wanna touch upon that. So normally when you add just reverb in post-production, actually that was all the reverb from that room, so we mic'd up his cab and he was also directing, I believe.
25:35
Martin: I forget if I was directing, but I was definitely mic'd up.
25:39
Arnell: Oh no, you were mic'd up twice.
25:44
Arnell: Mike had a special microphone that had a 360 pick up on it, so we mic'd up the cab, mic'd up the room, and I was able to get a really good environmental tone from his guitar. So it was just nice. Overall, there was not a lot of processing that had to be done to the music or to the vocals, it was just nice that everything kind of fell together, at the time it did, so it was just a great experience. I mean.
26:09
Kevin: If you're listening, you're probably getting the feel or understanding that Arnell is actually the one who put all of this together, so we went through and did all the recording and in the past... Way back when we did the "Africa" one, I did all the post-processing on that. This year Arnell did everything, and I think probably did a better job than I would have with the time I had available. I think it came out great and I was very impressed, and I'm seeing nods around this room here. I think we said it before, but well done, Arnell.
26:48
Arnell: Thank you.
26:48
Kevin: It was great.
26:49
Arnell: My kids love that song, they won't stop singing it, so after I finished just doing the master mix and then getting it on the home stereo... That's all they wanna hear. So every time I come home, they're like, "We want Champions. Champions." I'm like, "Alright, we'll put Champions on." And they sing it, even without the music, I'll be walking down the hallway and I hear in their room, "Champions at the Build-a-Thon." I'm like, "Oh my gosh," but that's the thing, like the other cool part is we wrote a song that it sticks with you, and people really liked it. And they want to know where they can get it. They love it. So that's my favorite part of mine, just seeing them enjoy something that we created, so... Yeah.
27:32
Joanna: That's really awesome.
27:33
Kent: So my favorite part has to be back to the flotation devices inside the pool, Travis was on his swan or whatever that was.
27:43
Kevin: A unicorn.
27:44
Kent: It was a unicorn, there it is. Yeah, he's on his unicorn and he kept slowly drifting out of the shot and so we kept having to go back, like, "Where is Travis?" and pull him back in, and it was the best to see Kevin trying to swim on his lobster, chasing the unicorn to go bring back the unicorn and almost falling into the water every time. And so, yeah, that was definitely a highlight for me to watch how helpless we were on top of the water.
28:15
Martin: While you sat in your dingy with your oar.
28:18
Kent: Yeah, I know. Gotta have a paddle.
28:20
Joanna: You had the paddle.
28:22
Joanna: I feel like it's worth bringing up for people who have either already seen the music video or haven't seen it yet, and will definitely watch it after this podcast episode. I feel like we need to explain what the... We had a little shameless plug in the music video at the bookstore. Kent, you wanna explain what that was all about?
28:41
Kent: Yeah, absolutely. So, Inductive Automation, we're based here in Folsom, California. Historic Folsom. Downtown Folsom, there's a store called Ruby's Books. Ruby's bookstore is actually owned by Carl and his wife, and so for us to go and do the shameless plug for their bookstore is a nod to people that are integral in our business, and we wanted to highlight their business, but... Yeah, so now in future ICCs, once we can be live in person, again, we would love to have everybody go and check out the bookstore and see how awesome it is. Kevin, as a challenge to you, I know in a previous ICC, you made a whole project where people had to go around Folsom to go check in at different spots. So the next check-in will have to be Ruby's bookstore.
29:29
Kevin: Oh, that's not bad. Yeah, when we first released Perspective, that was a little hidden Easter egg that showed up on the app that people didn't even realize was there until the second day of the conference and yeah, there were a bunch of riddles and stuff, that was a lot of fun to put together too. But yeah, Ruby's bookstore, that's a freebie. If we do one of those again.
29:48
Joanna: That was fun, we just went up and down Sutter for that music video and we were just like, "Let's go into the axe throwing place, let's go into the antique shop, let's go in the game store, let's go... " Yeah.
29:56
Kevin: That was my favorite part of the whole thing was just going up and down Sutter Street and recording all of those and being able to drop the mic and that moment, the bridge. All of that stuff. Yeah, that whole thing was a lot of fun walking down the street and getting a video of all of that, and Kent was with us pretty much the whole time there too, even though he's not in many of the shots.
30:21
Kent: I was the one laying on the ground ready to catch the mic after Kevin drops the mic.
30:27
Kevin: You're giving away all our secrets.
30:29
Joanna: Movie magic.
30:29
Kent: No mics were harmed in the filming of this music video, and on that bridge, there's another music video that's been filmed on that bridge... Right? Which artist was that?
30:39
Mike: Papa Roach.
30:40
Kent: Papa Roach. Exactly, so we are treading on the same path as legends, we're in good company.
30:49
Kevin: Yeah, I guess we could go around and see if anybody has thoughts about next year, about 2022, about genres. This is on the fly, nobody's prepared for this, which is something that I love to do to the band. I'll speak for myself first, I'd love for us to branch out in terms of genre as well to kind of jump to something else, so we've done a couple of them, something that is completely different from everything else because we've got a team, we've got a band that is good enough to do just about anything we want to. And I'd also love another original, I'd love it if we could make something happen along those lines.
31:31
Martin: Something not in E-flat would be good.
31:38
Mike: Alright, I'll do something in D-sharp just for you.
31:39
Martin: Oh, thanks.
31:43
Kevin: That's a musician joke.
31:46
Kent: So every year, it's funny 'cause when we were doing just covers, I'd go and pick a bunch of songs and propose them to the group. And two genres that I think would be really fun, that have been shutdown every time, 'cause I think a country song would be really fun. And also... You can see why it gets shutdown every year. And then also a musical theater style song could be interesting.
32:08
Joanna: Which would be perfect if we do it live.
32:11
Kevin: Oh man, and we get a bunch of singers out there?
32:13
Joanna: Oh man.
32:14
Kent: Choreography. It's gonna be big.
32:16
Joanna: The whole thing. T-shirt cannons, costumes. Yes.
32:25
Dara: Actually, yeah, I was thinking musical theater or opera or something or... I forgot what's Frank Sinatra's genre? That would be fun.
32:33
Kent: Big band.
32:33
Arnell: Crooner.
32:35
Dara: Yeah, or maybe some Spanishy stuff, but yeah, the first one was the musical theater.
32:39
Kent: A reggaeton.
32:41
Dara: Oh, that would be fun. Who would do the reggaeton part? The rappers. There we go.
32:48
Kent: So watch our careers page for choreographer to show up and other things as we look to make next year awesome.
32:52
Joanna: I still wanna get everyone out in the parking lot. Everyone, all of the staff just out there. And just get a drone to fly over and just everyone's doing very simple steps like kinda to the right, kinda to the left. That's where I live.
33:07
Kevin: Flash Mob.
33:08
Kent: Go big or go home.
33:09
Joanna: Yeah, exactly.
33:10
Martin: Or "Thriller."
33:10
Joanna: Oh that would be fun.
33:17
Arnell: Something like from Daft Punk, that genre. I've been listening to this band called, Parcels. They're from Australia. They live in Berlin now. They actually collaborated with Daft Punk. And so they have this whole album that they came out this past year. And that's only been listening to like non-stop, 'cause it just keeps going with that same sound.
33:30
Kevin: It's kind of like that driving down beat electronica.
33:33
Arnell: Yeah, yeah, and it's all instrumentation. They're not like, they have a few keyboards and pianos, but it's just this whole band is just locked in. It's just a really good thing to listen to.
33:44
Kevin: The genre that I've been shutdown on for us covering has been, speed metal. I don't think anybody has really gone for that.
33:53
Joanna: You know… Marketing spends so much time deciding the theme for the conference every year, and we get these ICC committees together, it sounds like we need to incorporate what the music genre style is going to be to coincide with the themes that we pick every year. And then branding, and you guys can all... Yes, get this very, very aligned.
34:11
Kevin: I kinda like that.
34:11
Arnell: Yeah, I think it would be fun if we came up with a thematic song for ICC. I'm not promising anything, but...
34:20
Joanna: You heard it here first!
34:23
Kevin: You heard it here first, folks.
34:24
Kevin: I think there's a possibility that the folks in this room might be interested in throwing together some backing tracks for those types of things for 2022.
34:34
Kent: 2022. Our first EP is gonna be released for ICC, isn't it? All of the above.
34:41
Joanna: I'm curious, just because this is something that I had experienced. Is it weird to try to explain, "the why," we're doing this to people outside of the company? I'm curious if anyone else ever experiences that with their family, who maybe don't know why this is happening for the company.
34:57
Kevin: My extended family has been very confused.
35:05
Kent: Especially because we're not a direct to consumer type of company. Where, for marketing and branding, when you're trying to get to consumers, it makes more sense to have the social media presence, to have a viral sensation take place. Whereas we are more of a business-to-business kind of a company. And so I think that's part of where the confusion stems. Where people are like, how is that part of your marketing to make a music video when it's business-to-business? And I think for me, it boils down to even business-to-business is still people to people. And so we're trying to get that community and trying to build what Steve calls the de facto standard. We're trying to be that de facto standard. And a de facto standard isn't just based on the technical capabilities of a product. But also a culture that people wanna buy into. They wanna use a product 'cause the product is cool and I like to think that the IA Department of Funk is the cool factor of Inductive Automation's Ignition software.
36:06
Arnell: Yeah, I think it's a great opportunity especially in the space of industrial technology. If you look at all the social media, all the content, everything that comes out in this space, it's very structured. I would say, behind a wall, there's a visual that's presented, and then having as Kent has mentioned, having that ability to have a business-to-consumer company, having all of this talent that's behind it. And I think it brings a lot of that human aspect. That there are people behind the software and that we're incredibly creative. And then we are passionate not just only on the software, but also everything else that we do, and that we understand the people that we work with. So I think... Yeah, it's a great opportunity for us to show that. And it's unique, software is unique, so is the people behind it.
36:54
Kent: And it's cool that we're all from different departments, different divisions within the Inductive Automation, and we're able to come together after work and throw this together. So yeah, it was a lot of fun to have this project that's work-related, but I didn't really see it as work, so to speak, you know what I mean? And to spend time with all these people that normally at Inductive Automation, I wouldn't have had the chance to get to know so well.
37:16
Kent: And in those lines, shout out to Inductive Automation for letting us go crazy with this. I think that part of what makes the Build-a-Thon so valuable as part of ICC is it gives us an opportunity to show the whole Ignition community, the culture that we have an Inductive Automation. We work hard and we play hard. And that we are very methodical about a lot of things we do with the software. We're very careful about our releases and the new features that we roll into the package, making sure that they're very driven on specific customer requirements and things like that. But at the same time, we have this culture of like... Let's throw together a song and put it as part of ICC and have fun. And I like working for a company that can do both, that we can do the serious work part really well, but we don't take ourselves so seriously that we can't let our hair down and rock out.
38:16
Chris: I think it's also kind of cool that the song largely came together remotely, which is how we've been working for the last however many months. And it's really cool, we would come together safely, talk through it, and then everybody would go their separate ways. And everybody kinda knew their piece, how they fit into the bigger picture. And again, we were able to make it work. Kind of like how this whole mess got started back in March of 2020. And the song is somewhat reflective of that. Certainly in the process of how we made it, so it's kind of cool.
38:52
Kent: And it was pretty incredible that we were able to pull it together after hours, 'cause we all still have day jobs, none of us were hired for our musical talents at Inductive Automation.
39:03
Martin: We've got the band and we keep referring to it as the band, but I don't think it should be treated as a static thing. It's not like "This is the band, we have our band now, see you." It's like, we have this version of the band, this group of people. We have other musicians at the company that we know about. We have other people with interests in audio and related things, choreographers, all of this should be shared and people should feel free to come and join in too. It's not an exclusive club of just us, we just happen to be the ones who are here right now. We're gonna change and evolve and grow. And who says, we just have one band?
39:41
Mike: 100%.
39:42
Kevin: Yeah, maybe it could be aligned with our product releases, so IA Department of Funk version 2.3, 2.4. There are just different band members that are there.
39:52
Kent: Every five weeks.
39:56
Chris: And the quartet is the IA Department of Funk Edge.
40:00
Mike: There we go.
40:00
Joanna: I volunteer to play the cowbell. If you ever need it.
40:02
Martin: You're in.
40:05
Joanna: Yeah!
40:07
Arnell: I'd also like to say, while the music that we created was great; the visual, Joanna's work on the video, from everything that's been produced for ICC in the timelines that we've had, just phenomenal.
40:20
Kevin: That can't be over emphasized. Joanna is an amazing, amazing person. And everything wouldn't have come together, how it did. Such a short timeline, so much to do, working weekends leading up to all of it, to just get everything together and make it shine and a view, an eye toward the artistry behind all of it. It's been amazing to work with you Joanna. The world needs to know.
40:48
Arnell: They do, they do.
40:49
Mike: We are not worthy.
40:52
Joanna: I appreciate you saying that. I have a ton of fun doing this and you guys make it very easy because you're very talented, and there's a lot of hard-working people here. So I just wanted to say thank you so much to everyone and not just for being here to record this podcast but it's just an immense amount of work that you guys put into this event. The last couple of years, it's just been insane. And I feel very, very honored to be a part of it, to get to watch you guys write these lyrics and play this music and hopefully perform it live, and as somebody who is not musically talented in any capacity, I don't know how you do it.
41:29
Everyone: Thank you.
41:31
Joanna: For those of you who haven't seen the music video yet, make sure to check it out. It is on our YouTube channel.
41:36
Arnell: And then also be on the lookout, we're planning to put the track up online. So just keep your eyes peeled on that and we'll let you know when it's ready.
41:46
Kevin: Twenty dollars on iTunes.
41:49
Mike: Worth every penny.
41:53
Joanna: Thank you listeners. We hope you enjoyed this special behind the scenes Inductive Conversations episode with the IA Department of Funk. We are excited to announce that you can now download the song, "Champion" for free from SoundCloud. Don't forget to subscribe to our company newsfeed, so you'll always know when we release new content like this podcast. And remember that if you would like to be a guest on our podcast to sit down and chat with members from Inductive, please reach out to us at, podcast@inductiveautomation.com.
Posted on October 28, 2021
Want to stay up-to-date with us?
Sign up for our weekly News Feed.
By clicking "Sign me up," you agree to the
Terms of Use
, and the submission and processing of your data. Your privacy is very important to us. We will never sell or rent your information.
Privacy Policy