Congratulations to the Top-Selling Integrators of 2021!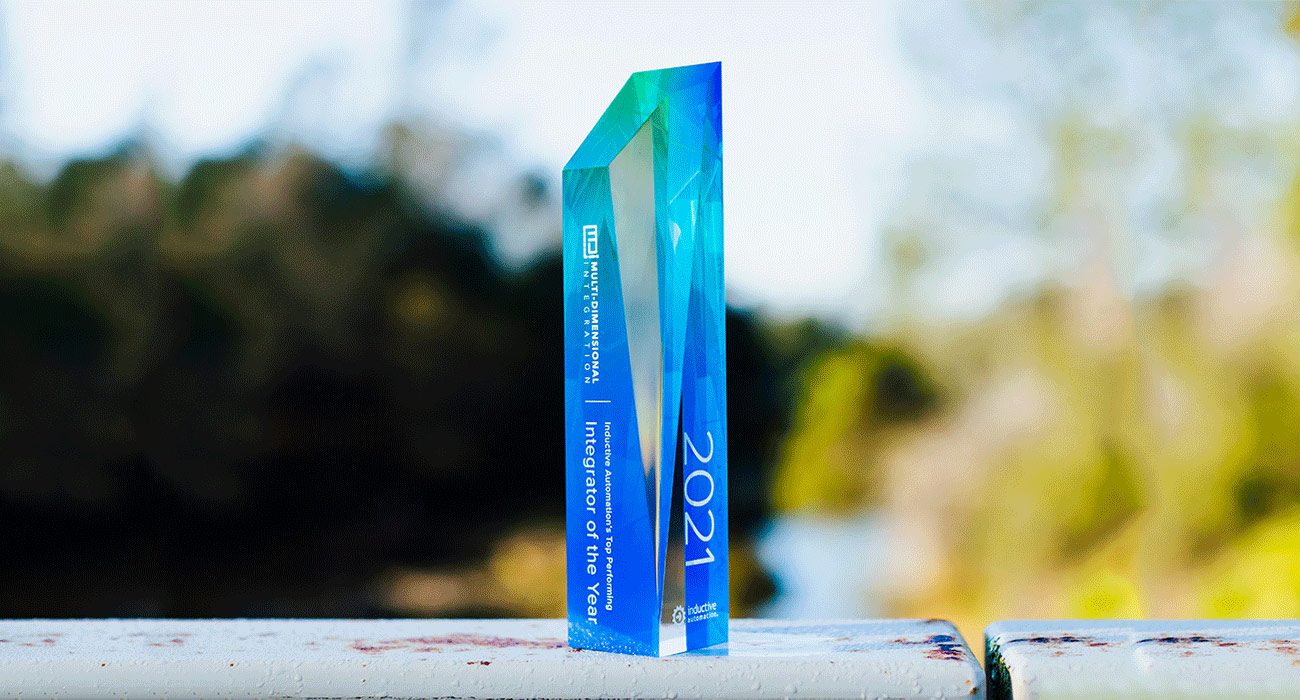 It's an understatement to say that integrators take great pride in their work. In much the same way, we at Inductive Automation take great pride in the enthusiasm and creativity of the Ignition community. It's the reason we started the monthly Top-Selling Integrators list back in 2019. In fact, just this past year we expanded the leaderboard from 50 to 100 to better highlight the growing community within our Integrator Program.
No matter the rankings, we appreciate every integrator who is using Ignition to help change the world of automation for the better. But now that the final totals have been counted up, we'd like to take a moment to celebrate the top 10 integrators of 2021:
Multi-Dimensional Integration

Vertech

ATS Global

Eramosa Engineering, Inc.

Flexware Innovation

NLS Engineering

Texas Automation Systems

Automated Control Concepts, Inc.

Brock Solutions, Inc.

Roeslein & Associates, Inc.
Read on to learn more about the top 3, plus some words of wisdom from the rest of the top 10!

First Place: Multi-Dimensional Integration
2021's top-selling integrator, Multi-Dimensional Integration (MDI), brings over 130 years of combined experience to a wide array of industries and applications, including water & wastewater, manufacturing, pharmaceuticals, process control, and food & beverage. Along with their own determination and adaptability, the MDI team credits Perspective as being instrumental in their first-place finish. "The flexibility of Perspective allowed us to become very creative in offering our customers different features as part of the solution we were providing," MDI's Kevin Morabito and Mike Ficchi said.
With just under a decade of Ignition experience, MDI has continually leveraged the platform due to its connectivity and ease of use. "I've never had to say to a customer, 'No, you can't do that in Ignition,'" as MDI engineer Anthony Cherone said in the MDI/JLG Industries case study.
Congratulations to the MDI team on their first "Integrator of the Year" title! It's truly an outstanding achievement!

Second Place: Vertech
Vertech, the 2019 top-selling integrator, had an incredibly strong showing in 2021. This second-place finish comes hot on the heels of Vertech's Ryan Crownover winning in the first-ever community Build-a-Thon at ICC. Vertech successfully focused its attention on building Perspective projects, placing high value on UX/UI design and mobile development whether creating enterprise systems, MES solutions, or simple HMIs. "Perspective is the tool of choice for developing world-class systems," said Vertech's Chris McLaughlin.
As good as last year was, McLaughlin says Vertech is keeping its focus on the future. "2022 is going to be another banner year! The stage is set, the projects are in progress, and the pipeline is full of SCADA, MES and IIoT opportunities."

Third Place: ATS Global
A mainstay on our top integrator leaderboard, ATS Global has been consistently growing over the past few years, providing solutions for smart digital transformation to a variety of industries worldwide. On top of that, thanks to its global initiative, ATS now has the most certified Ignition engineers worldwide, integrating in 28 countries.
"ATS worldwide has about 1,200 people working for the customer, so there's always somebody that has experience," said Rob Valent, Managing Director at ATS, in a podcast interview last year. "You have countries, you have cultures, you have languages. We have so many languages, as you can imagine with 28 countries. And bringing that all together is very exciting."
ATS is already off to a great start in 2022 and we're thrilled to see what they have in store over the next 12 months.
The Rest of the Best
When asked if he had any words of inspiration for the Ignition community in the year ahead, Brad Byrum of Texas Automation Systems quoted the legendary coach Vince Lombardi: "Perfection is not attainable, but if we chase perfection we can catch excellence."
In that spirit, we've collected advice from other integrators in the top 10 to get you motivated:
"Look for opportunities where you may be struggling with another platform to introduce Ignition as complementary to solve the problem. Once installed, the platform sells itself as you'll find ways to build upon that initial project."
— Kevin Hannigan, Automated Control Concepts
"Keep building the future. Ignition is the way."
— Mike Crawford, NLS Engineering
"As we grow, it's a continual balancing act of making sure team members are not only excelling and having everything they need to create the best solution possible, but also not overwhelming them or spreading them too thin, so I really think the key to that is, one, communication and, two, having a plan for the growth that the team can understand the bigger picture and where we're heading."
— Reese Tyson, Flexware Innovation
"Share and collaborate! We all become better if we share, collaborate and challenge each other's ideas and solutions."
— JC Harrison, Roeslein & Associates
Join the Ignition Community
There's more to the Ignition community than just a leaderboard. As a committed partner invested in our integrators' success, the Integrator Program is our way of providing useful tools to grow your business.
See the Current Rankings
The 2022 leaderboard is already in progress! Don't forget to check in on the first of each month to see which integrator will be holding the coveted title of "Integrator of the Year" next January!
---