Get to Know the New Premier Integrators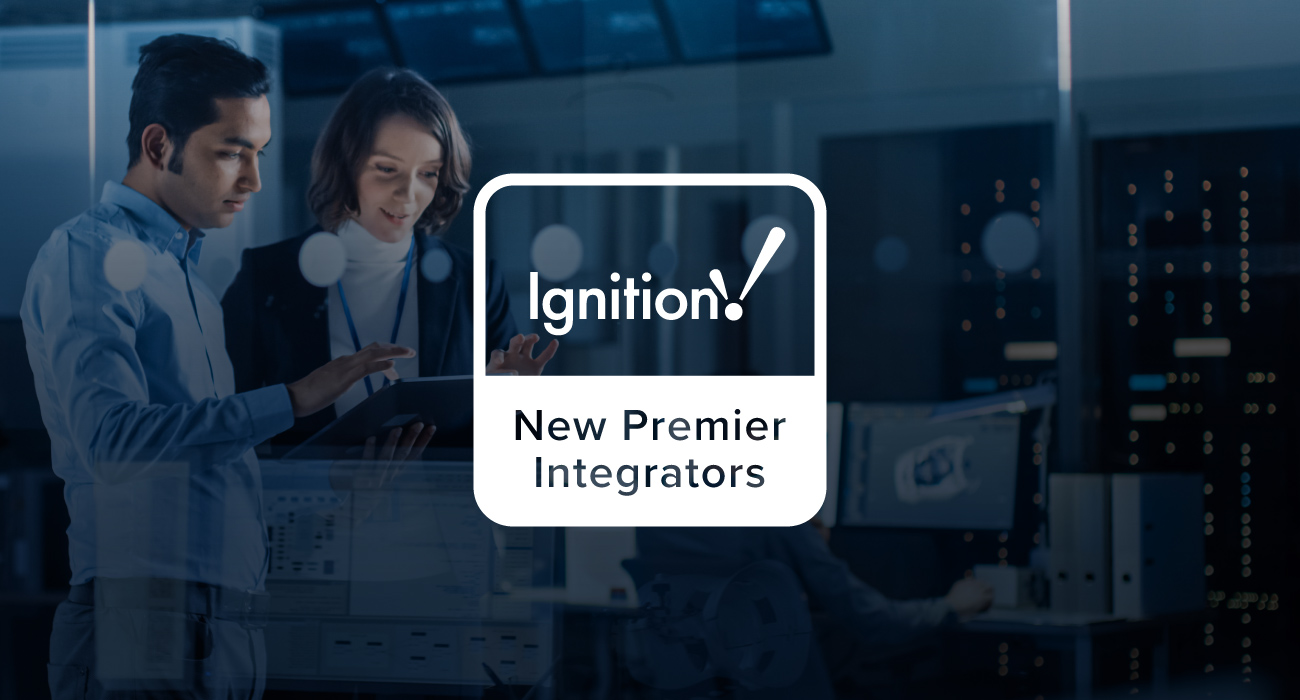 To swipe a line from Inductive Automation CEO Colby Clegg, "Everything has changed and nothing has changed." And it's true, IA looks pretty different compared to last December. But no amount of C-level shuffles, dual conference setups, or forthcoming Ignition editions can steal the spotlight from the real stars of the show — the integrators. They're the ones pushing the boundaries of what's possible with Ignition!
When all the data is collected and all the remote sites are connected, the vested relationship between software companies and integrators benefits everyone. But that relationship requires trust and cooperation, which is why we're so proud to see integrators reach the pinnacle of our Integrator Program, the Premier level.
Read on to learn more about the integrators who became Premiers in 2022!

Thermo Systems
Thermo Systems has three goals as a company: customer success, employee success, and financial strength. The Thermo Systems team's philosophy is that if you maintain the first two, the third comes naturally.
These goals dovetail nicely with their reason for becoming a Premier Integrator. "Ignition has a low barrier to entry due to the wide variety of resources available to new users. Beyond this, we're seeing end users choose Ignition as their platform in the markets we serve," the Thermo Systems team said.
Thermo's most unique Ignition accomplishment was the development and implementation of an HMI standard for a data center client, used for global site overview and monitoring. The client's on-premises standards regularly evolved, meaning that no two sites were identical in terms of equipment, data structures, or control capabilities. Taking advantage of Ignition UDTs and template repeaters, Thermo produced consistent interfaces, both functionally and visually, for all sites, improving and simplifying monitoring while streamlining new site integration.
Thermo sees the future of automation in open source tools and knowledge transfer between industries. "The modular nature of control systems means that some work is naturally repeated by many different individuals in many different industries," they said. "For instance, one device featuring Modbus or BACnet data could be integrated into PLCs and SCADA in countless ways. With less time spent reinventing the wheel, more time can be devoted to innovative controls solutions and optimizations."
2023 is already looking to be a big year for Thermo as it will celebrate its 25th anniversary at Disney World!

Coderise IOT Technology
Based in Suzhou, China, Coderise IOT Technology provides industrial software development services and data-collection products for customers in a variety of industries, including automobile, electronics, energy, and more. Coderise brings a large backlog of experience to the Premier level, with more than 100 partners and customers, plus extensive use of Sepasoft's suite of modules.
One exemplary Ignition project from Coderise came when Atlas Copco — a manufacturer of compressors, air treatment systems, vacuum solutions, and industrial power tools — needed more efficiency and better reporting from its plant in Wuxi, Jiangsu, China. Before working with Coderise, all information from Atlas Copco's production line was manually recorded on paper, a process that was inefficient and error-prone.
Coderise created a QRM system with Ignition and as a result, the production line is more efficient, with faster reporting, and a massive reduction in paper. Additionally, because all process information needs to be tracked and archived, Atlas has effectively eliminated the incorrect use of materials, welding parameters, and instrument ranges. "The new system allowed operations to move to a new level of efficiency," said Jack Ji, General Manager and Sales Director for Coderise.
"Good things happen when an organization is working to find a better way," Ji said. It's a philosophy that aligns perfectly with Coderise's new Premier status.

APCO, Inc.
Dale Smith partnered with a local refinery to found APCO, Inc. as a way to support his young family while he was in a PhD program at the University of Utah. More than a quarter-century later, APCO's ambitions have grown well beyond supplemental income as it expanded its automation business to include industries such as refining & chemical processing, water treatment, food & agriculture, medical, manufacturing, and mining.
Now as a Premier Integrator, APCO is staying true to that mentality of partnership. "This was the next logical step in ensuring that our clients had access to the best resources possible, and it conveys to current and potential clients that we can be trusted to do great work with Ignition products," said Cameron Price, Operations Manager at APCO.
Over the last several years, APCO has adopted Ignition as one of its primary platforms, investing heavily in its own Ignition libraries, engineering knowledge, and training to ensure exceptional service with every new project. This process has not only laid a strong foundation for today but also prepared APCO for what comes next. "We think industrial automation is headed towards a place where the immense amounts of data that are currently collected by control systems are increasingly leveraged to inform important control, planning, maintenance, and upgrade decisions," Price said. "We also expect more and more consumer and commercial technology trends to move into the industrial automation space as they mature and meet the security and reliability benchmarks expected from the industry."
That said, preparation differs from implementation, and APCO has created some impressive Ignition projects. Their most unique project involved upgrading an exhaustively manual data-logging process. Using Ignition, APCO developed a custom, easy-to-use logbook that completely digitized the lab data entry process and naturally led to convenient automated reporting based on the collected data.
Another project used Ignition to create full-scale solutions for water providers with critical distribution networks, giving operators, engineers, and management the tools to deliver water at the highest levels of quality and reliability. "It's nice to participate in services that are critical to the quality of life of those in our communities," said Price.

Martin Control Systems, Inc.
Straight out of Central Ohio, the team at Martin Control Systems, Inc. considers themselves "true OGs of Ignition." And they've got the experience to back it up. Martin CSI has been using Inductive Automation software since the Factory PMI and Factory SQL days before the release of Ignition.
Martin CSI Founder and President, Joe Martin, started the systems integration company on the belief that there was a better way to treat employees and clients. Working with manufacturers and OEMs, Martin CSI has invested heavily in getting to know its clients' processes and challenges to build long-term relationships that focus on delivering high-quality solutions. That's where Ignition comes into play. "We like to develop innovative quality software, with minimal constraints. Ignition allows us to do that. It seems like a natural partnership," the team said. Now as a Premier Integrator, Martin CSI's relationship with IA is also built for the long haul.
No stranger to exceptional Ignition projects, Martin CSI won a Firebrand Award in 2016, creating a project for Guild Associates to build a water treatment equipment trainer for the military that enabled troops to learn how to set up, troubleshoot, and maintain water treatment equipment before they were deployed to the field. "One of our best Ignition engineers, Todd Ebright, logged countless hours to make sure every detail was perfect," said the Martin CSI team. Ebright was able to simulate every piece, motor, button, and interface of the machine, allowing the troops to see what the machine physically looked like.
As Martin CSI turns 30, it's anyone's guess what automation will look like in another 30 years. The Martin CSI team wants to see the industry stay current by incorporating technology from other fields like wireless, cellular, AI, and mobile. "These are technologies that people now use in everyday life (i.e. Alexa, mobile apps, GPS, assisted driving)," they said. By embracing these new advancements, Martin CSI hopes to see automation become an industry that leads the way toward innovation.
Join the Premier League
To learn more about the integrators above, head over to our Find an Integrator page. If you are interested in joining the Integrator Program, or would like to review the requirements for becoming a Premier Integrator, visit the Integrator Program page.
---