Even if you didn't attend the 2018 Ignition Community Conference, you don't have to miss out on the knowledge and inspiration that ICC has to offer. You can read the blog post below for a recap of conference highlights, check out the social wall, or get full access to session videos by purchasing a Virtual Ticket.
Anyone who's attended the Ignition Community Conference more than once can attest that the event gets bigger and better every year. ICC 2018 was no exception. Held at the Harris Center for the Arts in Folsom, California, over the course of three days, ICC features sessions, workshops, exhibitors, and the Discover Gallery. This year's ICC stood out in many ways: It was the highest-attended ICC yet, attracting over 650 attendees from all over the world, featured a special evening at the company's new headquarters, hosted new meetings and attractions, and unveiled a highly anticipated preview of our most significant product release since the original version of Ignition.
 
Kicking Off with Workshops & Collective Meetings
On Monday, Sept. 17th, ICC got underway with sold-out, hands-on workshops on Python scripting, track and trace, MQTT, reports, RFPs, enterprise architectures, machine learning, and security hardening. These highly technical workshops were presented by experts from the IA team as well as from third-party module partners Sepasoft and Cirrus Link Solutions.
Monday also featured well-attended meetings of two collaborative groups that have sprung up from the Ignition community: The Ignition Oil & Gas Collective and the Ignition Cross-Industry Collective.
The Ignition Oil & Gas Collective was founded by Charles Lame from Pioneer Natural Resources. At its meeting on Monday morning, a number of oil & gas industry leaders shared projects and solutions they had created within Ignition, often including demos and question and answer sessions. It was a great chance to come together to share victories, goals, and future endeavors, particularly after their successful gathering in Denver over the summer.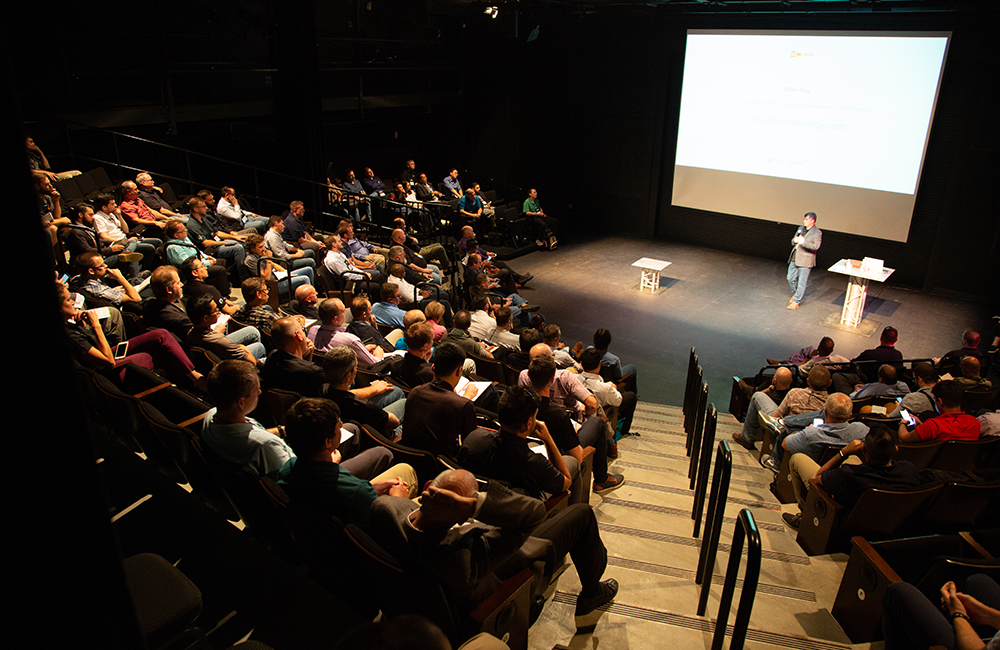 The Ignition Cross-Industry Collective held its first meeting later that day. Founded by Allen Ray, a design and development supervisor from an upstream oil & gas company, the group endeavors to collaborate across many industries about using Ignition effectively. Allen began his presentation by explaining how his team can "dream up crazy things and build them out quickly" in Ignition, while maintaining a tightly-run, carefully architected system. Next, Derek Randall from Roseburg Forest Products, Loe Cameron from Pall Corporation, water-district operations expert Jason Hamlin, and Dan Stauft from SugarCreek shared their journeys with Ignition and why they're personally invested in a cross-industry collective. The enthusiasm and interest were clearly shared by the crowd of nearly 100 people who were interested in joining.
 
The Keynote Brings Big News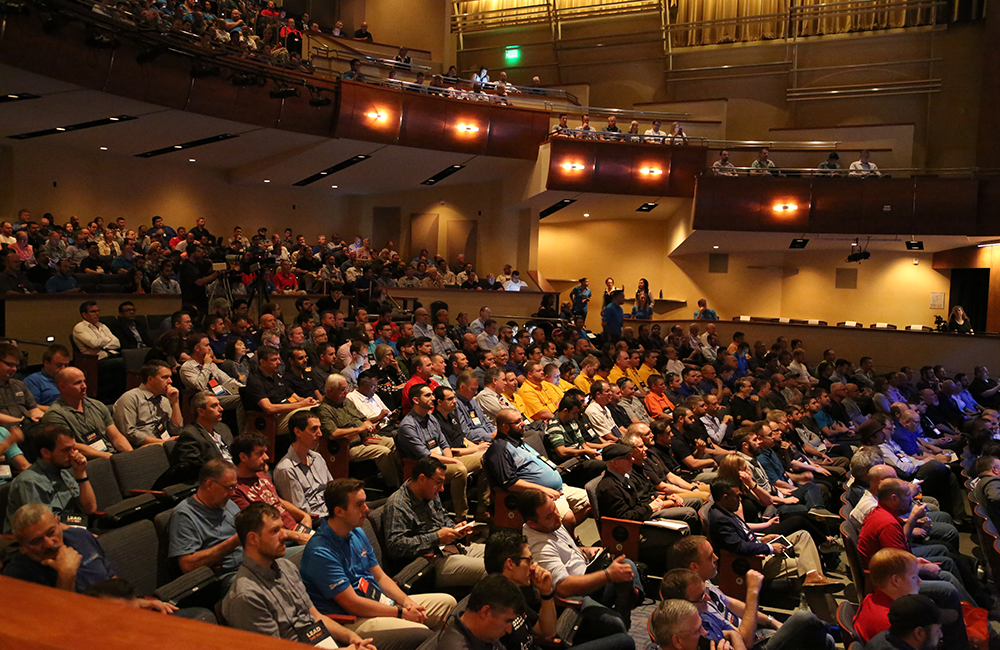 Day Two began with an eventful keynote presentation from Founder and CEO Steve Hechtman, Chief Strategy Officer Don Pearson, Co-Directors of Development Carl Gould and Colby Clegg, and Co-Director of Sales Engineering Travis Cox.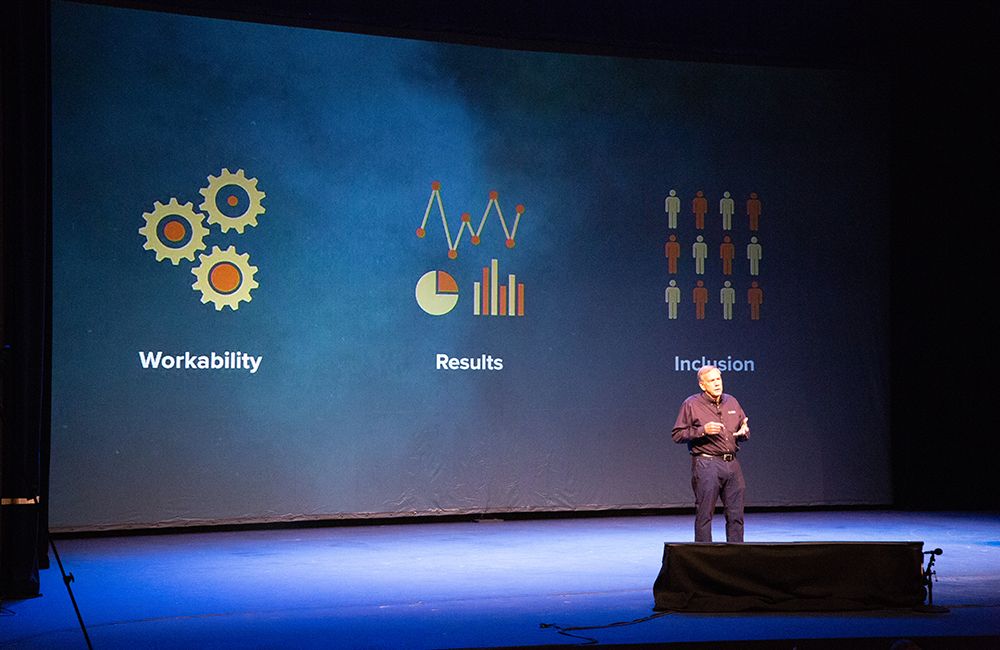 Don Pearson used this year's ICC theme, "Lead The Way," as a starting point for a discussion that ranged from the company's founding principles, to the challenges faced by both legacy companies and disruptive innovators, to the Ignition community's leadership in the industrial space. Don said Ignition provides an open, interoperable, standards-based platform from a company that is collaborative and transparent, empowering users to "innovate without permission." After citing several examples of such innovation by IA's community members and partners, Don told the audience, "When I look around this room, I do not see a room full of followers, I see a room full of leaders."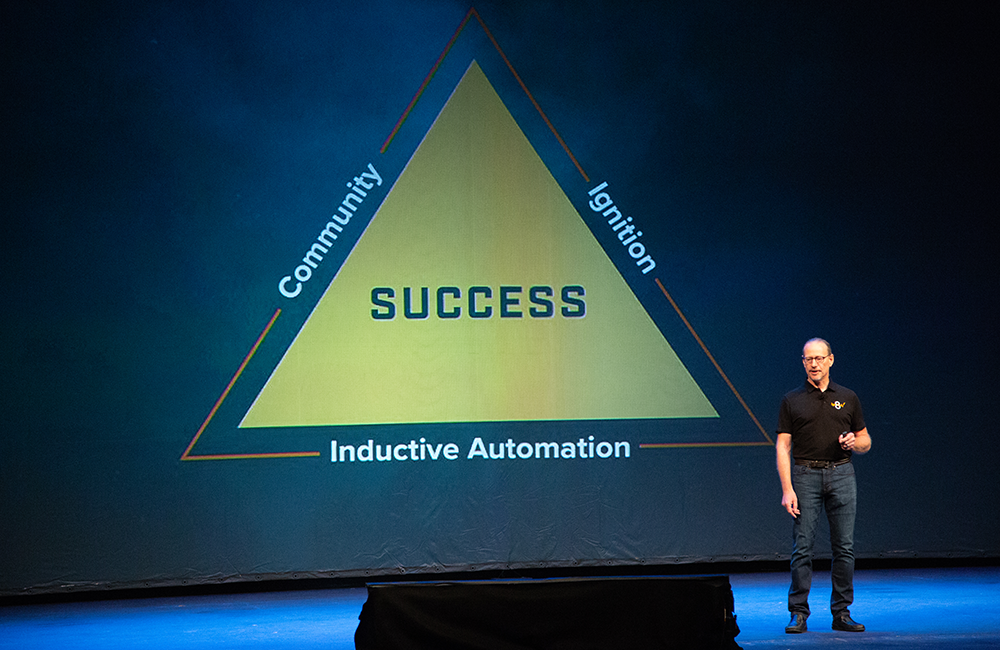 Steve Hechtman highlighted Inductive Automation's explosive growth since the beginning of the company, and growth in the past year alone. Steve acknowledged the excitement around the upcoming software release but focused his remarks on the company itself because, as he said, "It's not just software, it's the company behind it. It's a 50-50 proposition, and we have a responsibility to this community to run a sound company. With our new building we have room to grow, and with this new release we have set the stage for the next phase of our expansion, both business-wise and technology-wise."
Then Carl and Colby took to the stage to answer the much-anticipated question, "What's the news with Ignition 8?" After explaining their philosophy that "the best innovations come at the intersection of what's new and what's familiar," Carl and Colby gave an overview of Ignition 8's key features: a completely revamped tag system, a new project inheritance model, and a reworked project resource management system, plus a major update of the Vision Module (read more about the Vision Module update).
Carl Gould and Colby Clegg announce Ignition 8 at #ICCLead. "Ignition 8 builds on everything we've done, but it's also a new beginning because it lays the groundwork for new phases of innovation." @InductiveAuto pic.twitter.com/wy0aUJ3lR4

— David Greenfield (@DJGreenfield) September 18, 2018
 


The biggest new feature of Ignition 8, however, will be the Ignition Perspective Module. Carl and Colby described Ignition Perspective as an industrial application framework built from the ground up to enable users to fully leverage modern web technologies. Perspective combines web technology with familiar elements like drag-and-drop design and Python-based scripting to create HTML5 compliant, mobile-responsive applications that can run in a web browser. "This is the product I have been waiting to build for five years," Carl said.
Just as Carl and Colby were wrapping up their impressive product preview, Travis rushed onto the stage to announce that the Perspective mobile app was already available for download, complete with an online demo. For ICC attendees, the app also contained a virtual treasure hunt that used Perspective's GPS and barcode scanning features.
Watch the full keynote for all of the exciting details. To learn more about Ignition 8 and the Ignition Perspective Module, go to our What's New page. To see the new online demo, go to demo.inductiveautomation.com or download the Ignition Perspective App from the Apple App Store or Google Play.
 
Outstanding Sessions
After the keynote presentation, attendees had many concurrent breakout sessions to choose from on Tuesday and Wednesday. Here are some of the highlights from this year's breakout sessions.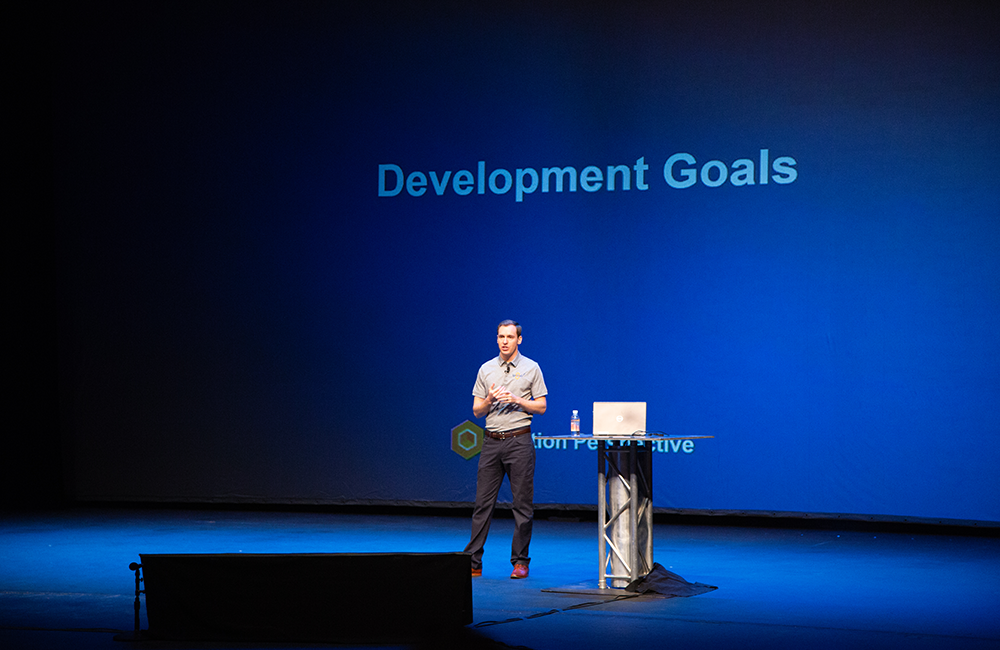 A Deeper Look at Perspective
After an exciting keynote, Carl presented a session that went into greater detail about the forthcoming Ignition Perspective Module. Carl started by saying that familiarity, capability, and security were the foremost development goals for Perspective, and explained the reasons why it was built as a browser-based web application. He also talked about how Ignition works and how Perspective fits into the platform and walked through the steps of building a Perspective project, before closing with Q&A with the highly invested audience.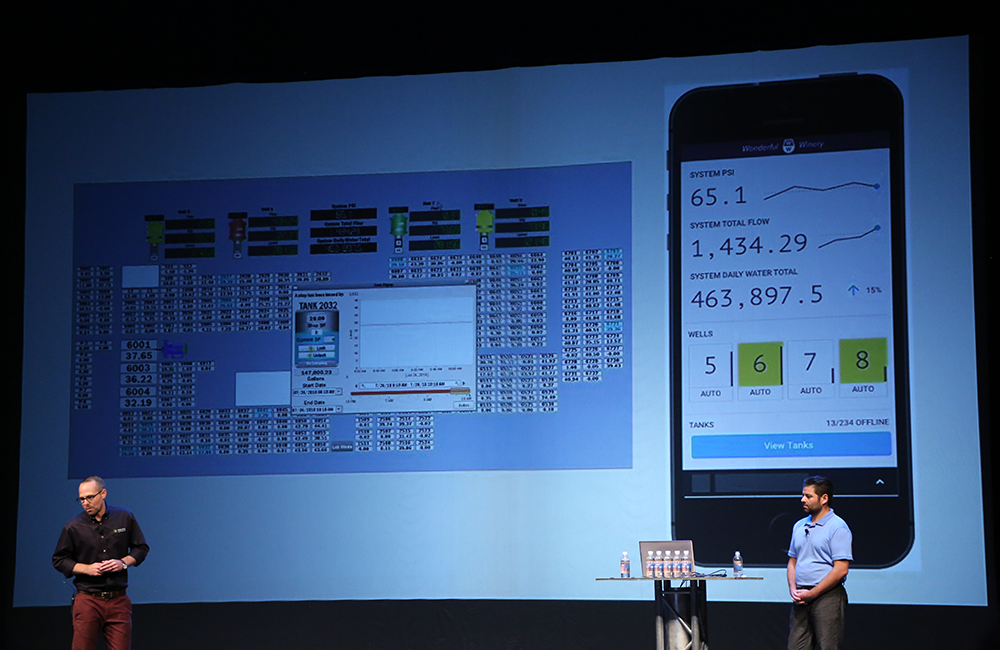 Best Practices for Mobile-Responsive HMIs
With Ignition 8 and Ignition Perspective on the way, it was only fitting that two of IA's resident design experts, Senior Software Engineer Perry Arellano-Jones and UI/UX Designer Ray Sensenbach, led a session with design principles for building mobile HMIs that are well-designed. Perry and Ray also showed examples of real applications that were redesigned for mobile.
 
Building a Project in Ignition 8 in Real Time
Attendees got another look at the new development tools in the first-ever "Live Ignition Build-a-Thon." Our Sales Engineering team went live at this standing-room-only session, showing onstage how to build in Ignition 8. After beginning the session with an uproarious "training montage" video (see below), Co-Directors of Sales Engineering Travis Cox and Kevin McClusky built applications in real time.

 


While Travis and Kevin focused on building, Sales Engineer Kent Melville entertained the crowd with play-by-play commentary, jokes, and even singing some original, Ignition-themed lyrics to the tune of "Ignition (Remix)."
 
Travis and Kevin then explained their projects to the audience, who voted for their favorite using a poll in the ICC App. Team Travis won this first face-off but we're betting there will be a rematch someday. Check out the session video to see all the action for yourself.
 
Machine Learning in Ignition is Here and Now
In "Practical Uses of Machine Learning & Ignition," Kevin and IA Senior Software Engineer Kathy Applebaum discussed plant-floor applications of machine learning, such as predictive maintenance, quality control, demand forecasting, and robotics training. Participants learned key steps to getting started with machine learning: Pick a question to answer, use domain knowledge, ETL (an acronym for extracting, transforming, and loading data), visualize the data, select an algorithm, select a platform, and test the accuracy of your data model. Check out Automation World's session recap, or watch the session video.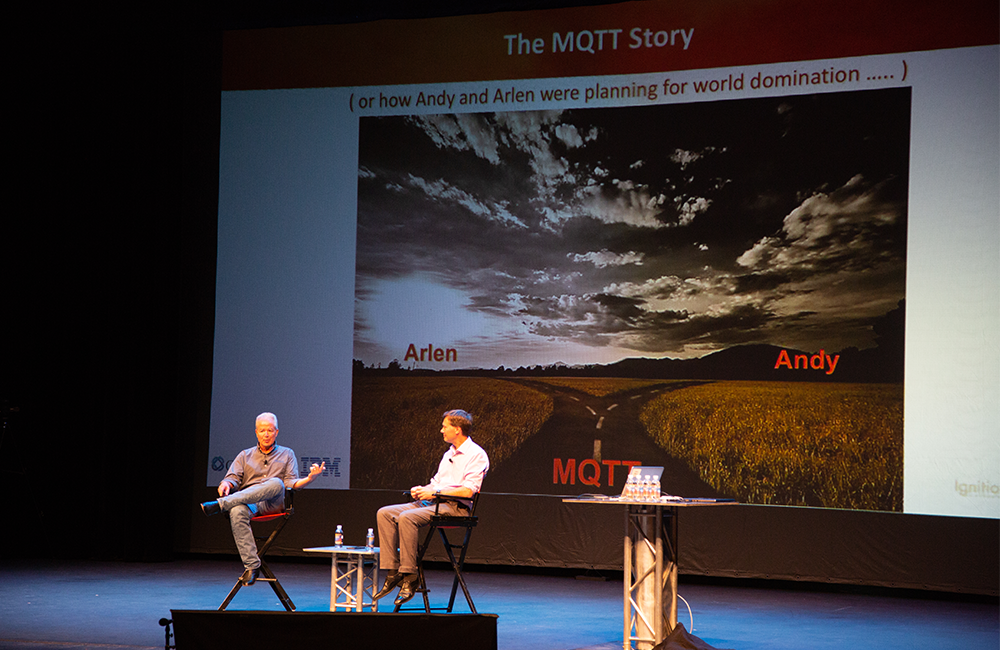 MQTT: Where It All Began
For anyone interested in MQTT, ICC was a great place to be. In the session "20-Year Anniversary of the Genesis of MQTT," attendees were fortunate to hear from the co-inventors of MQTT themselves: Andy Stanford-Clark, who is the CTO for IBM in UK and Ireland, and an IBM Distinguished Engineer and Master Inventor; and Arlen Nipper, who is the president of Cirrus Link Solutions and has over 37 years of experience in the SCADA (supervisory control and data acquisition) industry with such companies as Amoco, Koch Oil, and Arcom Control Systems. Together onstage, Andy and Arlen recounted the origins of the transport and how it gained traction over the years, to eventually becoming the messaging protocol of choice for IoT developers.
 
Exciting Developments in MES
MES (manufacturing execution system) innovation was also on full display at ICC. A highlight of Sepasoft's session was a fascinating material location demo. Using radio tags and strategically placed antennas, they showed how raw materials can be moved throughout a factory floor without the need of barcode scanning. The tags contained information that allowed the system to know what materials are in which bin and where they are located in the factory. As items are moved, you can see the information being reported in real time. The process allows for greater efficiency and accuracy.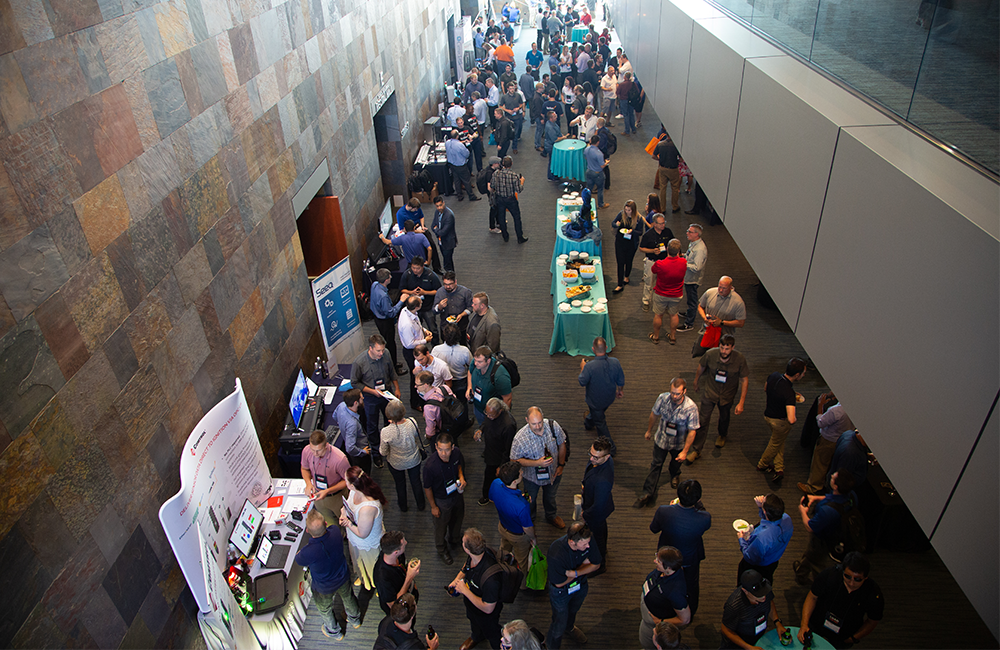 Many other sessions were offered on a range of topics including enterprise architectures and enterprise systems, Ignition's security features, middleware, MES project tips, SQL databases, and more. Sessions were presented by professionals from IA and from Autoliv, Bedrock Automation, Covanta, the Eclipse Foundation, Sherwin-Williams, Streamline Control Solutions, the United States Department of Homeland Security, Vertech Industrial Systems, and a water district in the eastern US.
Between sessions, attendees stopped by the Ignition Open Lab and exhibitor booths. The Open Lab was a new attraction this year where Ignition users could talk and collaborate with experts from IA's training, support, and development teams. This year's exhibitors were B+B SmartWorx, Bedrock Automation, Chirp!, Cirrus Link Solutions, Comtrol, EZAutomation, Flow Software, Freewave, Hilscher, HMS, Keba, Kepware, Moxa, Opto 22, ORing, Red Lion, Seeq, Sepasoft, ShookIOT, and Volt 480; we thank of all of them for their support and participation.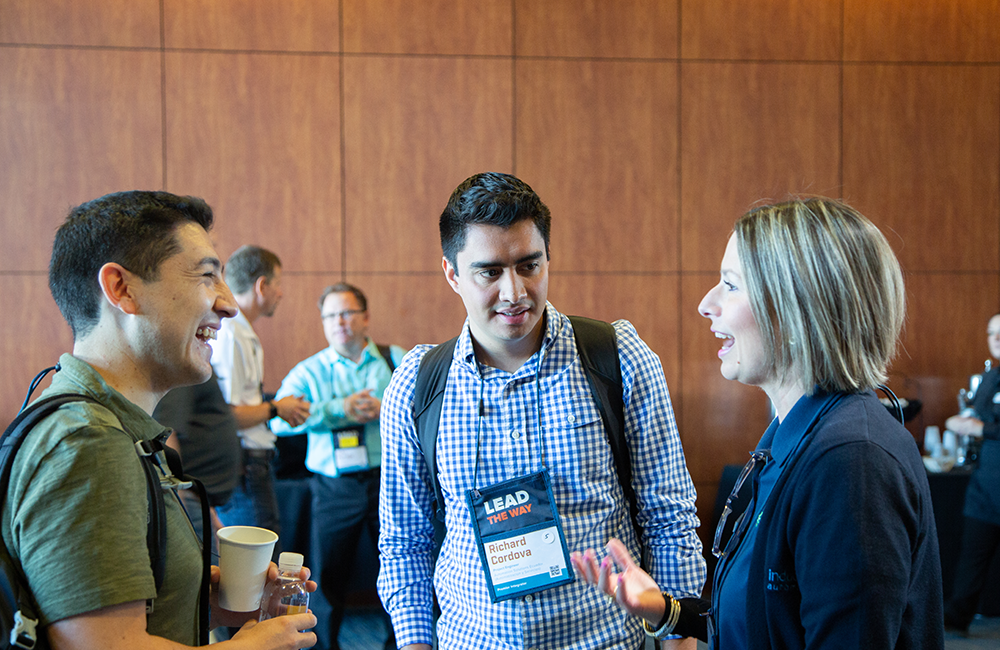 Insightful Panel Discussions
The panel discussions at ICC again brought together some of the best and brightest from the worlds of automation and technology, who shared many valuable insights and anecdotes with those in attendance.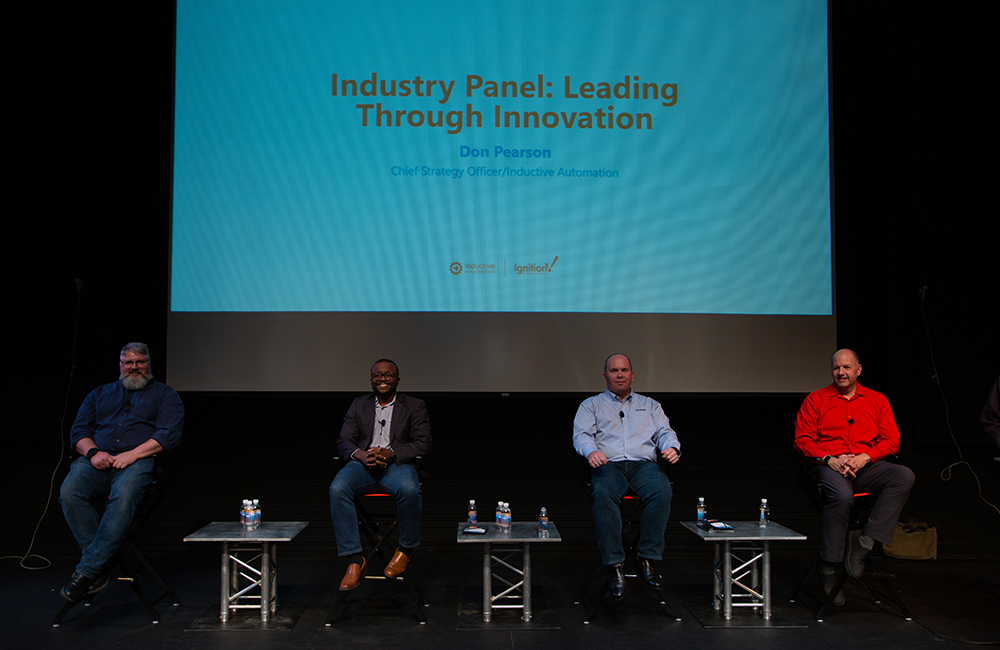 Industry Panel
When a question about OT-IT alignment came up during the Industry Panel, Chobani VP of Global Engineering & Product Management Hugh Roddy recommended that OT professionals bring IT professionals along with them to ICC in the future, and said Ignition provides a middle ground between the two tech domains. When panelists were asked what first impressed them about Ignition, Tyson Foods IT Team Analyst Steve Perry replied that some of big things was the one-minute installation process and the ability to build an application in a few hours.
Roseburg Forest Products OTI Sr. Database and Reports Administrator Derek Randall and Keurig Dr. Pepper Manufacturing Engineering Sr. Manager Folusho Erogbogbo also participated in the Industry Panel, discussing how their companies use Ignition and answering audience questions.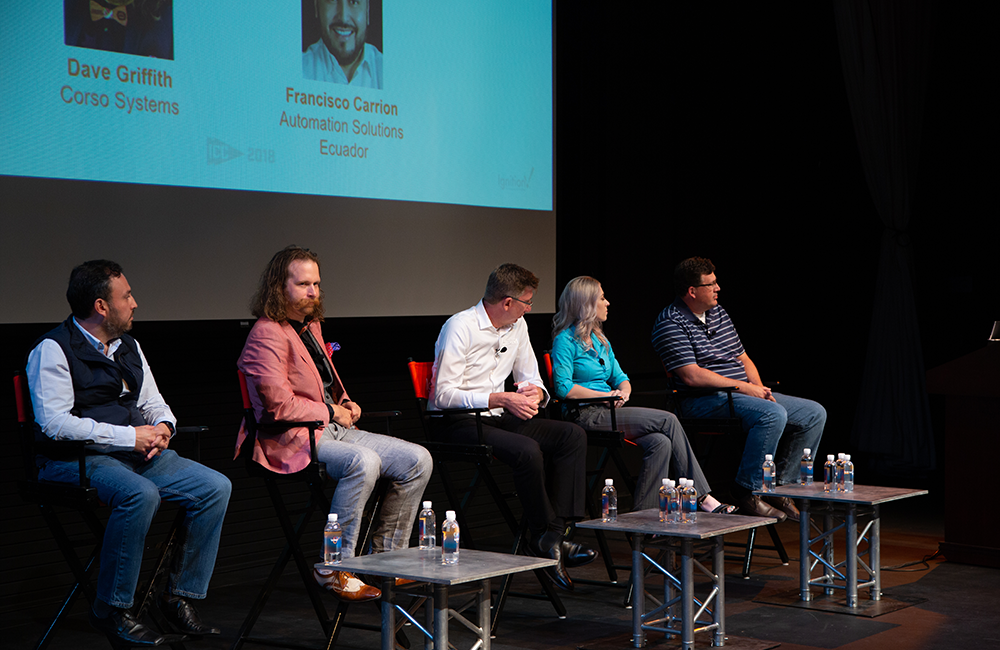 Integrator Panel
In the Integrator Panel, ESM Australia Managing Director Glen Fry said, "We'll go to a factory that has a large installation of another SCADA … but very quickly they see the power of Ignition and it starts taking over little parts of the plant, one piece at a time."
On a similar note, Automation Solutions Ecuador Engineering Manager Francisco Carrion advised, "Don't sell Ignition as a replacement, sell it as a complement" to customers' existing traditional SCADA systems.
Tamaki Control Engineer Leah Ackerman said, "Ignition allows us to shed light on more parts of the process than we've ever been able to before. Factories still make mistakes and they spend time figuring out why, and the faster we can help them get to the root cause of an issue, the better it is for everyone." Roeslein & Associates Systems Engineering Manager JC Harrison and Corso Systems Sales & Marketing Manager Dave Griffith also took part in the Integrator Panel, sharing tips and stories about showcasing Ignition's vast possibilities.
 
Q & A with the Co-Directors of Software Engineering
Once again, the Developer Panel proved to be one of the most popular sessions at ICC. Carl and Colby went into more detail about the new features of Ignition 8, such as its embedded Java launchers, improved concurrent editing and updated OPC UA Module. They announced that customers could now apply for the Ignition 8 private beta program and projected that the final release of Ignition 8 would occur in February 2019. They also talked about their goals for versions 8.1 and 8.2, and fielded questions from curious attendees.
 
Great morning session with the Ignition lead developers. The future of Ignition is very exciting! #ICCLead #ICC2018 @InductiveAuto pic.twitter.com/OHGJ6MBOvh

— Miller-Eads Company (@MillerEadsCo) September 19, 2018
Attendees also had the opportunity to attend two other interesting panel discussions this year. The panel on "Open Technology's Impact on Industrial Automation" featured Eclipse Foundation Executive Director Mike Milinkovich, Colby Clegg, Arlen Nipper, and Andy Stanford-Clark. Automation World also published a recap of the open technology panel, and you can watch the session video for free.
"Connecting at the Edge: Real Hardware Solutions for the Real IIoT" featured brief presentations and Q&A by Arlen Nipper, AVG Automation Chairman & CEO Vikram Kumar, Advantech B+B SmartWorx Director of Business Development & Strategic Accounts Paul Kutch, and Opto 22 VP of Marketing & Product Strategy Benson Hougland.
 
#ArlenNipper of @CirrusLink explaining the reality of today's #SCADA systems in an #mqtt world, to a full house at #icc2018 pic.twitter.com/i9jpgZP2PS

— Andy Stanford-Clark (@andysc) September 18, 2018
 
Awarding Exceptional Ignition Projects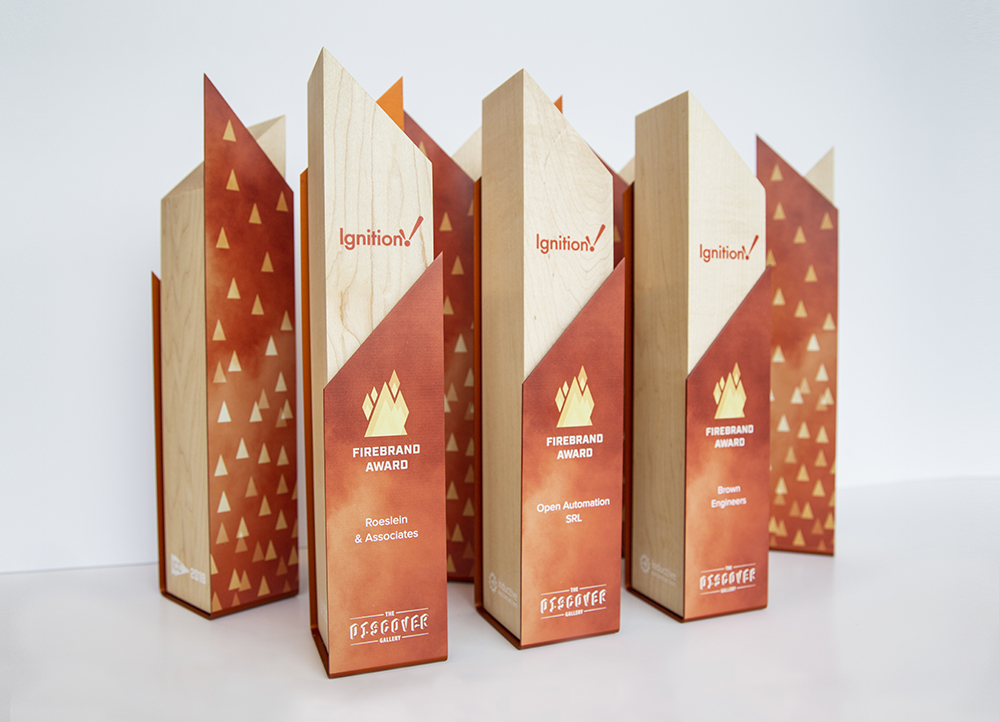 ICC is all about the Ignition community and the Discover Gallery showcases the most innovative projects built by community members in the past year. This year's Discover Gallery featured 15 projects from the industries of water/wastewater, food & beverage, animal nutrition, automotive, transportation, oil & gas, recycling, mining aggregates, ERP, and pharmaceutical.
Out of those 15 projects, our judging panel selected six to receive an Ignition Firebrand Award: Brown Engineers' project for the City of Hot Springs, Arkansas; ECS Solutions and Blentech Corporation's project for JTM Food Group, Open Automation SRL's project for Provimi, Roeslein & Associates' project for Dana Incorporated, Tamaki Control's project for Chobani, and Weisz Bolivia SRL's project for ENAP Argentina. The 2018 Discover Gallery finalists were H2O Innovation, Industrial Automation Group, North Point Technology, LLC, Piedmont Automation, Trimax Systems, Wunderlich-Malec Engineering, Andritz Automation, Automation Solutions Ecuador, and ESM Australia.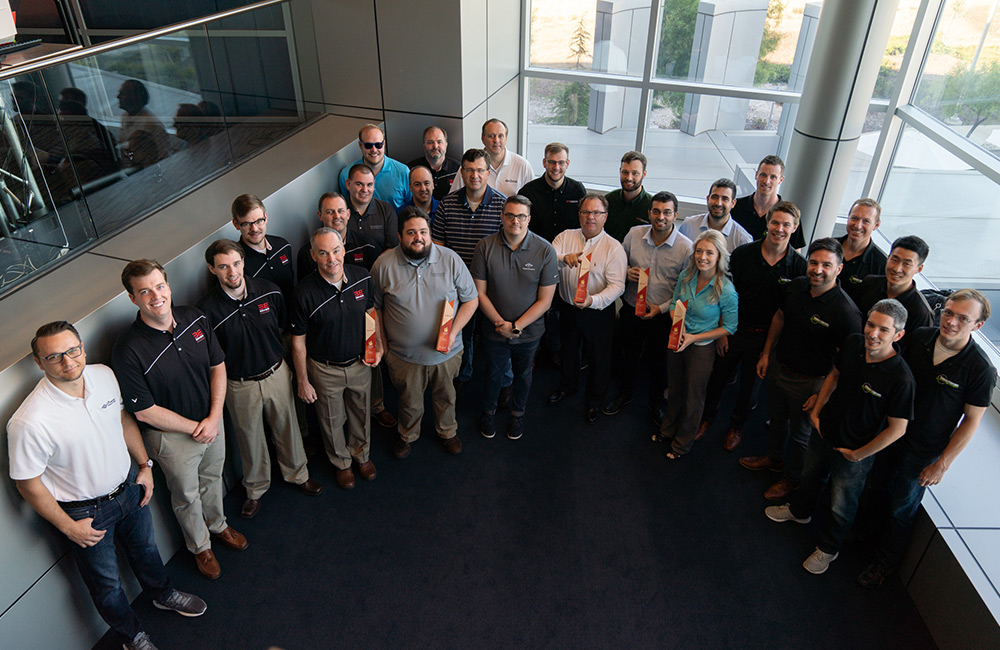 An individual from each of the Firebrand Award-winning companies was invited to accept the award and participate on the conference-closing panel. The Firebrand panelists spoke about the problems they set out to solve, the challenges they faced, and how they discovered the solution. Several of the panelists wrapped up their remarks by generously praising Ignition software and the Ignition community.
"I think for people who have worked with other platforms, Ignition is the obvious solution. If you don't think Ignition is, there is another reason that's not technical, it's political. And I'm looking forward to seeing other people's projects next year," said John Parraga from ECS Solutions.
"The best part is, you're not limited by the software in any way, you're only really limited by your imagination, so if there's something you can do but you can't figure out how to do it, we've got such a great community, as you guys have seen this week, that there's always a resource to figure out how you could use Ignition to solve your problems," said Phillip Bourner from Roeslein & Associates.
"We've been involved with Ignition for eight years now and it's amazing seeing the transformation of the product … it's just accelerated, it's breaking down barriers, as Steve Hechtman says, and it is just amazing seeing what the community is doing with Ignition in such diverse applications," said Sam Vandiver from Brown Engineers.
To see all of this year's amazing projects, visit our ICC Discover Gallery Archives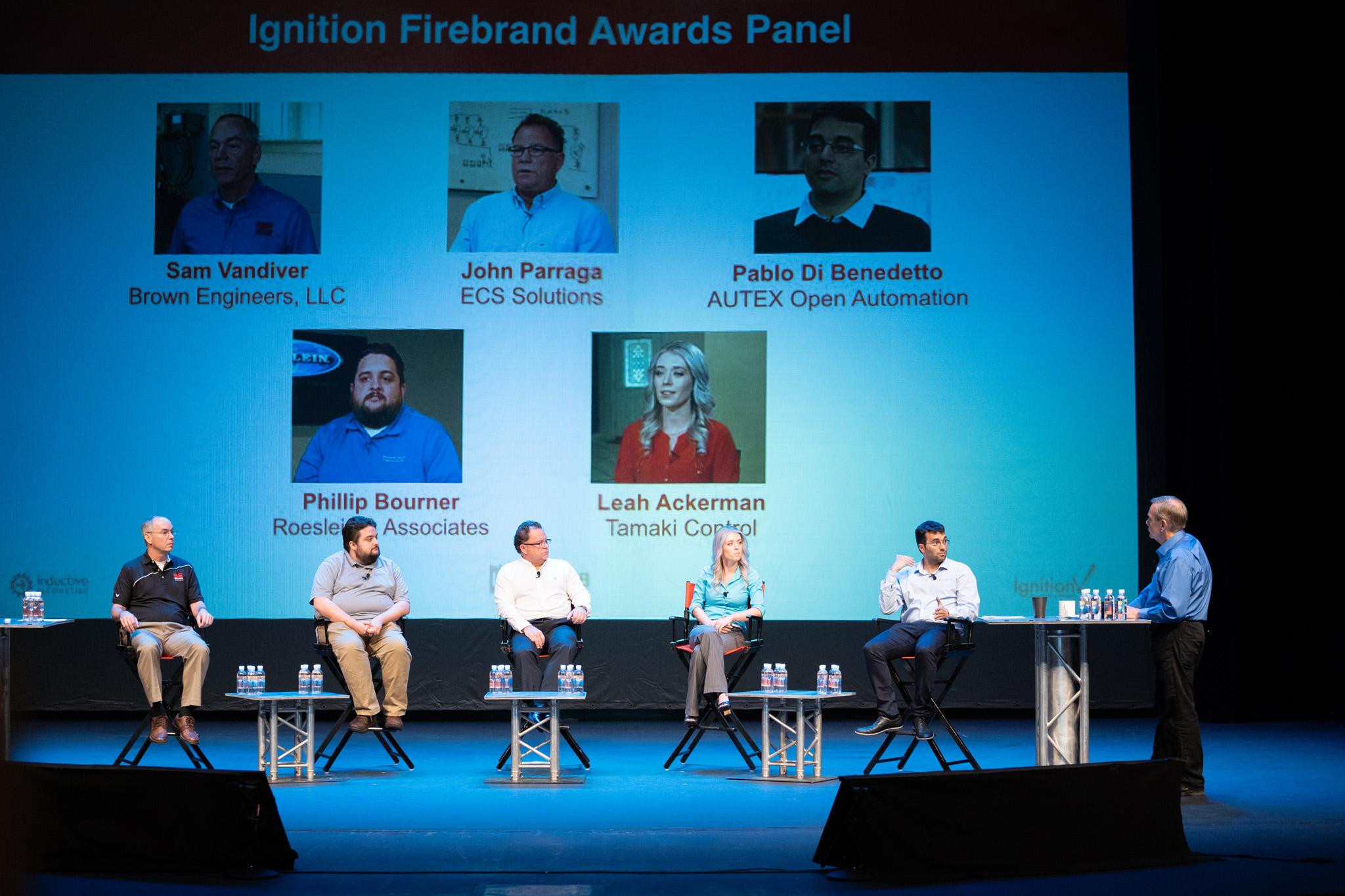 Community Members Network and Unwind
Attendees hailing from near and far were treated to some of the Sacramento region's best eats. Monday's dinner evening gave attendees an opportunity to mix and mingle while enjoying delicious entrees and side dishes from local food trucks, including Ash & Oil, Slightly Skewed, Culinerdy, Bella Familia Wood Fired Pizza, and Buckhorn Grill, all of which are favorites among IA staff. Two local musicians provided songs and ambiance for the fun, casual evening.
Tuesday's dinner was held right in front of our new office building. Attendees enjoyed an open-air reception with hors-d'oeuvres and dinner, followed by a farm-to-fork feast with grilled meats, paella, fresh salads, and more. IA team members also took groups of attendees on guided tours of the new office, where they got to see many of our work areas and meeting rooms, cafe, training room, game tables, and the wall of devices that our engineers use for testing. These events gave attendees a chance to network in a more relaxed atmosphere.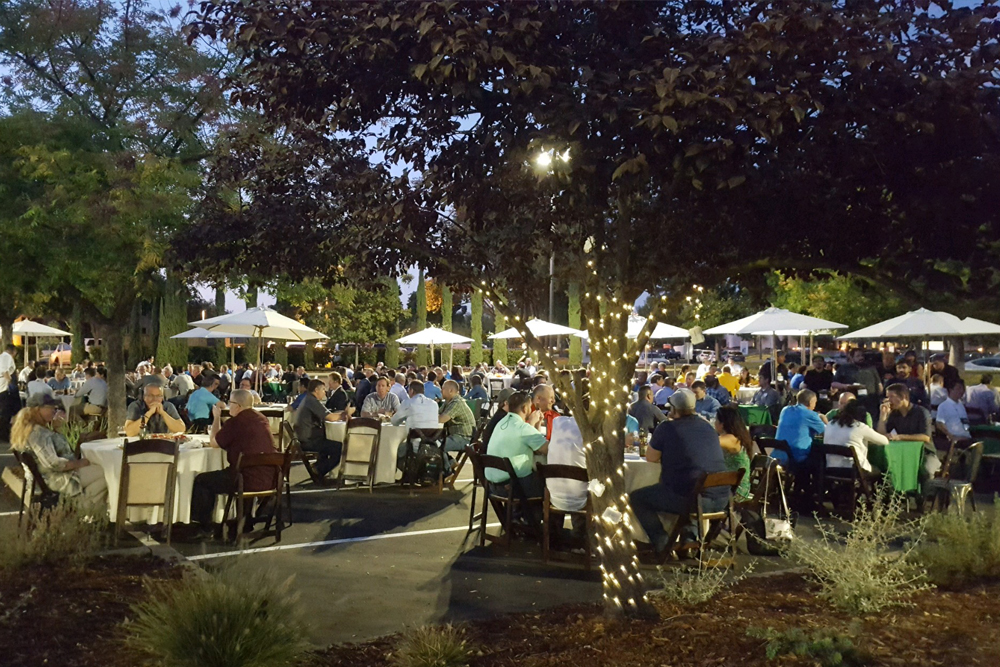 Attendees who stayed in town after ICC also had the opportunity to attend a separate, IA-sponsored public presentation by Andy Stanford-Clark. At "Andy Explains the Internet of Things — and Mousetraps," Andy shared examples of how he's used the IoT to monitor energy use, mousetraps and Christmas lights in his home, and to check on the availability of ferry service near his residence on the Isle of Wight. Many of Andy's projects originated from his desire to solve problems in his everyday life, and those projects end up becoming impactful solutions that are used within his local community and around the world.
Whether attending or presenting sessions, networking in between meetings, or enjoying good food and good company, the enthusiasm from ICC attendees was palpable. Dominique Wille, who is the manager at PLANTFORMANCE AG and has attended almost every ICC, said, "The biggest power of the community and the most interesting thing about ICC is the enthusiasm of the people."
"I think what sets ICC apart from other conferences is the excitement of the attendees. No one at ICC is fixated on obstacles but excitement for all the opportunities Ignition provides. It's energizing to spend time with more than 600 Ignition peers and experts, who are as excited about what they can build as you are," said attendee Johnathan Hottell, SCADA Supervisor for EXCO Resources, Inc.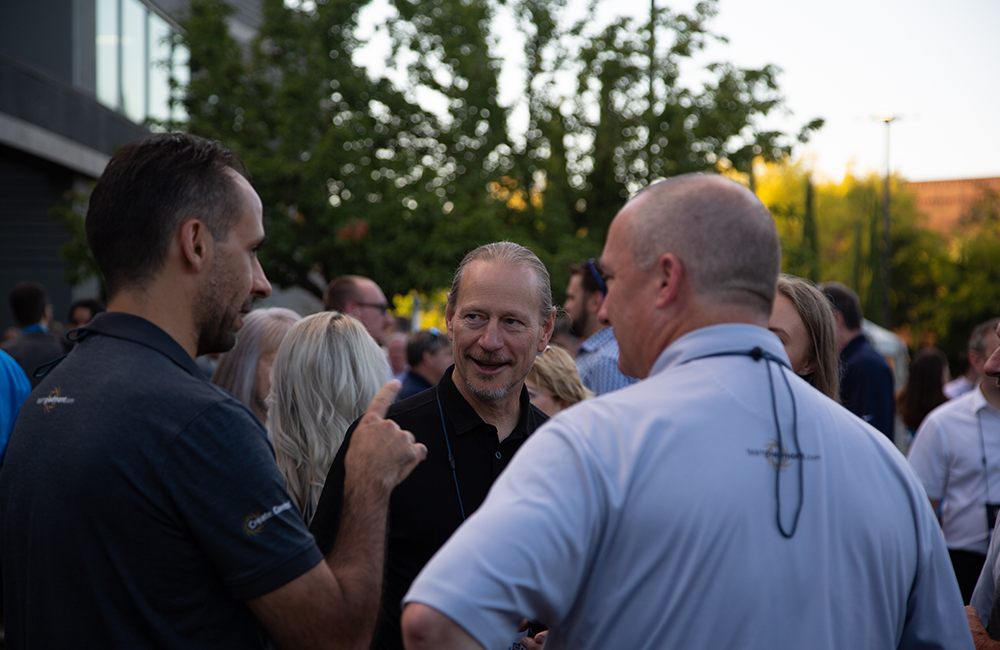 Speaking as IA team members, it's been nice to catch a little post-ICC breather but we're already looking forward to ICC 2019 and to see what all of you build with Ignition 8! If you attended ICC, what were your personal highlights? What would you like to see at ICC next year? Feedback is a big part of what makes the conference a great experience, so feel free to share your thoughts below.
---