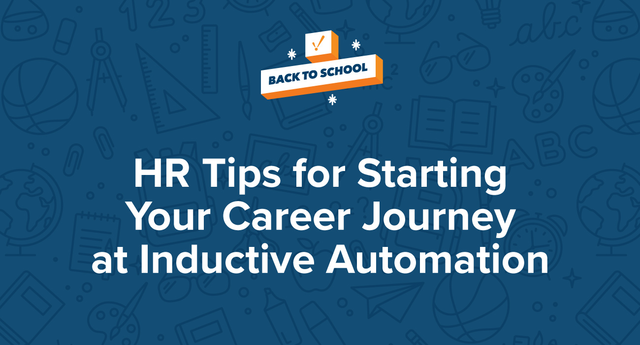 At Inductive Automation (IA), our mission is to make a difference in the world of automation. We work hard to enable industry leaders and everyday innovators to break through barriers, and we know we couldn't do it without our dedicated team members. IA takes pride in acknowledging your personal and professional achievements, fostering a collaborative atmosphere, and offering great career prospects in every department, so we've put together this guide with our HR team's best tips and tricks for successfully applying for, interviewing for, and starting a new job here.
Why Work for Inductive Automation?
IA takes care of its team with 100% health care coverage, including medical, dental, and vision insurance. Plus, you can customize your work schedule for your local time zone, and you'll get paid time off, including holidays, vacation, and sick time. IA also helps you plan for the future with a 401k program, and its headquarters provides an enjoyable on-site experience with complimentary snacks and beverages and games like pool, table tennis, shuffleboard, and foosball.
We've built an amazing community culture over the years that we've thoughtfully integrated into our schedule. Some key aspects include diversity, fun, flexibility, developing a work-life balance to create a fulfilling atmosphere in and out of the office, prioritizing time for professional development, and participating in team activities to build knowledge and camaraderie.
At IA, many team members are able to work remotely from most locations in the U.S. We provide remote team members with high-end computer equipment to work from home, and non-remote members work in our beautiful office in Folsom, California, where games, free beverages, and scenic trails are always just steps away.

Prepping Your Resume
Before you apply for anything, always ensure your information is current, well-presented, and in the proper format. "It is a good idea to have a few trusted pairs of eyes look over your final draft before using it in your application. After editing your resume, be sure to always convert it to a PDF format. This way, your formatting is locked in when downloaded by a recruiter," says Haley Thomas, Recruiter at Inductive Automation.
While it's important to keep a detailed main resume that includes all of your work experience, Haley says to tailor the resume in your application "to have your skills align as closely with the job description as possible." That way, it's much easier for recruiters to see your specific skills in relation to the job you're applying for, fast-tracking you to success.
A clear and concise resume makes it easier for recruiters to understand your roles. Haley advises, "Keep the descriptions of your roles to the most relevant four to five bullet points, focusing on responsibilities and accomplishments." She also advises, "Start your bullet point with a verb, and include measurable data/metrics through numbers whenever possible," such as the amount of work you completed per week.

Prepping for Your Interview
It is always important to display professionalism at an interview, so before you start, make sure you are dressed presentably and are on time, that video, audio, and Wi-Fi are working, and that you are in a place where no one will be distracted. "Take a deep breath, relax, and be yourself!" says Daniel Forbes, Technical Recruiting Manager.
Inductive Automation is looking for people who are passionate and willing to contribute. "Qualities we look for in candidates include team collaboration, problem-solving skills, and ownership," says Daniel. It's also helpful if you take some time to learn about the company by using the links in the job listings and come ready with questions for your interviewers.

Get Ready for Your First Day at Inductive Automation!
When you start at IA, you'll begin with an onboarding process where you'll set up work-related accounts and get acquainted with the company, the culture, and your team. If you are on-site, this process will include an office tour.
You'll also be assigned an onboarding buddy who will work closely with you for the first few weeks. "Your onboarding buddy is typically someone in your division, and they are your go-to person for any questions you may have during your time here at IA," says Natalie Guzman, Hiring Manager.

Inductive Automation's Plan for Your Success
Whether you take a technical or non-technical position with us, supervisors work with each employee to ensure that they are given opportunities to grow and advance in their career. If you start at IA as a Software Technical Analyst, the Technical Pathways Program supports your career development by providing multiple paths for advancement within the company. Watch this video about the program or take a look at the Technical Pathways Program Map to learn more about your path to success.
We have new opportunities opening all the time, so check out our Careers Page or our LinkedIn Jobs Page to see a list of your possible futures at Inductive Automation.
---